Alex Ferguson looks at what Fulham fans can expect from Shahid Khan
What can Fulham fans expect from new owner Shahid Khan? Blogger Alex Ferguson investigates...
Last Updated: 17/07/13 4:40pm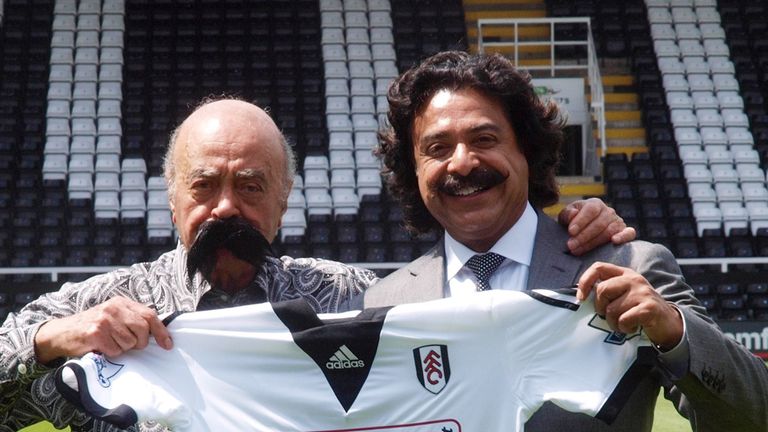 Sky Sports blogger Alex Ferguson - with the help of a UK-based Jacksonville Jaguars fanatic - looks into Fulham's new owner - and has a look back at the others.
When it comes to owning a sports team, Shahid Khan must be used to being in the news.
The Pakistan-born car parts magnate's Jacksonville Jaguars - which he bought for $760m in May 2012 - agreed to play four home games for the next years at Wembley in August 2012, and instantly the rumour mill started. Was this the start of the 'London Jaguars', and the NFL expanding its territory outside of the United States for the first time since the ill-fated NFL Europe?
Was this the start of Khan moving his team from Jacksonville - where the attendance has been mediocre-to-poor to Los Angeles, which - in true Californian fashion - had already sold the naming rights to the stadium in true 'Build It And They Will Come' fashion?
If we're honest, the only thing that's come out is that the Jacksonville Jaguars are playing in London between 2013 and 2016 (starting with the San Francisco 49ers in October). Sure, Khan told the UK media that London is 'ready' for a NFL franchise (in our humble opinion, we don't think that that's the case), but does that mean that he'll move the team?
And with a Premier League club in Khan's hands now, what would be the point of having two franchises on the same shores? That's a question that only he and his assorted staff can answer. Oh, and maybe the taxman.
Khan's not the first US-based owner to own a Premier League club. The George Gillette/Tom Hicks takeover of Liverpool didn't work out well, and the decision to sell the team to Fenway Sports Group - owners of the Boston Red Sox, NASCAR team Roush Fenway Racing and the NESN TV channel was applauded by Liverpool fans around the world.
Cleveland Browns owner Randy Lerner owns Aston Villa. Stan Kroenke, the majority owner of the St Louis Rams, is also a major shareholder in Arsenal. Malcolm Glazer and his family - who also own the Tampa Bay Buccaneers - own Manchester United, which is controversial even now to say the least!
Fulham fans will be hoping for a much quieter investment than befell Manchester United.
"Personally, I'm just hoping for Khan to take down the Michael Jackson statue. I loved Fayed, but that was an embarrassment," Fulham fan Sam Smith told me.
Smith doesn't know much about Khan - apart from his beautifully twirled moustache which makes him look either like a hipster from Shoreditch on a Saturday night, or 1970s baseball legend Rollie Fingers (we can't decide!) - but hopes that he keeps his promises and keeps Fulham out of relegation trouble. Oh, and he'd rather they didn't sell Berbatov, just yet.
But on the Jacksonville side, stalwart Jags fan Richard Lloyd said his impression of Khan as an owner - and he's only been at Jacksonville since 2012 - is very favourable.
"Apart from the fact that he's got the best moustache in sports, Khan has many enviable qualities. As a self-made dollar billionaire he is very bright, he is incredibly articulate and clearly loves sport.
"What might be most telling however is that he is willing to cede power (and its accompanying responsibility) to hand-picked lieutenants who know the areas in which they are doing business for him.
"He might not always be best placed to know what to do, running Fulham FC will be a case in point, but you can be assured he will pick someone he thinks can do it for him in his own vision. As a Jaguars fan I'm hoping the relatively inexperienced new General Manager David Caldwell is a case in point."
Personnel
For those unfamiliar with Caldwell's work, David Caldwell was appointed as general manager to the Jaguars in 2013 - his first GM job. Before that, he'd been with the Atlanta Falcons for four years as the director of player personnel and college scouting, and had two scouting jobs with the Carolina Panthers and Indianapolis Colts.
Lloyd will be praying to the NFL gods that Caldwell will help to mould the Jaguars into a successful franchise, which at the moment, they are not. The Jags finished the season an awful 2-14, which cost head coach Mike Mularkey - who had only been around for a year - his job.
"Rebuilding is an oft used mantra for a poor team but this off-season has seen more new players come in since the first days of the team back in 1995," Lloyd said.
"The most important signings could well be those of Caldwell and head coach Gus Bradley [formerly defensive co-ordinator of the Seattle Seahawks]. Last season Khan was getting to know what he had bought, this season is where progress needs to be seen."
Although it must be said, the only things that could get worse for the Jags is with the numbers '1' or '0' in them - something that doesn't bear thinking about in that time in Florida.
Unlike in the Premier League, where a team simply gets relegated if they have an appalling year, bad teams get awarded with the top picks in the NFL Draft, in an attempt to level up the playing field. The Jags got the second pick of the 2013 draft, with which they picked Texas A&M offensive linesman Luke Joeckel, who had a big hand in the Aggies' stunning success in the 2012 college football season, where they saw their quarterback Johnny Manziel lift a Heisman, upset eventual National Champions Alabama on the road, and massacred rival Oklahoma in the Cotton Bowl.
However, there is work to do, Lloyd says. "Much has been written about the QB position and it will need probably needs upgrading, the 2013 draft wasn't the place to do it so top of the list came protection for the incumbent (almost certainly Blaine Gabbert) and upgrading the defensive line. I do worry about the cornerbacks, there is very little experience or depth there."
A fit-again [running back] Maurice Jones-Drew, who's in the final year of his contract - should hopefully take some of the pressure from Gabbert and in Justin Blackmon and Cecil Shorts III there are options downfield for the offence.
More importantly than team depth - Lloyd believes - is the fact that it's unlikely that Khan will move the team to LA or even London.
"No," he says. "It won't benefit him. He is heavily invested in Jacksonville, particularly the port and ancillary industry. He can use London (and now Fulham) to help boost those business interests. Khan is very shrewd and he can use the Jaguars to promote his other business ventures, moving the team does not further those aims."
He adds that Florida - thanks to its massive Hispanic community and the fact that it's one of the world's biggest tourist destinations - is a good place to promote football, and Khan could use Fulham to do that. "Expect to see him being at the forefront of renewed aims for playing Premier League regular season fixtures overseas," he said. "If that happens I would expect Everbank Field- where $63m of improvements have been agreed - to be the first place that holds such a match."
Party
That would be good for the newly-improved Everbank Field (which during the 2013 may or may not be showing NFL RedZone, if rumours are to be believed), bearing in mind that the only time that the stadium's full during the course of the season is when Florida and Georgia play their annual college football match there. The game is tagged: "The Biggest Cocktail Party In The World" - which makes us believe that it's not all about the pigskin.
He also believes - and this is important for Fulham fans like Smith - that Khan is like Ronseal - he does what he says on the tin. "I do believe him", he says.
"I know it's very easy to get taken in by a passionate and eloquent owner - as a QPR fan I've seen that happen more than once. But Shahid Khan talks about his civic duty and pride in being the guardian of the team rather than the owner. This does not translate as a man looking to either move the team or make a mockery of them. He's the real deal."
Fulham fans will certainly hope so. So will Jacksonville Jaguars fans like Lloyd, we expect.