European Championship: England Under-21s are rock bottom - Alan Smith
Alan Smith reflects on the failures of England Under-21s as they try to salvage some pride against Israel.
Last Updated: 11/06/13 10:01am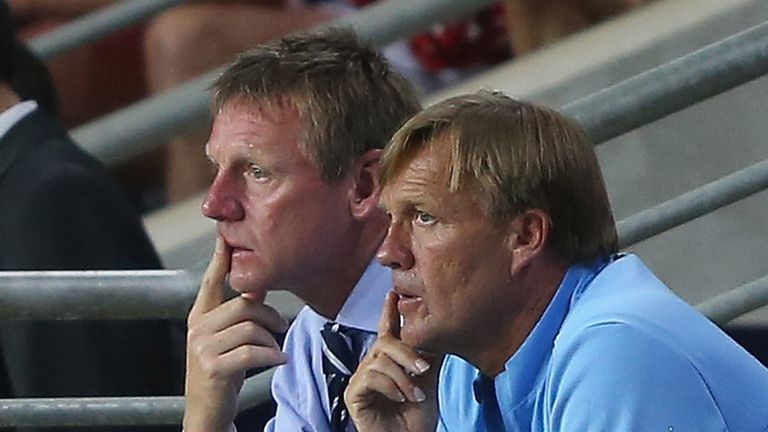 Stuart Pearce's squad breezed through qualifying, as they always do, but going to the European Championships is a big step up and I do think that demands a different mind-set - and traditionally that is something we have not handled well at any level.
England have just not been good enough at this tournament, simple as that. And of course I am sure there is plenty of flak back home.
People might be critical of us going out of a tournament in the group stages, but in all honesty looking at the players we had available, I don't think we should have expected much more.
If you look at the number of players we could have taken, if everyone had been fit and made available, we would have done much better. I am not sure we'd have won it, but there's no doubt we'd have been much better equipped. But with this squad? There was probably too much expectation.
They have a rule in Spain that says if you are picked you have to go or you are suspended. Look down the Spanish squad and the number of senior caps they have and you can see it works. The Netherlands have 12 players with senior caps - Kevin Strootman has got around 20 senior caps, yet he still plays for the Under-21s. That is something I think we should learn from.
Outgoing FA chairman David Bernstein talks about supporting the senior side but sometimes we do worry about players playing too much and burning out. But all you have to do is look at the Spain players out here because they have been playing continuously since the Olympics.
Quantity
Yes, the likes of Mario Balotelli and Stephan El Shaarawy have not come out with Italy, but that is just two. The England Under-21 squad is missing a lot more.
James Milner, Joe Hart, Daniel Sturridge and Danny Welbeck are just a few who have broken into the senior England side, but I don't think these players are too good and looking to leave the Under 21 behind.
England coach Stuart Pearce needs more support from clubs and the Football Association needs to look at their philosophy of players winning senior caps going back down to the Under-21s if they are still eligible.
It is not a short-term fix but something needs to be done. The squad that was pulled together, with all due respect, was the weakest we have sent out there for years. Something needs to be done, and let's hope it is.
We haven't got enough players coming through and we can't argue with that. And dare I say it but the quantity and the quality are not good enough. You can only work with what you've got and if the quality is not there, what can you do?
It is something Roy Hodgson has spoken about and that pool of talent also affects the Under-21s.
Experience
Having said that, the team that Pearce picked for the Norway game was a decent team and should've done better and given Norway a proper game. They should have beaten them but unfortunately they were to blame.
Defensively we have been excellent in qualifying. We came to Israel with nine clean sheets but we didn't defend well on Saturday - as Pearce made reference to.
We passed the ball much better than against Italy but it was almost as if we'd forgotten how to defend because of it. We gave Norway too many chances and you get punished at this level. They gave away a couple of goals and are now out of the tournament. That is what happens in international football.
As we bid farewell against the hosts, I am trying to come up with some positives for England but there aren't many of them, I'm afraid. There is the tournament experience and Nathan Redmond has done well but if you look through the squad there aren't many who you could say have done themselves credit. Yes, the defence has been poor but Craig Dawson has been our biggest goal threat from set-pieces - we didn't even really create any chances.
I am sure against Israel, Stuart will give those that haven't played a game, let them get that experience and a run out. Hopefully we can go out with a win and a smile.
Israel aren't as good as England but there is no guarantee we are going to beat them! Let's hope England salvage some pride.