The learning curve
Alan Smith says England U21's were unlucky to lose to the Czechs, but are too far behind other nations.
Last Updated: 27/11/11 2:05pm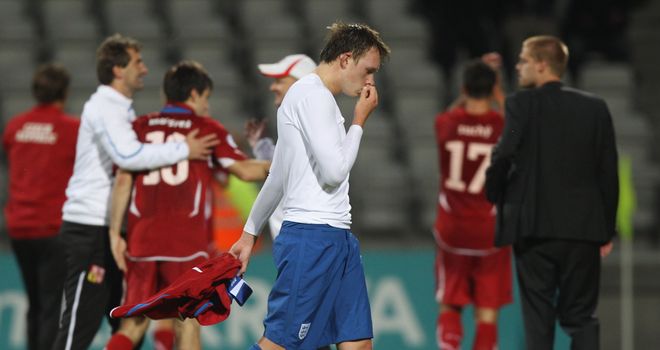 Seeing England get knocked out in the fashion that they did was heartbreaking.
We haven't exactly been full of goals this tournament but we were persistent against Czech Republic and got our rewards with Danny Welbeck's excellent header.
The second-half saw us doing all the pushing and when we got that goal I thought that would be enough because defensively we have been excellent. Unfortunately we just couldn't see it out, so it was really disappointing.
We haven't played particularly well in this tournament or put together what you would call decent football. Spain were clearly the best team in the competition and we couldn't get the ball off them so a point was a good result.
But the game against Ukraine was the big disappointment. We really should have played better and we should have beaten them and in the end it came back to haunt us.
I said at the start of these Championships that the performances were more important than winning. But I also believe it's about development and getting players the experience for when they step up to the senior team, so from that point of view the last couple of weeks have been valuable.
The players have had to deal with a tournament situation and have discovered what you need to do to get through, so it is good for them and hopefully they will benefit.
Bonus
Stuart Pearce and Fabio Capello will also have come away from Denmark knowing they have two quality centre-halves in Phil Jones and Chris Smalling who are comfortable at international level and that is a real bonus for England.
They are both excellent on the ball and happy to step into midfield and create an extra man, which has so many advantages. I'm sure they will be England's first choice partnership for years to come and that is the biggest plus point to come out of over the last week-and-a-half.
In fact, I was really impressed with the whole back four. Ryan Bertrand was excellent in all three games and I hope he gets a chance at Chelsea next season. Ashley Cole can't go on forever and I think Bertrand could really make his name in that team.
Kyle Walker, meanwhile, was outstanding against Spain and the pick of the England players in their opening match. Having watched that game Ukraine and Czech Republic went out to stop him from making those marauding runs down the right-hand side and to a certain extent they did.
But that is part of the learning curve for him - sometimes you have to mix up your game if the opposition are stopping you from what you're used to doing.
He had a fantastic season on-loan with Aston Villa last year, but I'd be surprised if Harry Redknapp and Tottenham feed him out to another club this season.
Further up the pitch and I thought Henry Lansbury did really well every time he got on the pitch, too. He was one of the few players that could see a pass and pick a pass in the same way that Jack Wilshere - who we really missed - does.
Suffered
We also suffered because there were a few lads, who we know have quality, that didn't enjoy a good tournament.
What you have to compete with at this level can hit you like a bus sometimes. Jordan Henderson and Michael Mancienne are two players that have been picked out and I just don't think we had enough variation in midfield or people playing well.
It was a tough group as well; let's make no mistakes about that. And if your own game isn't exactly where you want it to be, it is difficult.
There's no denying that there is still a huge gap between us and most other sides in the world.
We're a good decade into the academy system and you would have thought that we would be further ahead in terms of our technique than we are at the moment.
There are some good kids that have come through but nowhere near as many as we would have hoped for, and that is the disappointing fact.