Czech mate for Lions
Alan Smith says England U21s have given us no reason to believe they can beat Czech Republic.
Last Updated: 17/06/11 3:55pm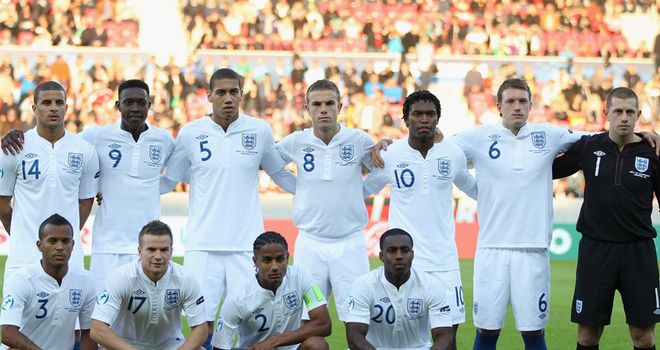 I would like to say I can see England getting the result they need against Czech Republic to qualify for the knockout stage, but we just haven't seen any evidence in this tournament to be confident of that.
We didn't create too much against Ukraine and technically they were far superior to us and caused our defenders a lot more problems. With the exception of Daniel Sturridge's shot which crashed off the crossbar we didn't really threaten at all in the first-half.
Stuart Pearce must have had a few words at half-time because the second-half performance was much more positive. A lot more chances were created and in the end we were a little unlucky not to come away with a win.
That said, I don't think we played particularly decent football on Wednesday night, or throughout the tournament for that matter. We certainly weren't stroking it about with any kind of fluency and there's a lot to improve on in regards to our overall game.
I doubt very much that we will see an improvement in this tournament because that is a much deeper issue which goes into the flaws of English football.
Courage
When it comes to international football we get shown up on the technical side of things. We tend to withdraw into our shell, revert to type and start hitting it a bit longer.
Quite often it's a question of having the courage to volunteer for the ball for those little 10-yard passes into midfield, even when you're marked and we're lacking that a bit at the moment.
I flew back from Denmark with Sir Trevor Brooking the other night and he has been in the papers this week talking about the same thing.
We can't just be depending on Jack Wilshere, we need a lot more players of his ability and type - players who are comfortable receiving the ball in any given situation. Too often our first touches just aren't good enough, while balls aren't being played in with enough care either and we lose possession because of it.
In an ideal world you would want players of Wilshere's ability right throughout the side, but particularly when you're building the play up and are going forward. Players that can keep it and pass it.
Stuart reverted back to a more obvious 4-3-3 against Ukraine and I think he will stick will that for Sunday's game with the Czech Republic.
It will be interesting to see who he picks because Henri Lansbury has done really well every time he has come on and Stuart clearly likes him because he has been picking him ahead of players with more Premier League experience.
Option
He played in a slightly more advanced role just behind Danny Welbeck when he came on against Ukraine and that might be an option.
I think Scott Sinclair gives us something different on the left-hand side as well. He has the ability to take players on with his pace and he can scare defenders.
Danny Rose isn't that sort of player. He can pass the ball but he is a bit more industrious, so I think Scott will be thinking that he has half a chance of winning a starting place.
The Czechs only need a draw so it is going to be a tough game. But England know only a win will do and sometimes that does clear the mind. You don't have to be gung-ho from the start but you might take one or two more chances than you usually do.
And of course when we're in this kind of situation, when it's all or nothing, England often pull it out of the bag. We're probably better in this sort of scenario than in earlier group games when it becomes a bit more of a tactical battle.
What we have got in our favour is that we're not going to concede too many goals. The centre halves have done really well and so has Kyle Walker at right-back. We also have to praise Ryan Bertrand. He's not played a game for Chelsea in the Premier League yet, but he's come in and done really well, so we've got a solid base.
But I just don't think the players have shown enough to suggest that they have a good chance.
SMUDGER SAYS - England1-1 Czech Republic - Unfortunately I don't think we'll get the win that we need. We had it tough against Ukraine and the Czechs are a better side than them.


SMUDGER'S STAR MAN - Phil Jones - He has looked really good so far and increasingly he has been carrying the ball into midfield. He made one or two forward runs the way he has done for Blackburn against Ukraine and this might be a match where we have to do that to give us that extra man in the final third.