Onwards & upwards
Alan Smith says England Under 21s can move forward with optimism after their draw with Spain.
Last Updated: 16/06/11 11:41am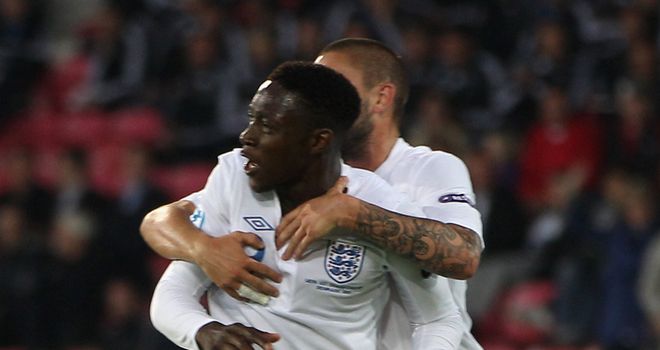 The opening match of any tournament is notoriously difficult, so for England to come away with a point against the best side in the competition has to be viewed as positive.
The game panned out very much the way we expected and there weren't an awful lot of surprises. We knew Spain would be better than us technically and that they would keep the ball better and there were times when we found it hard to handle.
In the first half England struggled to play any meaningful football in the attacking third. On the odd occasion the midfield managed to find Daniel Sturridge and Danny Welbeck in forward positions the ball just didn't stick.
But there was a definite improvement in the second-half performance and for all Spain's excellent play, they didn't really create too much, which they were punished for in the end. It was a game of few chances but we did well to get a draw and Danny Welbeck took his chance really well, even if he did have a bit of luck with the offside decision.
There were positives for Stuart Pearce with some good individual performances, too. Chris Smalling did extremely well at the back and Kyle Walker was a real threat down the right-hand side. But there wasn't a great deal that Stuart would have learnt from that game. Certainly there was nothing from Spain that would have surprised him.
Instead it was an opportunity for the players to get a little bit of that tension out of their legs and go into the next game against Ukraine and play with a little bit more freedom.
Powerful
Ukraine may have lost their opening game against the Czech Republic, but they finished top of their qualifying group and are a big strong powerful side, so expect Stuart to pick his team accordingly.
I can't see him making any changes at the back, but if he decides to change the shape there could be some new faces in midfield. Michael Mancienne was handed the captain's armband against Spain, but he was replaced by Jack Rodwell in the second-half and the Everton midfielder could be one of the players that forces his way into the starting XI.
If Mancienne doesn't start I can see one of the centre-halves taking the armband. Smalling would be the obvious choice because at 21 he has a little more experience than Phil Jones. I always like to see a defender or central midfielder lead a side and I think that will be the case.
The fact that Stuart hasn't outlined from the start who will be captain suggests that he is likely to mix and match depending on the opposition. That said, if we get a good result in the next match things could easily settle down and we may find that whoever he picks against Ukraine will lead the side for the rest of the tournament. Either way I can't see it unduly affecting the team.
Variation
In the friendly against Norway we went with a 4-3-3 formation and that is a possibility for Wednesday's game. Stuart opted to play a variation of that against Spain with Welbeck dropping back into midfield and Tom Cleverley and Danny Rose pushing on from out wide, but we didn't get too much out of those boys so that maybe an area to look at.
Ukraine are definitely a side that can cause problems for any team and having spoken to some of the England backroom staff, they're well aware of the threat that they pose.
They came up against an excellent Czech Republic side in their opening game and caused them problems. In the end they could have maybe even nicked a point with Maksym Bilyi coming off the bench and causing real problems as well as getting a goal.
England will have to be organised, especially from set-pieces where we got caught out against Spain and that is one area we will have to be better.
SMUDGER SAYS - England 2-0 Ukraine - England would have come back and picked out the good things from the Spain game and gained a little bit of confidence. It's going to be a totally different game against Ukraine, but it's always nice to score you first goal in a tournament and getting their first point has given them something to build on.
SMUDGER'S STAR MAN -Kyle Walker - He had a great game against Spain and he's a real outlet on the right-hand side. I was really surprised Spain didn't do anything about him, but Ukraine would have had a good look at that and will probably have someone blocking him off. But he's a strong lad with a lot of pace and he will be a threat for us.