Football League Expert & Columnist
Safe crackers
How safe are football stadiums? How has Uwe Rosler done at Brentford? Beags has his say...
Last Updated: 26/10/12 1:55pm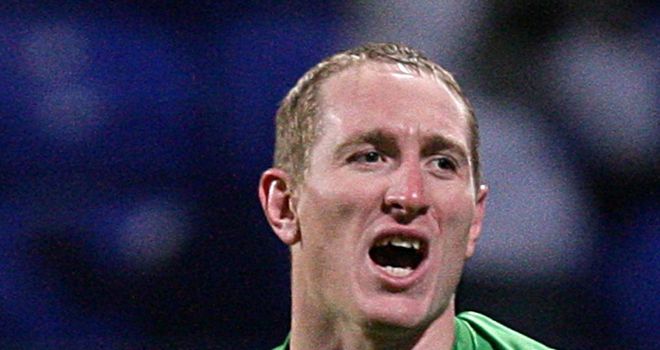 Peter Beagrie is here every week on skysports.com answering YOUR Football League questions.
The former winger, who played over 770 games, representing clubs in all four tiers of the English footballing pyramid, including Manchester City, Everton, Bradford, Sheffield United, Scunthorpe, and Grimsby, forms part of the Sky Sports punditry team for all the big matches in the Championship, League One and League Two.
So if you have a poser for Peter, whether it's about your team, a player, match or incident that has caught your eye, or a wider point on the Football League, make sure you send it in.
Read below for this week's column where Beags gives his take on safety levels at Football League grounds, the virtues of Uwe Rosler and who should take charge of Hartlepool...
Send your question to Beags
1. Mail them to skysportsclub@bskyb.com
2. Use the feedback form at the bottom of this page
SAFETY MEASURES
Hi Peter, After seeing the Chris Kirkland incident last week, I just wondered how you think safety in football grounds has changed since your early days as a professional? Cheers, Michael Ashton (Sheffield Wednesday fan)
BEAGS SAYS: There have been improvements at a vast majority of grounds, Michael. Unfortunately they came off the back of catastrophic events - the Bradford City fire and Hillsborough disaster being two such examples - but thankfully the loss of loved ones is no longer commonplace inside football stadia. New safety laws implemented after Bradford, the worst fire in English football history meant that old stadia and stands, mainly of wooden construction, were remodelled for the better, while the removal of lateral fences, which were initially put in place to improve safety by segregating opposing fans and preventing pitch invasions, friendly or otherwise, but actually played a huge part on that fateful day at Hillsborough in 1989 in which 96 people lost their lives and 766 more were injured, has been a successful move, as has the elimination of standing terraces in Britain.
The actions of the mindless individual who was attacked Chris Kirkland was disturbing to see and we seem to be going back to the dark ages with things like this and the racist chanting, which has replaced some of the witty banter once exchanged. Hatred and vitriol is the order of the day, it seems, and it saddens me to see the game I love, played, watch and talk about take such a kicking. In my opinion, which is shared by many others, the best game in the world has the worst reputation. Safety has improved but behaviour in grounds seems to have gone backwards and hopefully there is an end to that soon.
BIG TIME FOR BILLY?
Hi Peter, I think I'm right in saying that you played with Billy McKinlay for a short time when you were at Bradford. Therefore, do you think he would be a good choice as Blackburn manager? Thanks, Thomas Smith (Blackburn fan)
BEAGS SAYS: You're right, Thomas, I did play with Billy for a short time at Bradford and in that period I could see that he was a passionate, opinionated individual who had no problems communicating and getting his ideas across. He is a well-respected coach now and Martin Jol, the manager he works under at Fulham, believes he will be a very good number one someday. In you club's case, it appears that the rejected approaches for McKinlay and Tim Sherwood suggest they will forget about the failure of the untried Steve Kean and again go for someone who is young, hungry and with an affinity for the club. The fans' response has not been positive to the aforementioned candidates and so it is back to the drawing board; I normally have an inkling as to who will get managerial posts but this one has me stumped - and I expect I am not the only football person that the Venky's have flummoxed! Still, Rovers are up to fifth after ending their barren run against Sheffield Wednesday and supporters should be counting their blessings that Jordan Rhodes is firing.
SQUARE ROUTE
Hello Peter, I really enjoy your column. Why do you think so many teams find the move from the Blue Square Premier to League Two so easy? Thanks, Victoria Holness (York City fan)
BEAGS SAYS: Thanks for taking the time to right in, Victoria. I think there are many factors as to why this seems to be the case. Usually the Blue Square clubs come into the Football League better prepared and more stable financially, while they are also able to retain the vast majority of their promotion-winning team which brings confidence, consistency and a vast amount of momentum. In addition, they get the enjoyment and buzz of playing in front of bigger crowds. There is also the surprise element as other managers and players do not know the strengths and weaknesses of yours. I must congratulate you for your team's great start and current four-game unbeaten run; York do not have the finances that the likes of Crawley and Stevenage had but you have a very good manager in Gary Mills.
COOPER OUT, COOPER IN?
Hi there Peter from a fellow North Easterner. Can you see Neale Cooper dragging Hartlepool to safety this term? It doesn't look good at the moment... Evan Jones (Hartlepool fan)
BEAGS SAYS:
Hi Evan, my answer is a couple of days too late as Neale has now resigned, but it would still have been no. Neale did really well in his first spell with the club but hasn't been able to take Hartlepool forward this time around. The Victoria Park outfit have won only seven of Neale's 40 games in charge, did not record a victory in his last 12 matches and sit bottom of League One. As for who I would like to take charge of the club I started out at as a schoolboy, my answer would be Colin Cooper. The former England centre-half and captain of Middlesbrough and Nottingham Forest was assistant to Gareth Southgate at the Riverside and won both his games as caretaker manager of Bradford. He is ambitious, organised, connected and an excellent communicator and has served his apprenticeship, going from youth coaching to the first-team picture. He has a great affinity with the North East and has the knowledge and self-belief to succeed and Hartlepool would be a great fit for him, while I'm sure the intelligent Pools faithful would enjoy the footballing principles he would bring.
GO ON MY 'SON
Hi Peter, Do you think Nigel Pearson gets enough credit for the jobs he has done as a manager? He has saved Carlisle and Southampton from relegation, got Leicester promoted from League One and into the Championship play-offs and now to the top of the second tier? I am surprised he never gets linked with vacant Premier League jobs. Thanks, Gary Dixon (Arsenal fan)
BEAGS SAYS: Nigel has certainly had a wide cross-section of jobs, with varying degrees of difficulty, coaching at international with the England Under-21s and at Premiership level and then going on to become a manager in his own right. After Nigel led Leicester to promotion the Championship and then into the second-tier play-offs, in which his side lost in the semi-finals in a penalty shoot-out, I think he felt he had to seek pastures new due to a clash of personalities with the chairman and chief-executive. However, after a stint at Hull, Pearson is now back in the Foxes hot-seat, producing brilliant results and has got the City fans smiling. I feel Nigel's best chance of managing in the Premier League is with Leicester and his chances may have been improved if Sven-Goran Eriksson had not wasted a small fortune when he was in charge at the King Power Stadium.
HOORAY FOR UWE
Hello Peter, How would you evaluate the job Uwe Rosler has done since he took charge of Brentford in the summer of 2011? Thanks, Sam Thompson (Brentford fan)
BEAGS SAYS: I think Uwe is doing an excellent job and with a little bit of luck and some devilment from the Bees strikers in front goal, Brentford could have made the play-offs last year and would arguably have several more points this. Every time the Griffin Park outfit are screened live on Sky Sports, their overall play has been impressive and I suggest if Rosler was still able to play those chances would not have gone begging! He has been astute in the transfer market and shown a willingness to play and get the best out of the youngsters, all with a budget that is between the eighth and 12th biggest in the division. The Bees are ticking along nicely and if they can keep their main players fit, a play-off place beckons.
I had the great pleasure of playing with Uwe at Man City where he displayed all his passion for his life, sport and family. He had a tremendous rapport with the fans who saw how much it mattered to him to be the best that he could as often as possible; there was no such thing as a lost cause or a race that couldn't be won. He was misunderstood by a lot of people during his time as a manager in Norway as aloof, but nothing could be further from the truth; he has a great sense of humour and a wonderful grasp of the English wit and sarcasm. He overcame a life-threatening illness by showing all the traits he demonstrated as a player and has modern ideas but old-fashioned values. He was a hero to many and I am glad I am one of the few who can class him as a great friend.
Make sure you have your say on the issues mentioned by filling in the feedback form below and then tune into this weekend's Football League fare as Bristol City host Hull (5pm, Saturday, Sky Sports 2 HD) and Sheffield United entertain Portsmouth (7.30pm, Monday, Sky Sports 1 HD).