Football League Expert & Columnist
Prince of the Palace
Peter Beagrie blogs on Selhurst Park wonderkid Wilfried Zaha and Edgar Davids' arrival at Barnet.
Last Updated: 18/10/12 9:25am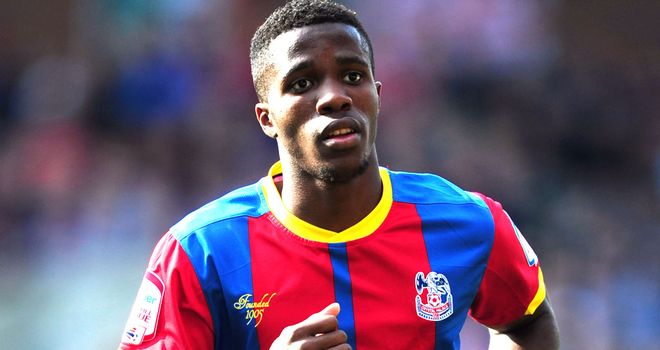 Peter Beagrie is here every week on skysports.com answering YOUR Football League questions.
The former winger, who played over 770 games, representing clubs in all four tiers of the English footballing pyramid, including Manchester City, Everton, Bradford, Sheffield United, Scunthorpe, and Grimsby, forms part of the Sky Sports punditry team for all the big matches in the Championship, League One and League Two.
So if you have a poser for Peter, whether it's about your team, a player, match or incident that has caught your eye, or a wider point on the Football League, make sure you send it in.
Read below for this week's column where Beags gives his take on Wilfried Zaha, Edgar Davids, Michael Appleton and what Nigel Reo-Coker will bring to Ipswich...
Send your question to Beags
1. Mail them to skysportsclub@bskyb.com
2. Use the feedback form at the bottom of this page
ZAHA CAN GO FAR
Hi Peter, Crystal Palace winger Wilfried Zaha has been linked to my team Tottenham. I don't know too much about him so what sort of player is he? Can you compare him to someone playing in the Premier League? Thanks, Tom Baldwin (Tottenham fan)
BEAGS SAYS: Wilfried was viewed as a bit of a maverick who, like many talented players, did not have a team understanding and football acumen; when to pass, when to dribble, how to affect defenders and exploit space were all areas in which he was lacking, but last year I saw a different Wilfried. He benefitted from Dougie Freedman's belief in him and his improved decision-making and physical development allowed him to score nine goals and create a further five. He was pivotal in Palace's Carling Cup win over Man United at Old Trafford, tormenting the defence and demonstrating at one of the bastions of English football that he was fearless on the pitch, despite being unassuming off it. Palace do not need to sell, while Zaha would do well to look at players like John Bostock, who moved on without serving their footballing apprenticeship. He has not finished learning and I hope he continues to develop over the next couple of seasons at Selhurst Park. Wilfired has more tricks than Paul Daniels and Dynamo put together and is a bit of a one-off, but his ability and self-belief reminds me of Victor Moses and Alex Oxlade-Chamberlain, while his grace and the way he travels across the ground makes me think of Thierry Henry. He is not in that class yet, but has the demeanour to flourish.
A GOOD ED
Hi Peter, I want to know what you make of Edgar Davids becoming joint head coach at Barnet. Do you think his arrival shows a lack of faith in Mark Robson, who was only appointed as manager in the summer? Thanks, James Arnold (Arsenal fan)
BEAGS SAYS: Davids' appointment is certainly an interesting one but if you have had the good fortune to be in Edgar's company you wouldn't even have raised an eyebrow. He is still deeply passionate, motivated and opinionated about a game which has been very kind to him and would have been duller without his contributions - boots, glasses, dreadlocks and all. Barnet director of football Paul Fairclough said that Davids' arrival does not show a lack of faith in Robson and says it will only help Mark develop and grow. As Barnet is Edgar's local club and he is not involved in any other projects at the moment, it is a fantastic opportunity that Barnet couldn't turn down. Different ideas but not philosophies, same principles but different methods, is how Barnet, Robson and Davids want this to pan out, which will hopefully lead to Football League survival.
BARNSLEY'S BRAVE BOSS
Hi Peter, I am a Barnsley fan and have heard reports that our manager Keith Hill might be in line for the Burnley manager's job. Do you not think that would be sideways step in his career? Cheers, Daryl Shaw (Barnsley fan)
BEAGS SAYS: Daryl, I wouldn't insult your intelligence by saying that Burnley and Barnsley are on a level; the Clarets' recent adventure in the Premier League means that in finances and player recruitment they have a big advantage. That said, it shows how well Keith is doing on a bottom-three budget at Oakwell to produce some of the quality attacking football that they do, something we witnessed live on Sky Sports in the Tykes' 5-0 mauling of Birmingham. You have to be a courageous manager to produce football like that and suffice to say I am a big admirer of Keith.
REO GRAND?
Hello Beags, I am an Ipswich fan and am not sure that singing Nigel Reo-Coker is a good move. I think he only sees us a short-term measure and will leave in January, so how can this be good for team morale? What do you think? Cole Longford (Ipswich fan)
BEAGS SAYS:
My major worry wouldn't be that Reo-Coker could leave in January but his lack of match fitness. Nigel and fellow Ipswich new boys DJ Campbell and Richie Wellens would normally be massive coups, especially for a team sitting second bottom of the Championship, but personal circumstances dictate that the club won't see the best of them for another five or six games. However, all three will be an asset for your football club, Cole, because they have shown a winning mentality and an excellent work ethic throughout their careers, not to mention proven talent, so I would treat them as welcome additions. As a regular for Bolton in the Premier League last season, Reo-Coker would have expected there to be no shortage of clubs vying for his signature. His ego will have taken a bashing but he will come to your club with a point to prove, and even if it is only in the short term, he will be a voice and a driving force and, as a former captain at both Aston Villa and West Ham, will organise things on the pitch.
ALL HAIL THE VALE
Hi Peter, What do you make of Port Vale's brilliant form? We are still in administration, yet are second in League Two. Can we sustain it? Michael Stevenson (Port Vale fan)
BEAGS SAYS: It has been an unbelievable start given the financial uncertainty and fans, players and Port Vale's manager Micky Adams deserve a lot of credit. Vale showed the nation their full repertoire when they beat Oxford 3-0 live on Sky on Monday night; they have two quick and skilful wingers in Ashley Vincent and Jennison Myrie-Williams and a front two in Tom Pope and Louis Dodds who complement each other perfectly. Adams' boys are a joy to watch and with the promise of new investment on the horizon in the form of millionaire Paul Wilde and his Alchemy Investment Group, worrying times for the Valiants have been consigned to the past and a very bright future beckons.
APPLE'S CORE STRENGTHS
Hi mate, Do you reckon Michael Appleton is destined for the top? He has dealt with the Portsmouth situation superbly and having surely learnt from top managers like Roy Hodgson and Sir Alex Ferguson, I think he will be a Premier League boss soon. Liam Dawson (Man United fan)
BEAGS SAYS: It is one thing having the talent to be a Premier League manager and another getting the opportunity. All the bosses outside the top flight are hoping to prove that they have got what it takes to tempt the elite clubs' chairmen not to go foreign or for tried-and-trusted out-of-work managers. I share your enthusiasm with regards to Appleton, Liam, and he has had more of the proverbial to wade through in his first post then many managers face in their entire careers. In adversity, Michael has amassed a very competitive squad proving that Pompey always find money from somewhere and if he can navigate Pompey through their next four fixtures - against Shrewsbury, Stevenage, Sheffield United and Brentford - and pick up a couple of wins, a play-off place should be achievable. I probably won't be telling Pompey's passionate fans something they don't already know but it's not the Premier League chairmen you should be worried about, it's the Championship ones, particularly in the North West where Appleton can rely on glowing references from Sir Alex Ferguson.
Unacceptable
I'd like to finish by commenting on the ugly scenes and horrific chanting at the England Under-21's game in Serbia; it was sickening and it seems we are back in the dark ages.
The torrent of vitriolic racist abuse that we are seeing black players receive is worse than when this issue was in its infancy, and to see this in other parts of the world when you consider the success that the Kick It Out campaign has been on our shores is very sad.
The vast majority of players have the mental strength to come through and cope with it, but they should not have to. I don't think fines are an acceptable deterrent and countries whose fans misbehave like this should be banned from competing in international competitions.