Football League Expert & Columnist
London calling?
Leyton Orient's potential name change and bright young bosses... Beags answers YOUR questions.
Last Updated: 12/10/12 3:30pm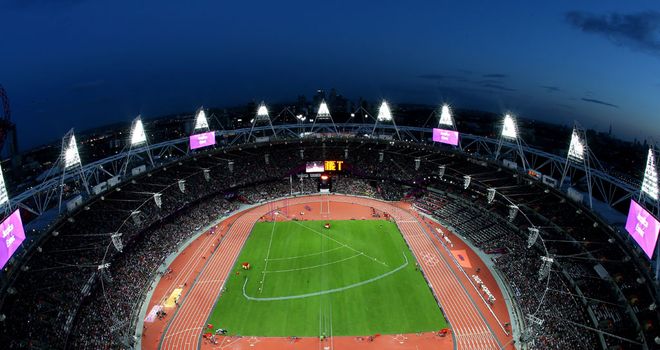 Peter Beagrie is here every week on skysports.com answering YOUR Football League questions.
The former winger, who played over 770 games, representing clubs in all four tiers of the English footballing pyramid, including Manchester City, Everton, Bradford, Sheffield United, Scunthorpe, and Grimsby, forms part of the Sky Sports punditry team for all the big matches in the Championship, League One and League Two.
So if you have a poser for Peter, whether it's about your team, a player, match or incident that has caught your eye, or a wider point on the Football League, make sure you send it in.
Read below for this week's column where Beags gives his take on Leyton Orient's potential name change, Owen Coyle's sacking, and the Football League's bright young bosses...
Send your question to Beags
1. Mail them to skysportsclub@bskyb.com
2. Use the feedback form at the bottom of this page
WHAT'S IN A NAME?
Hi Peter, What do you make of Leyton Orient potentially changing their name to London Orient if they move to the Olympic Stadium? Thanks, Matt Edwards (Leyton Orient fan)
BEAGS SAYS: As a fan of football in general, I can probably look at it more objectively than you, Matt, and on the whole I think it would be beneficial for the O's on a number of fronts. I think the main concern for any fans should be their club's long-term future and, as Orient custodian Barry Hearn points out, that is in severe jeopardy unless fundamental changes are made, in regards to rebranding, ground moving/sharing and creating a bigger fan-base. A move to the Olympic Stadium would ensure the club keeps its identity and could fund a team that would give them a greater chance of moving up a division, while the diehard fans would get rewarded for their loyalty with a new stadium and state-of-the-art facilities. London Orient makes perfect business sense if you read Hearn's proposals, which I have in depth, and the overwhelming feeling is that on gates of just over 4,500, the club will not survive this recession. Orient fans should back their club, whether its prefix is London or Leyton, as your chairman is doing everything he can and for the right reasons. West Ham don't want to ground share but big blonde Boris won't be doing his job properly if he doesn't allow the community-spirited club to rub shoulders with their illustrious proposed partners, the Hammers. That would certainly be an Olympic legacy.
BIG MICK NEEDED?
Hello Beags, Were Bolton right to sack Owen Coyle and would Mick McCarthy be a good replacement? Cheers, Mike Peters (Bolton fan)
BEAGS SAYS: We will never know if Bolton were right to sack Owen Coyle but the board certainly had THE right to sack a man who still had the belief that he could take Bolton back into the Premier League. The major voices in the boardroom were obviously looking at the poor start, a strong squad and the fall from grace of other formally established Premier League outfits, deep in the knowledge that bigger clubs than Wanderers have spent years toiling to tread the holy grail when promotion at the first attempt wasn't forthcoming. Mick McCarthy with his no-nonsense approach, Championship pedigree and international management experience would figure highly on any second-tier chairman's list. Ole Gunnar Solskjaer seems to be in vogue at the moment and is linked with every managerial vacancy that emerges; young, hungry, foreign and connected may be some of the reasons why, although the coaching side of things at Ole's current club Molde is taken care of by my former Sheffield United team-mate Mark Dempsey. Is Solskjaer worth a chance, or should Bolton go for one of our promising managers who have never had the opportunity to work with a decent sized budget and talented squad? I would prefer the latter.
BRIGHT YOUNG THINGS
Hi Peter, Who do you think is the best young manager in the Football League? Cheers, Gary Tennant (Fuham fan)
BEAGS SAYS: Thanks for your question, Gary, which has probably added a few more grey hairs to my ever-growing collection as I rack my mind for a possible and plausible answer. I had to decide an age-limit for your definition of young and as I am 46 years young I decided that would be the cut-off point, so apologies to the likes of Keith Curle (Notts County), Nigel Pearson (Leicester), Ian Holloway (Blackpool) and my old mate Tony Mowbray (Middlesbrough), who just miss out. Including Sammy Lee and Jimmy Phillips, the Bolton caretaker managers, there are 52 English bosses in the four tiers, but two that continue to impress me are Karl Robinson (MK Dons) and Simon Grayson (Huddersfield).
Robinson's experiences coaching at Liverpool and Blackburn served him well when he was given his first managerial post at the Dons. He has got his team playing with a progressive passing style and led them to two fifth-place finishes in League One, well beyond where their budget should have taken them. Grayson's first game in charge of Blackpool was against my old Scunthorpe team; I sat in the studio doing the analysis and fortunately for Simon his new charges when 4-2 - though if I had been playing the score-line MAY have been different. Promotion to the Championship with Blackpool was followed before an equally impressive elevation with Leeds, who had languished for the previous three seasons in the third tier, but after being harshly sacked by the Whites he marched a few steps up the motorway to Huddersfield and worked his magic again, guiding them to the Championship after back-to-back play-off failures. Having watched Robinson and Grayson progress and heard their theories on the game, they both have a chance of becoming Premier League managers, though I think Grayson's extra experience both as a player and manager will put him in pole position.
WHITE ON THE MONEY?
Hi Peter, What do you make of the potential takeover at Leeds? Will it be good or bad? Richard Long (Leeds fan)
BEAGS SAYS:
If the finances are right, Richard, it can only be a good thing. Ken Bates, love him or loathe him, was the right man at the right time for a club staring into the financial abyss. Morally and ethically, many things done under Ken's tenure can be questioned, but he has stabilised the club and made it a very good proposition for the right people. Gross mismanagement at board level is a thing of the past and I think that if a deal can be brokered it would suit both Leeds and Ken, who despite being 80-years-old is still as passionate and as fearsome as he was when he brought Chelsea for pennies - literally. With a great history and tradition and a huge following, buoyed by fresh investment Leeds could mix it with the elite of English football once again. Manager Neil Warnock has a promotion track record and at least three players lined up if the apparently imminent takeover is completed, but imminent in football terms usually translates to protracted or at the very least painstakingly long.
KNOWLEDGE IS POWER
Hi Peter, Can Stevenage maintain their start to the season and secure a third promotion in four seasons? Also, as our manager Gary Smith had a spell in charge of MLS side Colorado Rapids, do you think other English coaches should be encouraged to go abroad in order to learn new things? Thanks, Colin Jakeways (Stevenage fan)
BEAGS SAYS: Back-to-back promotions and back-to-back wins against Notts County and Scunthorpe have seen Stevenage rise to second in League One and with upcoming games against MK Dons, Portsmouth and Swindon, Smith's team will be given a stiff test in their quest for a hat-trick of promotions. I certainly wouldn't back against them, though, such has been the momentum they have generated over recent years and the resilience that seems to have got even stronger under Smith.
Variety is the spice of life and experience, knowledge and education benefits anyone from any profession. Many young coaches already, as part of their Pro Licence, do case studies on club's abroad, while when managers are out of work they should expand their ideas and footballing philosophies by observing their peers in other countries. You are never too young or too old to enhance your footballing education which may enable you to get more out of yourself, your players and your coaching sessions. In such a competitive business that tiny bit of extra knowledge can make the difference between success and failure.