Football League Expert & Columnist
Maine attraction
Peter Beagrie talks Sheffield United and Ipswich - and reveals his favourite Football League grounds.
Last Updated: 04/10/12 9:39am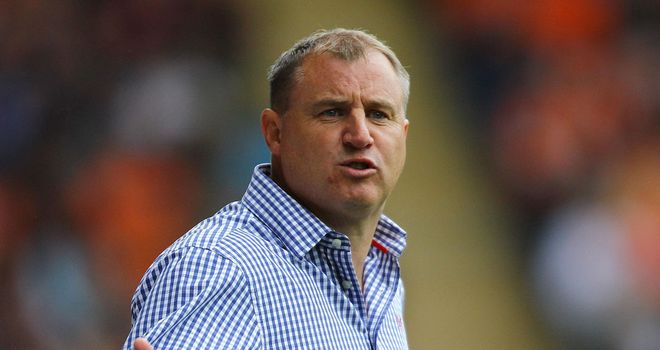 Peter Beagrie is here every week on skysports.com answering YOUR Football League questions.
The former winger, who played over 770 games, representing clubs in all four tiers of the English footballing pyramid, including Manchester City, Everton, Bradford, Sheffield United, Scunthorpe, and Grimsby, forms part of the Sky Sports punditry team for all the big matches in the Championship, League One and League Two.
So if you have a poser for Peter, whether it's about your team, a player, match or incident that has caught your eye, or a wider point on the Football League, make sure you send it in.
Read below for this week's column where Beags gives his take on Paul Jewell's toils at Ipswich and names his favourite Football League grounds...
Send your question to Beags
1. Mail them to skysportsclub@bskyb.com
2. Use the feedback form at the bottom of this page
BLADE RUNNER
Peter, How do you think Sheff Utd have started and what do you make of the additions of Dave Kitson and Paul Gallagher? Thanks, Sam Jenkinson (Sheff Utd fan)
BEAGS SAYS: United's results are among the first I look for having spent a couple of seasons being roared on by the Blades faithful. After the massive disappointment of losing in last year's League One play-off final and subsequently seeing star players Matthew Lowton and Stephen Quinn depart, I think 'solid but not spectacular' is how I would describe United's start to the season. The unbeaten run shows consistency and the recruitment of Dave Kitson and Paul Gallagher guarantees goals, experience and knowledge that could turn the side's draws into wins. I also think a couple of home victories will turn Bramall Lane into a fortress as it has to be if United are to capitalise on the absence of Charlton, Sheffield Wednesday and Huddersfield from the division. If Ryan Flynn can have a big season and Tony McMahon can produce the type of delivery from full-back that he is capable of, the Blades should have a very good chance of automatic promotion - and save you the suffering of the dreaded playoffs.
CURB CALLER
Hi Peter, Last week you said Alan Shearer was the favourite to replace Steve Kean at Blackburn, but now that Kean has gone who do you think deserves a chance in the Ewood Park hotseat? I want Tim Sherwood or perhaps Henrik Larsson. Cheers, Charlie Pearson (Blackburn fan)
BEAGS SAYS: There are a whole host of out of work and available managers with varying levels of experience. I would hazard a guess that the Venky's credibility rests on this appointment; from the debacle of Sam Allardyce's sacking to the promotion of Steve Kean to the hotseat the owners have shown they have no football acumen whatsoever. Figures like Shearer, Sherwood and (Bernd) Schuster have been mentioned, along with Alex McLeish, Mick McCarthy and Derek McInnes. I'm sure your club will be looking for an experienced manager to capture the fans' imagination thus creating an instant feel-good factor, but continuity after so many mangers in such a short space of time is key. I would like to see Alan Curbishley back in the dugout, maybe as a mentor to an up-and-coming, hungry number two, but what I would say is that the Blackburn job is a stellar one and for the fans' sake I hope the right appointment is made. Then supporters will start flooding back and Rovers can build on a solid start to the season.
AROUND THE GROUNDS
Hi Peter, What was your favourite Football League stadium that you ever played at? Cheers, Billy Samuels (Accrington fan)
BEAGS SAYS: Thanks for your question, which I had to give a lot of thought to. Having played 24-years as a pro I have a lot to choose from. I remember lots of grounds for all sorts of reasons - debuts, results, promotions - so I cheated a bit and picked a couple of my favourite stadiums. Man City's old ground, Maine Road, was always brilliant to visit; it was the widest pitch throughout the Football League and in immaculate condition, with not a bobble in sight. As a winger, you could isolate full-backs and covering defenders were always miles away so I always looked forward to playing there. I also relished going to Molineux; there was a big, pristine playing surface and I always played well there and got results. One game in particular was on the last day of the 1998/99 season when my Bradford team needed a victory to gain automatic promotion to the Premier League and Wanderers required a win to cement a place in the play-offs. It was a pulsating game which we won 3-2; I scored, missed a penalty and then proceeded to cry in a bathtub afterwards with the other geriatric of the team, Stuart McCall, and some champagne. Happy days!
ASSESSING THE ROBINS
Hi Peter, Bristol City have made a pretty solid start to the season, but do you reckon they are more likely to be pushing for the play-offs or fighting relegation come the season's end? Kevin Parsons (Bristol City fan)
BEAGS SAYS: I am surprised at City's good start to the season as I imagined they would struggle. If they manage to hold onto Albert Adomah and get a couple of loans with the same quality as summer signing Sam Baldock, they should save you from a nail-biting finish to the season. Robins fans will know the important results are the ones against Barnsley, Crystal Palace, Millwall and Peterborough, sides with budgets and squads as small as theirs. With Leicester, Bolton, Burnley and Hull next up for the Bristol boys, they will have done very well if they are still mid-table after those games - but always remember how far City have come over the last few years.
JEWELL IN THE BROWN?
Hi Peter, Unlike a lot of Ipswich fans I like Paul Jewell; I admire his honesty and humour. But do you think he should have achieved more at Ipswich since he took over as manager in 2011? Marcus Jones (Ipswich fan)
BEAGS SAYS: Marcus, I am looking forward to Sky Sports' live Championship game on Saturday night between your boys and Cardiff (5pm). I think Paul Jewell himself would admit that he should be doing better, but the Ipswich job is one of the best in football, in that you are given time and money. Roy Keane had an incredible stay of execution and Paul is being shown the same loyalty form the board members. They have had an unbelievable turnaround in players over the last few years, but the problem that stands out has been the inability to defend properly for a period of games, particularly from set-pieces. Paul still has the belief that he has the squad and managerial capabilities to turn the season around and as a former manager of mine I hope he can. Results like Tuesday's 1-1 draw at high-flying Brighton will help build confidence and they will need that in abundance when they face the attack-minded Cardiff.
GLORIOUS GLOVEMEN
Hi Peter, Who do you think is the best goalkeeper outside of the Premier League? Phil Northolt (Huddersfield fan)
BEAGS SAYS: Crystal Palace's Julian Speroni and Paddy Kenny of Leeds really stand out for me; both lack height but have all the other skills needed to be a top goalie - experience, distribution, shot-stopping abilities, and communication. They are automatic names on the team sheet for their managers and a defender's dream due to their organisational talents; they are like a fine wine and get better with age. I also rate Huddersfield stopper Alex Smithies and I may have to rethink my answer if he returns to his brilliant best after his battle with injury. Once he gets more confident at barking orders to his back four, he will get even better. Congratulations on your positive start to the season by the way, Phil.