Football League Expert & Columnist
Kean on Shearer?
Beags wonders if Alan Shearer is set to replace Steve Kean in his latest Football League blog.
Last Updated: 26/09/12 12:00pm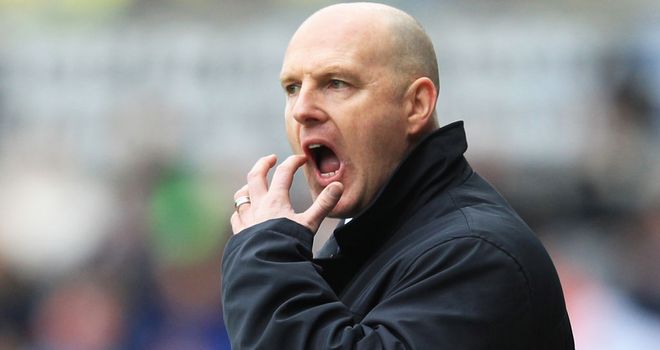 Peter Beagrie is here every week on skysports.com answering YOUR Football League questions.
The former winger, who played over 770 games, representing clubs in all four tiers of the English footballing pyramid, including Manchester City, Everton, Bradford, Sheffield United, Scunthorpe, and Grimsby, forms part of the Sky Sports punditry team for all the big matches in the Championship, League One and League Two.
So if you have a poser for Peter, whether it's about your team, a player, match or incident that has caught your eye, or a wider point on the Football League, make sure you send it in.
Read below for this week's column where Beags gives his take on Steve Kean's future at Blackburn, Millwall's tough start and the standard of refereeing in the Football League...
Send your question to Beags
1. Mail them to skysportsclub@bskyb.com
2. Use the feedback form at the bottom of this page
ROVERS RETURN
Hi Peter, I am a Blackburn fan and after the year we've had I couldn't have dreamt we'd be top after the first six games! I've seen so many teams in our position in previous seasons however throw away their leads; Cardiff, and Brighton to name a few. What do we have to do to sustain our charge and do you think Rovers will get promoted?Mike Whewell
BEAGS SAYS: Mike, if Blackburn Rovers do get promotion it will be a minor miracle. The negativity and vitriol towards the owners and the manager is massively counterproductive. I honestly feel that the manager's position is untenable as the club cannot afford the financial repercussions of 9,000-plus supporters staying away.
Steve Kean has managed, against all odds, to have a very good start and it was ironic that his unbeaten record should go against a Middlesbrough side without an away win. Jordan Rhodes is a great signing and guarantees goals but I feel he and Nuno Gomez will need another striker for help / competition. It seems a case of when, not if, the Venkys decide to relieve Steve of his duties. Then the stay-away fans will return.
There will be a whole host of possible suitors beating a path to the Ewood Park hot seat and may I suggest the favourite for that amazing opportunity, would be none other than Mr Alan Shearer...
TERRIFIC TERRIERS
Hi Peter, what do you make of the job Simon Grayson is doing at Huddersfield and how highly do you rate him compared to the other managers in the league? Did Leeds make a big mistake a few years ago? Cheers Pete Sullivan
BEAGS SAYS: Well Pete, fresh from watching the Terriers terrorise a usually brilliant Blackpool side I would say that Simon Grayson is doing a fantastic job so far. After finally ending Huddersfield's seasonal torment in the League One play-offs, Grayson has bought well and not compromised his attack-minded approach, which gained him many admirers at both his previous posts, Blackpool and Leeds.
The sale of the brilliant striker Jordan Rhodes was inevitable and suited all parties; it was a great fee and nobody can begrudge the young man, who served the club well and delivered a phenomenal goal return, a move to a club which by many were / are favourites for a swift return to the Premier League.
He has made three standout signings in Vaughan, Clayton and Norwood who between them should make up the shortfall in goals through Jordan's departure. Huddersfield have a great chance of a top-10 finish and with the promise of another acquisition, maybe Jermaine, an injury and suspension-free run up to Christmas, even a play-off place, wouldn't be beyond your wildest dreams.
HITTING THE WALL
Hi Peter, what can Millwall do to turn their fortunes around or have we just played the top four in the league and been found wanting? Thanks Paul Ingram
BEAGS SAYS: Listen Paul, my suggestion is that if half of the teams in the Championship had played five of the top nine in their opening seven games they may have had a similar points return. Take heart from the two wins, particularly the one against a very good Middlesbrough side and hope you can beat all the teams like Peterborough, who like yourselves don't possess massive budgets.
The loss of Spurs loanee Harry Kane was always going to be a blow, especially as he looked to be developing a good understanding with Andy Keogh, but keep your fingers crossed James Henry rediscovers the form and consistency of a couple of seasons ago and I think you should be ok! The Burnley and Bristol City games should give you more of an idea to where the squad / team is at and we must always remember that spirit, hard work and organisation can make up for other deficiencies. Those are all traits your team had in abundance at certain stages of last season.
I think the major problem was the inconsistency which at times did have mitigating circumstances such as injuries and suspensions. Unfortunately such problems hit the smaller squads harder. Keep the faith Paul.
RIGHT CALL
Peter, I'm sorry to bring up standards of refereeing in the football league but I feel I must after witnessing what can only be described as an assault on two of our Bristol City players, Cole Skuse and Greg Cunningham. Both will now be out of action for two months at least. Do you feel refs should be made to come out and discuss calls they make if they got them wrong? What do you think of refereeing standards outside of the Premier League? I would also like to add fair play to Darren Ferguson for condemning the challenges. Nick Stone
BEAGS SAYS: It's a constant source of frustration the inconsistencies shown by even top referees. I would never question the integrity of any official so it is either down to a lack of understanding of the game and / or a poor positional sense when two similar incidents occur.
The great Jack Taylor once said to me it's not how close you are to a tackle it's the angle you view it from which enables you to come to more correct decisions than not! Position over proximity, his dulcet tones echoed and it makes total sense. Lest we forget when we follow a team we view contentious decisions through the colours of our team, usually from a raised vantage point. And when we watch it on TV we have 16+ cameras, different angles and super slow motions.
So no matter how difficult the job is for the man in the middle, he is only human. No matter how hard done by you or I, especially when I was playing, feel we have to overcome that sense of injustice and hope that, as the old cliché goes, it evens itself out through the course of a season.
I also, like you Nick, think it is really refreshing when a manager condemns tackles which put other player's safety in danger. Here's hoping you get a homer every week (only joking)!
ROVERS ON A ROLL
Peter, I've been going to watch Tranmere since I was five and over the past 27 years I have only seen Tranmere promoted twice, both times under the excellent stewardship of the great Johnny King. I remember Tranmere beating Bolton at Wembley in the old division three play-offs, the signing of John Aldridge, the penalty shoot-out against Aston Villa in the League Cup semi and the League Cup Final defeat to Leicester back in 2000. My question is: do you think that Tranmere have enough in them this year to push for promotion and if so, what do they need to get there? Paul Roberts
BEAGS SAYS: I can tell you from the horse's mouth Paul, or rather Ronnie's! I had the pleasure of booking Ronnie for a League One double header we are screening in a couple of weeks' time and asked him this very question. His answer in a nutshell was that your first XI is as good as anyone's and would be a match for anyone's.
Testimony to that is the start you've had: scoring freely, dominating the majority of opponents and being miserly at the back. Obviously keeping your key players fit is any manager's concern and that was echoed by Ronnie. You have three of the top scorers in the division: young loanee Jake Cassidy is unplayable at the moment, the wonderfully named Jean-Louis Akpa Akpro is running riot and the old timer Robbo is the catalyst for everything. He possesses quick feet, skill, vision and two-footed distribution which should be on show in the Championship really.
So Paul just enjoy the return of one of Tranmere's great sons and rest assured it won't be through the lack of knowledge and know-how if you slip from the top but for a lack of options / alternatives and a wafer thin squad.
Make sure you check out this week's Sky Live Championship game as Nottingham Forest take on Derby (1.15pm, Sunday, Sky Sports 2 HD).