Football League Expert & Columnist
Arise Sir Ronnie
Beags blogs on Ronnie Moore's return, Peter Whittingham's England hopes and Wolves' woes.
Last Updated: 25/09/12 11:22am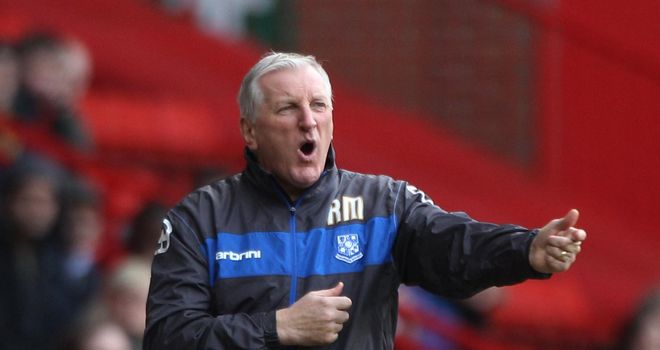 Peter Beagrie is here every week on skysports.com answering YOUR Football League questions.
The former winger, who played over 770 games, representing clubs in all four tiers of the English footballing pyramid, including Manchester City, Everton, Bradford, Sheffield United, Scunthorpe, and Grimsby, forms part of the Sky Sports punditry team for all the big matches in the Championship, League One and League Two.
So if you have a poser for Peter, whether it's about your team, a player, match or incident that has caught your eye, or a wider point on the Football League, make sure you send it in.
Read below for this week's column where Beags gives his take on Brighton's new boys, Birmingham's early-season toils, and the Championship's most underrated player...
Send your question to Beags
1. Mail them to skysportsclub@bskyb.com
2. Use the feedback form at the bottom of this page
SIR RONNIE
Hi Peter, after watching Tranmere Rovers for the past few weeks it amazes more by the day why Ronnie Moore was originally given the chop after we failed against Scunthorpe which cost us a play-off place. We have then had to fight off relegation for the past couple of seasons under Barnes & Les Parry. However since Ronnie has come back the atmosphere at games have changed dramatically and it's a joy to attend Prenton Park once more, the ball is actually being played on the floor as well (take note Oldham fans, no hoof football). Given that Ronnie knows the lower leagues inside out, are you surprised with how well we are doing? Thanks, Curtis Daniels
BEAGS SAYS: I was livid, Curtis, when Ronnie was sacked. It was one of the most nonsensical decisions in my time in football and begged the question, 'do the people making this decision understand football?' The answer to this was a resounding no. Tranmere missing out on the play-offs, as you rightly say, in the last minute of the last game of the season with Scunthorpe going on to gain promotion via Wembley just shows you the fine margins between success and failure. Knowledgeable Tranmere fans will have known the level of football and how organisation went into getting the team with a bottom-six budget on the verge of a top-six finish; Scouting players, recruiting, planning and preparation, plus knowing the other teams' players and formations inside out. To add insult to injury they say that the few hundred fans dropping off the gates was due to Ronnie's style of football (not the economy, unemployment etc).
So they gave the job to John Barnes whose last dealing with the third tier of English football was probably as a brilliant 18-year-old at Watford. I started with the word nonsensical, now you see why. You have to cut your cloth accordingly and we all would like to play out from the back like Arsenal but this is not virtual football; it is League One. Suffice to say, it was a disaster and may I suggest that if Ronnie had an ego he would never have returned to Prenton Park and justifiably so. It's a new era with a familiar, trusted custodian playing a great brand of football and using his contacts to secure young hungry footballers on loan and giving them the formation and confidence to flourish. Arise Sir Ronnie of Tranmere but keep the former board room members culpable for the original sacking securely locked in the tower!
PERFECT PETE
Hi Peter, I'm a Cardiff fan and have watched Peter Whittingham's career with us almost starry eyed. In my opinion he has been consistently the best player in England outside the Premier League for the last four seasons and surely deserves a call up to the England squad before Raheem Sterling and Jake Livermore. This is my opinion but I really want to know yours?Darren, Ireland
BEAGS SAYS: Hi Darren, if you read my columns you will realise that I am a massive fan of Peter Whittingham. He is a manager's dream, can fill a number of positions equally effectively and has been the most consistent performer in the Championship over the last three seasons. He has half a century of goals and as many assists due to that wand of a left foot. Ironically, I have just got off the phone to Malky Mackay who is doing a fantastic job, made some great signings and Whittingham's re-engagement is probably the most impressive aspect as the likes of Fulham were willing to pay upwards of £3.5m for his signature. He is a quality player, which was emphasised last night with a truly sublime goal. Deserving of a call up? Yes. He is a credit to himself, his family and his club, and the cornerstone on which Malky's and Cardiff's latest assault on the Premier League is built.
FOXES CHALLENGE
After an inconsistent start, do you think Leicester are still up there with a real chance of getting promoted, especially as teams like Blackpool, Sheffield Wednesday and Blackburn have made such great starts? Jonny Stocks
BEAGS SAYS: Hello Jonny. Do they have a chance? Yes. Do I think they will? No. Are they capable of the play-offs? Yes. But, Jonny, so are at least 10 other clubs. Yearly favourites after a few seasons of heavy investment which increased their chances, raised their profile but has also raised expectations which they haven't as yet been able to live up to. My honest opinion Jonny is that there are six to eight better equipped teams and squads in the division after substantial spending and rebuilding by the second-tier clubs.
LOYALTY OR ROYALTIES?
Hi Peter, when a team is relegated why are the players so desperate to leave. Why is there no loyalty in football? Is it just money or do the agents hold much of the blame? I feel they should be made to help the club get back up for at least one season. Andy Tomlinson-Smith
BEAGS SAYS: Well Andy, football is a ruthless business and loyalty is a two-way street. The clubs are equally as desperate to get rid of players from their wage bills, players that they have recruited when they are chasing promotion and they can't afford when relegation, opposed to promotion, occurs. Clubs over-invest in chasing promotions and trying to stave off relegation, which often lands them with unaffordable assets (players). When you have an unsuccessful season and these players have not delivered on an individual or team level you are in trouble. You can't shift them out as they are not going to receive the wages that you were willing to pay them. Many clubs have not got, as part of the contract, the ability to get rid of these players because of the disparities between offers from new clubs and the one that you had given them on their engagement.
Loyalty to clubs is one thing, loyalty to managers is another. With the enormous turnover of managers in recent years, one or two-club players are almost a thing of the past. I suggest that if Sir Alex had not been at Manchester United for all those years then Ryam Giggs and Paul Scholes may have had more than one club on their CVs. Having said that, they are the polar opposite of the pariahs that only play for the last 10 games of a contract to make sure of a lucrative move. Unfortunately it is too easy to spot the players who play for the love firstly and the money as a consequence.
WOLVES WOES
Hi Peter, although I am a Wolves fan I was always a big fan of yours (think you started those somersaults). I just wonder what you think of the present set-up at Wolves? Do you feel we will be good enough to challenge for promotion this year with so many untried foreigners in the team bearing in mind we will lose possibly four for the African Cup matches? Thanks. Ray
BEAGS SAYS:
Many thanks Ray, I can tell you I was the first to start the old summersault celebration which has since been copied and bettered beyond belief (but any more than one is just showing off). The jury is still out on Mr Solbakken at the moment. As you say they have had an inconsistent start to say the least and that must be down to the new foreign recruitment policy. I really like Doumbia and Sako. They are big, strong and athletic players who seem to have the belief and confidence to do well at this level. To lose Kightly, Jarvis and Fletcher takes away your automatic promotion chances straight away and defensive frailties, lack of pace and different partnerships would be my main concerns if I were a Wolves fan. You make a great point regarding the African Cup of Nations and a play-off place suddenly looks unobtainable. But, and it is a big but - in fact a but as big as mine - a big home following, the chances of a huge slice of luck and a few successful loan signings would put a brighter slant on what could be a season of disappointment.
Make sure you check out this week's Sky Live Championship games as Blackburn and Middlesbrough (7.30pm, Friday, Sky Sports 1 HD) and Birmingham and Barnsley (5.20pm, Saturday, Sky Sports 2 HD) lock horns.