Football League Expert & Columnist
Leaders of the pack
What makes a successful captain? Which teams bought well this summer? Check out Beags' blog...
Last Updated: 10/09/12 2:21pm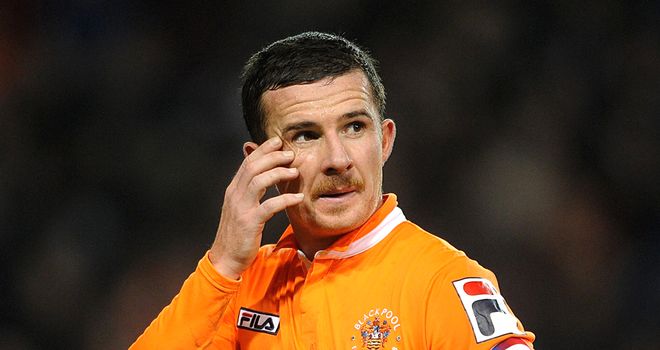 Peter Beagrie is here every week on skysports.com answering YOUR Football League questions.
The former winger, who played over 770 games, representing clubs in all four tiers of the English footballing pyramid, including Manchester City, Everton, Bradford, Sheffield United, Scunthorpe, and Grimsby, forms part of the Sky Sports punditry team for all the big matches in the Championship, League One and League Two.
So if you have a poser for Peter, whether it's about your team, a player, match or incident that has caught your eye, or a wider point on the Football League, make sure you send it in.
Read below for this week's column where Beags gives his take on what makes a successful captain, Derby's hopes this season and the big row at Swindon...
Send your question to Beags
1. Mail them to skysportsclub@bskyb.com
2. Use the feedback form at the bottom of this page
CAPTAIN MARVELS
Hi Peter, What do you think makes a good captain and who do you think are the best ones in the Championship? Thanks, Kyle Day
BEAGS SAYS: Communication, leadership and organisational qualities, and a good understanding of the game are vital skills for a captain to possess, while they must also be confident, experienced and perform consistently on the field. The best ones are also not too volatile and have the ability to deliver messages in the right manner, understanding which personalities on the park need a rocket up the backside and which ones need an arm around the shoulder and a bit of cajoling. The guy that stands out for me in the Championship is Blackpool's Barry Ferguson; the Tangerines play an attacking brand of football, but he sits in front of their back four and shores everything up; he plays a vital role. Crystal Palace's Paddy McCarthy is a bit of an unsung hero but he is also a captain that I admire; he is brave as a lion, puts his head on everything, leads by example and has helped a very young Eagles side stave off relegation over the last couple of seasons.
RAM RAIDERS?
Hi Peter, I want to know what you think about Derby's chances this season. Do you think that because we have had so many near-miss seasons that some investment is needed? Do you think Nigel Clough has come to the end of the road as the club's manager? Thanks, Matt Jones (Derby fan)
BEAGS SAYS: Looking at Derby's squad, the lack of funds at their disposal and their inconsistencies over the last couple of seasons - they could just as easily win seven on the bounce as lose seven on the bounce - I thought they would be in the middle third of the table. However, there are reasons for Rams fans to be optimistic. Nigel Clough is doing a decent job on limited resources and I think he should be persevered with until at least Christmas as he might be able to sprinkle some of the magic dust his father had onto the club, while their recent 5-1 win over Watford will be a great tonic. County do, though, need to make Pride Park a fortress, just as their previous home, The Baseball Ground, was. I think striker Conor Sammon will be a great signing and an excellent replacement for Steven Davies who has moved to Bristol City, while Richard Keogh, a summer signing from Coventry, could be one of the bargains of the season; the centre-back is very quick, very accomplished on the ball and will serve as an excellent leader while regular skipper Shaun Barker continues his recovery from injury. Jamie Ward, meanwhile, is Derby's star player, a guy that can create goals from wide positions as well as get some himself. However, there are better equipped teams than the Rams to finish in the top 10 so for them to get anywhere near there would be a successful campaign.
JOY FOR THE ROVERS?
Hi Peter, What do you think of Tranmere's chances of finishing in the play-offs or even getting promoted from League One? Cheers, Jon Walker (Tranmere fan)
BEAGS SAYS: I am a big fan of Tranmere boss Ronnie Moore. With some great coaching and a cracking brand of football, he took a side with a budget that was towards the lower end of the spectrum to within a whisker of the League One play-offs in 2009 in what was a massive overachievement. He was then axed from the job, and replaced by John Barnes, with the club's board saying attendances had dwindled at Prenton Park, not seeing that that was because of the economy and not because the supporters didn't like Ronnie or his team's style. It was a massive mistake to get rid of him but now they have wised up and re-hired him and Tranmere are in a healthy position once again. At the time of writing they are top of League One and two of their players, on-loan Wolves man Jake Cassidy and veteran Andy Robinson, have already netted hat-tricks. Even though finances are still tight, brighter times lie ahead for Rovers and I think they can be major players in a division now lacking some of the money clubs, like Huddersfield and Sheffield Wednesday - and success couldn't come to a nicer guy than Ronnie, who eats, sleeps and breathes football.
THE NEARLY MEN
Which two or three Championship players do you think should have been signed by Premier League clubs over the summer but were not? Thanks, Stephen Sinton
BEAGS SAYS: Cardiff fans will be breathing a huge sigh of relief that Peter Whittingham did not leave for a Premier League club; he has probably been THE outstanding performer in the Championship over the last two or three seasons. He is always amongst the top scorers and assist makers, and often comes up with a bit of magic when his side have their backs against the wall. Whittingham is at the heart of everything good that Cardiff do and his hat-trick against Wolves at the weekend underlined that. I also thought Huddersfield right-back Jack Hunt - a player I praised in this column a few weeks back - would move to the top flight and I know Everton, Swansea and Fulham were looking at him, while Bristol City winger Albert Adomah is someone who can perform at a higher level and I thought Swansea might try to get him once Scott Sinclair moved to Man City; Adomah has steadily moved up the divisions, keeps on progressing and is an incredible athlete.
BUSINESS CLASS
Which Championship side do you think concluded the best transfer deals over the summer? Thanks, Jack Rainbow (Middlesbrough fan)
BEAGS SAYS:
I think Cardiff purchased really well with Craig Bellamy and Heidur Helguson, while the acquisition of winger Craig Noone from Brighton will provide City's aforementioned frontmen with plenty of ammunition. The Welshmen hadn't really replaced Chris Burke, who joined Birmingham last season, meaning the brunt of the creative responsibility fell onto Whittingham, but Noone will really add to Malky Mackay's side's attacking threat. Nottingham Forest, meanwhile, lost defenders Chris Gunter (Reading), Luke Chambers (Ipswich) and Wes Morgan (Leicester) this summer, but they have kept influential striker Dexter Blackstock and accrued more power up front by signing Simon Cox and Billy Sharp and I think they have had a very productive transfer window. Burnley have signed a potential gem in Cameron Stewart, a tricky, speedy winger who has arrived on a four-month loan from Hull, while Leeds will be pleased with their business, which included snapping up attacker Luke Varney and more defensive strength in Lee Peltier, Adam Drury and Jason Pearce.
ROBINS ROW
Hi Peter, What do you make of the Paolo Di Canio-Wes Foderingham tête-à-tête at Swindon? Cheers, Keri-Anne Baldwin (Swindon fan)
BEAGS SAYS: I can understand Wes Foderingham's reaction to being substituted so early in the game against Preston, but if Paolo reflects on it I'm sure he will forgive his young goalkepper. Di Canio did some bizarre things when he was a player, let's not forget; I remember playing against him for Bradford in a 5-4 defeat at West Ham when he asked to be substituted after three of his penalty appeals were turned down! People will say that Paolo could have damaged the confidence of a player in the infancy of his career and that is a worry, but Foderingham has apologised now and I think both parties can move on. People have to play by Paolo's rules at the County Ground and it is hard to really argue with the Swindon boss at present as his spell at the Robins has been a resounding success.
A FAIRER SYSTEM?
Hi Peter, I think the Football League play-off system should be changed so that that the sixth-placed team play the fifth-placed, then the winner plays the fourth-placed team who play the third-placed team in the final? What do you think? Thanks, Alan Smith (Shrewsbury Town fan)
BEAGS SAYS: I am a massive advocate of the play-offs and think they have been instrumental in providing entertainment value to the end of the Football League season and giving so many teams an opportunity to get promoted. Your suggestion, Alan is a great one, though, in that it would give the team that finished highest in their division a greater advantage going into the play-offs as they would play fewer games. The only detrimental part of your system would be that while all the other games are taking place the team that finished third would have to mull over the heartache of missing out on automatic promotion, while their players may get rusty with such a long gap between the end of the regular season and the play-off final. I would leave the current system in place, but your idea, Alan, has common sense written all over it.