Football League Expert & Columnist
Net gains
Who will be the top scorer in the Championship? Can Gillingham get promoted? Beags has answers...
Last Updated: 31/08/12 10:15pm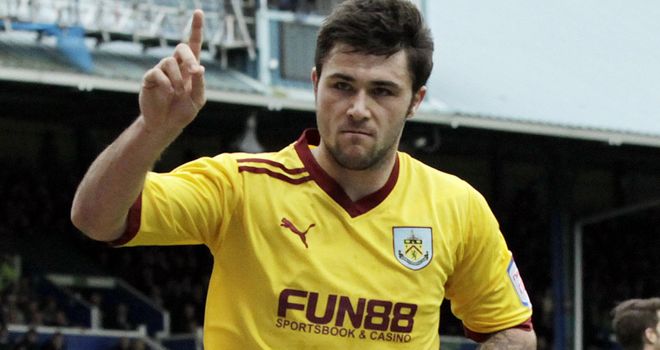 Peter Beagrie is here every week on skysports.com answering YOUR Football League questions.
The former winger, who enjoyed successful spells at the likes of Everton, Bradford and Scunthorpe, forms part of the Sky Sports punditry for all the big games in the Championship, League One and League Two.
So if you have a poser for Peter, whether it's about your team, a player, match or incident that has caught your eye, or a wider point on the Football League, make sure you send it in.
Read below for this week's column where Beags gives his take on Shefield Wednesday, Gillingham, Coventry, football agents and more...
Send your question to Beags
1. Mail them to skysportsclub@bskyb.com
2. Use the feedback form at the bottom of this page
SHEFFIELD STEEL?
Hi Peter, As a regular follower of Yorkshire football, I am wondering what your view is on the recent changes in fortune at Hillsborough. We have seen a renewed sense of previously forgotten optimism at S6 over the past 12 months, due to the chairman's clear ambition and the appointment of, in my opinion, one of the finest managers outside of the Premier League, an optimism which has now increased further on the back of promotion and a number of positive, youthful signings, including the likes of Rhys McCabe and Michail Antonio. Of course, ambition can only get you so far, so what in your opinion do the Owls need to do in order to first consolidate in the Championship and then push on to the next level, the level everybody connected with the club feels we belong? Regards Lee Anderson (Sheffield Wednesday fan)
BEAGS SAYS: One thing is for sure, Lee, you won't find many managers with as much experience, knowledge or know-how, particularly of Championship football, as Dave Jones. Instrumental loan signings last season to push Wednesday into the Championship, included Nile Ranger and Michail Antonio, and a busy summer has included the permanent arrival of Antonio, who could light up the second tier with his pace, skill and directness. McCabe will undoubtedly get better with age, while the excellent Rodri from Barcelona B will put bums on seats and keep people on the edge of them in equal measure with his great dribbling ability. Dave was very unlucky with Cardiff. He took them to another level but ultimately not to the one which was required. I am sure that after years in the wilderness, relatively speaking, the sense of optimism at Hillsborough will now have the voice of realism in the background in a division that rewards consistency. It is great to see Wednesday and their passionate fans in the Championship as they have been missed - and that is from a former Blade!
AMONGST THE GOALS
Who do you think will be the top scorer in the Championship this season? Mark Pugh (Cardiff fan)
BEAGS SAYS: That is a really tough one. There are some excellent strikers in the division: Jermaine Beckford, Marlon King, Jordan Rhodes, Peter Lovenkrands, David Nugent, Marvin Emnes, Kevin Phillips etc. But if I was going to have a value bet I would go for Charlie Austin of Burnley; he is great in the air, has good movement, and is no slouch on the ground, and if he maintains that hunger that saw him score bags of goals at non-league level and at Swindon, he will be up there amongst the top scorers. Talking of non-league strikers, Jamie Vardy looks to have adapted well since joining Leicester from Fleetwood, keeping his place ahead of the aforementioned Messrs Beckford and Nugent, so he could have a productive season, too. However, as all strikers will tell you it all depends on the quality of service you are provided with and with some exceptionally gifted wingers in the division I expect goals galore every week. It has been confirmed that the deal for Craig Noone from Brighton to Cardiff has gone through. That will be great news to the ears of the likes of Craig Bellamy, Joe Mason and Heidur Helguson and your club, Mark, will benefit from a very clever winger who has great delivery.
GILLS TO THRILL?
Hello Peter, What do you make of Gillingham's chances of getting promoted third time around after we missed out on the League Two play-off places over the past two seasons? Lee Clifton (Gillingham fan)
BEAGS SAYS: I really fancy the Gills' chances this year and there are definitely reasons to be cheerful; a wonderful start with a hat-trick of wins and a home game versus the fancied but struggling and manager-less Chesterfield to look forward to. Winning is a great habit, so throw a cup win against Championship side Bristol City and the restructuring of the management staff, with Andy Hessenthaler going up stairs and Martin Allen coming into the dugout, and Gillingham are genuine promotion contenders. Although the headlines will be all about the attacking flair at their disposal - Myles Weston, Danny Kedwell and the ever-green Deon Burton - it will be their defence that gets them promoted. It has been their Achilles heel for the last couple of seasons and something that Allen will definitely work on.
A COVENTRY RESURGENCE?
Paul Ince and Dennis Wise have been linked with the vacant manager's job at Coventry. Would they be good appointments for the Sky Blues and will the club ever push forward again? Also, what did you make of the job Andy Thorn did under such difficult circumstances at the Ricoh Arena? Paul Custer (Coventry fan)
BEAGS SAYS: Hi Paul, where do I start with Coventry City? Firstly as a football fan I can understand your frustration that off-field decisions are ultimately having a catastrophic bearing on the field, but an incredible fall from grace is unfortunately a regular occurrence with clubs who once graced the top division of English football. I thought Andy did an okay job given the circumstances but even he will probably admit that he probably would not have been given the opportunity if Coventry were in a financially stable condition. I am informed that there have been 81 applicants up to now of varying suitability for the manager's job, two of which may be Paul Ince and Dennis Wise. However, I would hazard a guess that with the sale of the club's best players like Gaël Bigirimana, Richard Keogh and Martin Cranie, there are managers better equipped in the fire-fighting/shoe-string management bracket than the aforementioned figures. I honestly worry that if, and it is a big if, Coventry don't get promoted and sort out their financial deficiencies this year, they could find themselves in an even worse state. Fingers crossed that won't happen and please keep the faith, Paul. Results like the Capital One Cup win over Birmingham should hopefully make things slightly brighter.
EYE ON THE ADDICKS
Hi Peter, Last week you said Jack Hunt was the best attacking full-back in League One last season, but I thought it was Charlton's Rhoys Wiggins; the guy is class and has great crossing ability. What do you think of him? Also, what do you think of the signing of Ricardo Fuller? Thomas Hyde and Steve Wyatt (Charlton fans)
BEAGS SAYS:
Both players excite me. I have been a big fan of Rhoys since his Bournemouth days and heralded him as one of Chris Powell's best signings. He is a player with great flair and quality delivery; the ability to cross on the run is an art and he is brilliant at it. In the modern game, full-backs have to be comfortable on the ball because they are often the first to start off a move and Rhoys has the vision and distribution to flourish in that position. Fuller's move to Charlton could see him benefit from Wiggins' service and he will add the experience and competition for places that will keep Bradley Wright-Phillips and Yann Kermorgant on their toes. Powell brought 20 players in last season, gelled them together and saw his side romp League One - and a solid start in the Championship suggests they can consolidate their place in the second tier.
THE LOWDOWN ON AGENTS
Hi Peter, Why do players use agents? Are they too scared to ask clubs for what they want themselves? Robert Crozier (Watford fan)
BEAGS SAYS: Firstly, like in most professions there are people who are good at their jobs and those who are bad. Players need people to represent them, advise them and explain the financial implications of contratcs. That is in an ideal world with transparency and moral ethics to the forefront. I have been present at negotiations both with and without an agent and I must admit that even though I would think of myself as quite bright and switched on, I would now always have a representative with me. I know some great agents who advise their players against short-term money moves for the benefit of playing regularly and enhancing their footballing education which in the long-run will be beneficial for their young charges. Having said that, I have seen the other side: the greed, the misinformation and bad advice that unsettles and confuses players, young and old, and hinders their performance. It is a subject that is subjective and polarises opinion and still leaves me somewhere in the middle. I hope that is as clear as mud for you, Robert, but I would like your views on this: how did you feel about Sean Dyche's sacking and Gianfranco Zola's appointment at Watford? Disappointed and delighted at the same time? Let me know using the feedback form below.