Football League Expert & Columnist
Peter's picks
Jordan Rhodes and Chris Powell earn praise as Peter Beagrie looks back on his League One highlights.
Last Updated: 08/06/12 1:19pm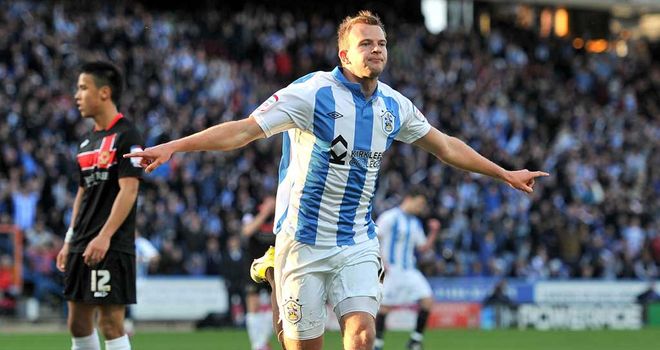 This has been an incredible season and it's not likely to be forgotten any time soon.
We saw Manchester City win the title in the dying seconds and Didier Drogba dramatically end his Chelsea career by winning the Champions League - but the Football League also gave us all sorts of drama in May.
West Ham won the Championship Play-Offs in the 88th minute to break the hearts of Ian Holloway and Blackpool and then we saw an epic League One Final between Sheffield united and Huddersfield. It wasn't the best game, but it went to the 22nd penalty and I've never seen a more exciting shoot-out.
Meanwhile, in League Two a youthful and exuberant Crewe side graced Wembley with an incredible goal from their prodigious talent Nick Powell.
With all of that in mind, let's draw the curtains on the season and raise our glasses to some of the outstanding performers.
I've chosen my League One highlights below, but feel free to add your comments. There's too many stars for me to mention, but if you want to pay homage to somebody else then make your mark in the comments box at the bottom of the page...
My League One manager of the season...
It's got to be Chris Powell. His Charlton team broke the 100-point barrier and he'll always remember the saying that patience is a virtue. He had a disastrous first few months in charge and many people didn't expect him to be in the job at the beginning of this season, but he insisted the jury should be out until he got the chance to bring in his own players and put his own stamp on the team.
He definitely justified the decision to give him a stay of execution. He brought in 20+ players to play his brand of football and his team did a great job. He has the eye to spot a talent to play within his framework and he showed tremendous self-belief. He was synonymous with the Charlton team that did so well in the Premier League and he has gone back there and given them Championship football. That wasn't easy with teams like the Sheffield giants, Huddersfield, MK Dons and Carlisle all in a very tough division.
A shout out for...
Greg Abbott - The Carlisle boss was a real unsung hero this season. They flirted with the play-offs for a long time, despite a very small budget, and he proved that good things can come out of adversity. They played some great football, won a lot of admirers and finished eighth, just four points off the play-offs. That's a massive success for Carlisle.
Ronnie Moore - When the Tranmere board sacked Ronnie Moore in 2009 it was a case of 'be careful what you wish for.' He had taken them to the brink of the play-offs but that wasn't deemed good enough and they brought in John Barnes as a replacement. They have been in the lower echelons of League One ever since, but Ronnie has now gone back and reignited the fire in the bellies of the Tranmere players. He moved them to the security of 12th place, which is no mean feat, and maybe they will now be thankful for what they've got!
Having a right to feel sorry for themselves...
Lee Clark - He took Huddersfield on an unbelievable unbeaten run, which was ended by Charlton and he got the sack shortly afterwards. The chairman will feel justified because Huddersfield got promotion in the end, but they were in a play-off spot when Clark left and who knows if they might have done it anyway? Simon Grayson was a great fit for them, but Lee has the right to feel sorry for himself.
Steve Simonsen - The Sheffield Untied goalkeeper was undoubtedly their best player in the Play-Off Final. He stopped a couple of certain goals and made some saves in the penalty-shoot-out, but unfortunately it went to the 22nd spot-kick and he had to step up and take one himself. He missed the target and it doesn't sit well with me that he ended up as the villain after all that had gone on before. Three days later he was released by Sheffield United... the fickle hand of footballing fate strikes again!
My League One player of the season...
Jordan Rhodes was simply out of this world this season with 36 league goals - and they were goals of all types. He can score with both feet, his head, inside the box and from long range. He scored every type of finish you can imagine this year.
He's a well-rounded individual as well. He didn't want to do any interviews before the Play-Off Final, but I had a word with him and said the spotlight was going to be on him because he'd scored so many goals. I said he could use the interview as an opportunity to praise his team-mates and he agreed that was a good idea, so he spoke about the players that have given him a constant supply line this season.
This was a brilliant season from a really grounded lad. His father Andy is the goalkeepeing coach at Sheffield Wednesday and he had to go through all the emotions of the Play-Off Final, even though his team were already up! I'm pleased the story had a happy ending because Jordan is a very deserving young man.
Peter has also picked his Championship highlights. Take a look at them here.