Football League Expert & Columnist
Peter's picks
Peter Beagrie picks out some of his highlights from a thrilling 2011/12 Championship season.
Last Updated: 01/06/12 5:13pm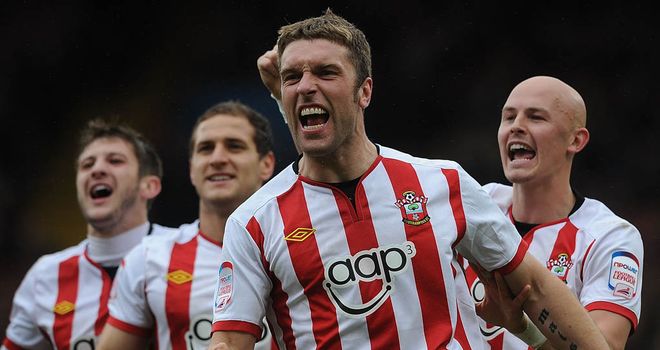 This has been an incredible season and it's not likely to be forgotten any time soon.
We saw Manchester City win the title in the dying seconds and Didier Drogba dramatically end his Chelsea career by winning the Champions League - but the Football League also gave us all sorts of drama in May.
West Ham won the Championship Play-Offs in the 88th minute to break the hearts of Ian Holloway and Blackpool and then we saw an epic League One Final. It wasn't the best game, but it went to the 22nd penalty and I've never seen a more exciting shoot-out.
Meanwhile, in League Two a youthful and exuberant Crewe side graced Wembley with an incredible goal from their prodigious talent Nick Powell.
With all of that in mind, let's draw the curtains on the season and raise our glasses to some of the outstanding performers.
I've chosen my Championship highlights below, but feel free to add your comments. There's too many stars for me to mention, but if you want to pay homage to somebody else then make your mark in the comments box at the bottom of the page...
My Championship manager of the season...
It's always difficult to pick one person out because there were two outstanding candidates from the automatically promoted sides. Southampton's Nigel Adkins was given a role at big club after doing such a good job with Scunthorpe. He achieved back-to-back promotions and his team played some outstanding football. He deserves to be called manager of the year, but on this occasion he doesn't get my vote.
It's almost the toss of a coin, but I think he's been shaded by Brian McDermott, somebody who is poles apart when it comes to his personality but just as gifted when it comes to his man-management skills. When he took over Reading they were just a few points off the bottom but they finished well clear of the drop. In his second season he got them to the Play-Off Final, but was devastated by defeat. They lost a couple of key players in Matt Mills and Shane Long, but he was able to reinvigorate and revive his squad.
His resurgent Reading went on to win the title after a fantastic run and while he had some fantastic individuals, they were the embodiment of the word "team". He and his chairman resisted overtures for his services from other clubs, such as Wolves, and the new owner should now invest a few bob in the side. The future looks rosy for Reading.
A shout out for...
Sean Dyche - He was afforded his first chance in management and I think he's done a miraculous job at Watford on limited resources. They've played a good brand of football and I think he deserves a mention.
Having a right to feel sorry for themselves...
Nick Barmby - His first taste of management was a sour one with his sacking at Hull being as spectacular as his signing. Let's hope it doesn't put him off coaching for good.
Portsmouth fans - it was a case of 'here we go again' as more turmoil and financial disaster hit the South Coast club. They turned out in their thousands, but were let down by another false dawn promising financial security. All I'll say is they should keep the faith because the club would cease to exist without the supporters.
My Championship player of the season...
There were question marks over whether Rickie Lambert could reproduce the form he had shown in the two seasons before Southampton went into the Championship, but he answered those questions in style. He scored bundles of goals, supplied plenty of assists and led the team from the front. A while ago he had been dubbed a bit of a journeyman after a long time playing in the lower divisions, but he now has the chance to rub shoulders with the elite in the Premier League. He's been starring in his very own fairytale.