Football League Expert & Columnist
Rhodes to glory
Peter Beagrie says one man - Jordan Rhodes - may be the difference in the League One Play-Off Final.
Last Updated: 24/05/12 4:43pm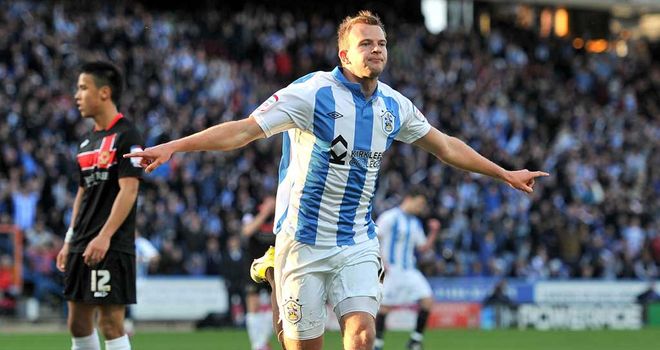 Wembley plays host to a Yorkshire derby in this year's League One Play-Off Final and I'm anticipating a cracking atmosphere.
With more than 27,000 Sheffield United fans and 21,000 Huddersfield fans (and counting) expected at the Home of Football, it's fair to say we can anticipate a mass exodus from Yorkshire this Saturday.
I think I'm going to travel down on Friday night to miss all the traffic!
You would have thought Sheffield United would be considered the favourites. After all, they finished third and only just missed out on automatic promotion to their near rivals Wednesday.
However, I think a lot of people in the know would class Huddersfield as the more likely winners. The bookmakers can't split the two teams, but as far as I'm concerned the key to the game could be the deadly marksman in the Terriers armoury; Jordan Rhodes.
I'll probably get a medal for stating the obvious here, but he is the one player who is set apart from everybody else. For that reason his team has to be favourites.
I expect to see them squeezing the play up to the half-way line, getting balls out wide and trying to get the ball to Rhodes.
He's had an outstanding season and not just in terms of goals; he's impressed with his footballing ability, the different ways he can find the net and his phenomenal thirst for work. I spoke to him this week and despite his incredible campaign he remains very self-effacing.
He wanted to redirect all the praise onto his team-mates, insisting he wouldn't have scored bags of goals without them. He is right, of course, but there's no doubt he's fashioned goals for himself, too.
They also have a lot of other players with athletic ability and creativity. Danny Ward has been a tremendous acquisition from Bolton and has fantastic crossing ability, either cutting in on his left foot from the right or getting around the back on the left flank.
Rich tradition
My head is ruling my heart when I say Huddersfield are the slight favourites because I spent two years at Sheffield United. It's a club with a rich tradition, lots of history and very passionate supporters.
It's a fans' club and a lot of the people that were working there when I was a 21-year-old player a quarter of a century ago were still there when I went back for the semi-final last week. Once a Blade, always a Blade!
But Danny Wilson hasn't had much luck lately. They've been without top scorer Ched Evans, while James Beattie has been banned and Richard Cresswell missed the second leg of the semi-final with an eye infection. They'd wrapped him up in cotton wool as he recovered from a neck injury, but they obviously forgot to put any eye patches on!
With all those forwards missing it was left to Chris Porter, who hadn't scored in his previous 16 appearances, to come up with the winning goal against Stevenage. They showed their ambition in the second leg of that game and I think the fans in the Kop End sucked that ball over the line!
Porter has had to play up front on his own with Stephen Quinn playing in behind and all of their moments of quality came through him. He was able to up the tempo with his passing and was constantly trying to slide balls into the widemen or the lone forward.
It'll be interesting to see if the system changes if Cresswell is fit. Personally, I think Danny Wilson will want to bring him back in to occupy the Huddersfield back-line. The two centre-halves are not the quickest and they will look to exploit that - although Porter and Cresswell aren't blessed with great pace themselves.
We're in for a tight game. Both defences have been excellent of late, but I think Huddersfield might just nick it on the day.
We saw Blackpool fall short last weekend in a game where they created enough chances to win. In these big games you have to be ruthless and take your chances.
And when it comes to being ruthless and finishing your chances off, then look no further than a certain Mr Rhodes...