Football League Expert & Columnist
Crashing the party?
Peter Beagrie tips Torquay and Southend to reach Wembley, but can Crewe continue their charge?
Last Updated: 11/05/12 11:51am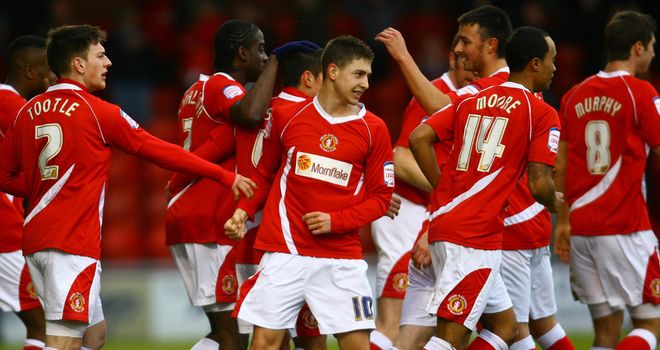 Southend, Torquay and Cheltenham have flirted with automatic promotion from League Two for much for much of the season but now their only chance is through the Play-Offs.
Meanwhile, Crewe have gate-crashed the top seven late on and I wonder if that will give them a psychological advantage when the ties kick off this week?
They have been in scintillating form, but we've reached knock-out football now and all four sides must forget what's gone before and go again.
This is football and in the Play-Offs anything can happen. Let's take a look at the match-ups.
Crewe v Southend
This is Crewe's sixth Play-Off campaign with the previous ones coming under Dario Gradi - but there's no doubt current manager Steve Davis has done a remarkable job.
When he took over on November 10 the club were in 18th place on 19 points, but he has guided them to the top seven on the back of a 16-game unbeaten run. They've scored in all of those games and are full of confidence.
It's incredible to think that this team lost their first five games of the season, but they've come to the boil at just the right time.
Of the 26 players in their squad, there are 18 academy graduates and we've seen an incredible supply line from that club over the years. Players are taught the right principles and we often see youngsters make their debuts with great maturity.
They play a fluent 4-4-2 system with genuine widemen and the jewel in their crown is 18-year-old Nick Powell, who has scored 15 goals this season. A lot of Premier League clubs are looking at him -Crewe have often had to sell their youth products to keep the academy going - but he will add to his value if he can take them to Wembley.
Ironically, their last defeat was to Southend with the only goal coming from Bilel Mohsni - who has scored three goals against them this season. I'm sure Crewe will learn from both defeats to Southend this season and they won't be fearful of them.
The Shrimpers are the favourites, but that puts pressure on them and lifts the pressure off Crewe.
Southend have played in two Play-Offs under Steve Tilson and current boss Paul Sturrock has a job on his hands to lift his players.
At 4.20pm on the final day of the season, they were beating Macclesfield and heading for League One - but then Crawley scored at Accrington and held on to snatch the automatic spot.
Southend have spent 24 weeks in an automatic promotion spot this season, so that was a real disappointment for everybody at the club. But they need to focus on the positives - that over the course of the season they have been the best team of these four and have the best head-to-head record against their rivals.
Freddy Eastwood has scored for Southend in a League Two Play-Off Final victory before - against Lincoln in 2005 - and I wonder if he could make the difference once again?
Cheltenham v Torquay
Cheltenham have had quite a topsy-turvy season. For a while they couldn't lose - and then they couldn't win.
But for a club of their resources it is a great achievement to get into the Play-Offs. I used to love playing on the wide open Whaddon Road pitch because it's as flat as a flute and allows you to play proper football, but I wonder if that will suit Torquay in the first leg?
Mark Yates is a young, highly-thought-of manager and has supplemented the Cheltenham squad by bringing in Steve MacLean on loan from Yeovil and Ben Burgess on loan from Notts County; strikers of known repute with plenty of experience.
They have a good spirit in the camp, confidence is high and he was able to rest some players in their final game of the regular season, which could be important.
When they're at their best they are difficult to contain. They play with tempo and spark, but I think they will be seen as the underdogs against Torquay and will be looking for at least a two-goal advantage in the first leg.
Torquay were the losing finalists at Old Trafford last year when Paul Buckle had his side playing some fantastic football, but they were beaten by a strong, physical direct Stevenage outfit.
Buckle guided them out of non-league in a strong state and signed up a lot of young players on long contracts. However, he decided to move on after that Play-Off defeat and Martin Ling took up the baton.
He was a footballing midfielder himself and likes his teams to play football, so it was a seamless transition. They have overcome the negativity of last year's defeat and he has given the side a new impetus to return to the Play-Offs.
They'll definitely be the favourites for this tie and if you want a man to watch, keep an eye on Eunan O'Kane in midfield.
Peter's call
I don't mind sticking my neck on the block, so don't turn your noses up at me if I get this wrong! Based on what I've seen over the course of the season I would go for Torquay and Southend to reach the final. It's particularly hard to choose between the young Crewe side and the experienced Southend outfit, but as somebody who played until the age of 41 I am going for the latter!
A day of remembrance
Amid the excitement of the Play-Offs, I hope all football fans will join me in remembering that Friday is a very poignant day in the history of football and, in particular, the history of my beloved Bradford City. On this day in 1985, a total of 56 people lost their lives. We will never forget them.