Football League Expert & Columnist
Final questions
Are Saints marching up? Can Cardiff hold on? Peter Beagrie previews the Championship's final day...
Last Updated: 26/04/12 6:03pm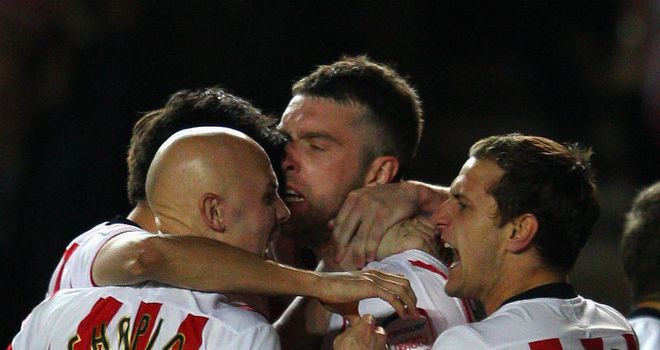 Reading find themselves in a privileged position on the final day of the season with promotion - and the Championship trophy - already confirmed.
I'm sure they would take to the pitch at Birmingham with a glass of champagne in one hand and a cigar in the other if only the health and safety inspectors would allow it.
But for the other teams in the top seven there are all kinds of questions to be answered on the final day of the season with one automatic promotion spot and one play-off spot up for grabs.
Will the Saints go marching in to the Premier League or will relegated Coventry give them the Blues?
I went for a beer with Nigel Adkins in Tony Mowbray's office after Southampton's defeat at Middlesbrough and although there were several contentious issues the Saints boss decided not to dwell on what might have been, and instead focus on the final day. They've had a fantastic season and want to round it off with a double promotion, emulating what Norwich did last season.
Everything points to a Southampton victory at home to Coventry and maybe fate has decided that promotion was meant to be achieved at St Mary's. They are fantastic at home and their fans will be looking to roar their team on to the Promised Land. It's hard to see Coventry containing the plethora of great individuals that Southampton possess and with a superior goal difference I think a point would be enough for them. That goal difference could prove to be their reward for attacking teams all season long.
Their season should still be rewarded with an automatic place, but anything can happen in football. Who'd have thought Wigan would beat Man United and Arsenal in consecutive games? Who'd have taken the 20/1 on Chelsea reaching the Champions League Final after John Terry was sent off in Barcelona? Pressure does funny things to players and Southampton can make it easy or hard for themselves, but I think they will get over the line.
Will West Ham's bubbles be of the champagne variety?
The Hammers were under pressure at Leicester on Monday night and went down to an early goal, but they came up with a big performance to keep their automatic promotion hopes alive. As has been the case all season, they saved their best form for their away games and they seem to play with more freedom and relaxation on the road. I'm sure Big Sam would probably rather play Saturday's live Sky Sports game at Hull rather than at Upton Park, which has been anything but a fortress for them.
They have drawn too many games at home, but I envisage them winning this one. It might not be enough to get them into second place, but it is important to go into the play-offs with confidence. I see them winning, but I think they will be denied when Southampton dispose of Coventry.
I've been covering the Championship for more than a decade and it's like a war of attrition. It's so hard for the sides coming down to go straight back up and I think some of the players that are used to playing in the Premier League have struggled. Someone like Kevin Nolan has done well because he played in the Championship with Newcastle, but the other guys have struggled. They were pre-season favourites based on their finances and their squad, so third place may be seen as a disappointment, but I've seen relegated teams get nowhere near that sort of finish. Big Sam has described it as a fantastic season and I would tend to agree with him. If they are to finish third it will be behind two sides that haven absolute revelations.
Can Ollie make Blackpool rock once again?
They say that the future's bright, the future's orange - and as far as I'm concerned Blackpool could be the team to avoid in the play-offs. A few seasons ago they made a late run into the top six and made it all the way to the Premier League and they're playing in a similar vein now. They hit you from all sorts of angles and if you contain one player then somebody else will inevitably pop up and devastate you.
The other two relegated sides - West Ham and Birmingham - might be perceived as bigger clubs, but I think Blackpool have the edge when it comes to individual ability within the team. They also have a trump card in the manager, who seems to be able to relax his players on the big occasion. Ian Holloway can get the best out of his players at the right moment, as we saw two seasons ago, and I think the other teams will want to avoid playing them in the play-offs.
Can Birmingham prolong their marathon season by another three games?
Birmingham have had to contend with European football and a ridiculous amount of games this year. They lost many of their best players in a fire sale at the start of the season and the heartbeat of the side - Craig Gardner and Barry Ferguson - left the club. Many people expected them to struggle as a result.
But the Blues' spirit has shone through remarkably and Chris Hughton's calm demeanour and humility has been apparent throughout the campaign. I think he's produced a minor miracle to battle through the negativity that surrounded the finances at the club and he's got an extra percentage out of his players. They are jostling for fourth, fifth and sixth and while they won't say it out loud in the media, they'll be thinking about who they'd rather face in the play-offs.
Will a point at the Palace be the equivalent of the crown jewels for Cardiff?
A draw at Crystal Palace should see Cardiff clinch the final play-off place thanks to their superior goal difference over Middlesbrough. Cardiff are on a decent run of form, but their opponents have been a conundrum all season. At the start of the campaign you could pretty much pencil them down for a 0-0 draw or a 1-0 win in their home games, but of late we have seen a few erratic results. However, credit must go to Dougie Freedman for bringing back the feel-good factor to a team that was one of the pre-season favourites for relegation.
Cardiff will be hoping that Palace's players are on the beach, but sometimes you play your best football when you're relaxed. This is a tough game for them, but their front players should see them through. They've got senior strikers like Robert Earnshaw and Kenny Miller, but young Joe Mason has carried the torch and has been carrying them over the line. They only need a point, but I hope they don't tighten up and lose their fluency going forward. They mustn't invite pressure on themselves. Middlesbrough just have to go out and win, but Cardiff must be careful not to compromise their natural game by playing for a draw. They are in a stronger position than Middlesbrough, but it's very finely poised.
Can Middlesbrough close the gap at Watford?
We can thank Tony Mowbray's Middlesbrough for giving us another nail-biting end to another sensational season. Mogga's men stunned Southampton with a 2-1 win at the Riverside, curtailing the Saints' celebrations and earning themselves a slender chance of hijacking that final play-off spot.
Watford will not be an easy place to go to. They're a young, vibrant side who have covered themselves in glory in Sean Dyche's inaugural season as a manager. Anything less than a win won't be good enough and whatever happens, Tony has breathed life into a Middlesbrough team who, I can guarantee, will have wholesale changes next season. A little bit of pace and flair will be added to an already young and talented squad. They know what they've got to do on Saturday - attack, attack, attack - and it's going to be absolutely enthralling.
And sadly...
I can't write a feature on the Championship without saying a sad farewell to the three relegated sides; Pompey, Coventry and Doncaster. They can all seek solace in the fact that bigger clubs than themselves have entered the third tier of English football and regrouped, re-energised and re-emerged stronger for the experience. That won't help the way they're feeling at the moment, but as long as the loyal supporters of these clubs keep the faith, anything is possible.
And even more sadly...
I've just returned from going under the scalpel of legendary knee surgeon Dr Bollen, who has repaired my cartilage and drilled my kneecap. Sadly it's ruled me out of the play-offs - and I also won't be able to play in the Euros or the Olympic Games either. Heartache for Beagrie!