Football League Expert & Columnist
Di Canio's day?
Can Chesterfield deny Swindon a Wembley win? Peter Beagrie previews the JPT Final...
Last Updated: 22/03/12 4:45pm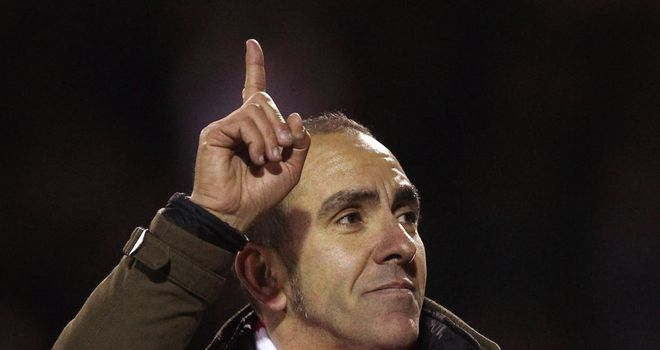 I've been a massive fan of the Football League Trophy ever since its inception.
It doesn't matter what league you play in, a Wembley appearance is the pinnacle of your career. I don't care if you're a big Manchester United fan, I just don't see stepping out at Old Trafford in the same light as going to home of English football.
Clubs like Swindon and Chesterfield have gone on great cup runs in the past, but they're never likely to reach a final at the national stadium. So this competition is a great idea and has rightly been embraced by the majority of lower league clubs.
This year I'm looking forward to a spectacular final and the players from both sides will hope to use this as a showcase. Only one place separates the two teams with Chesterfield occupying the bottom spot in League One and Swindon seven points clear at the top of League Two. It should be finely balanced.
Stuck by
I'm pleased to see that Chesterfield have stuck by John Sheridan. He led them to promotion last year but having operated in the lower echelons of League One, it would have been easy to get rid of him.
He's no stranger to Wembley having made six appearances there as a player, but this is his debut as a manager in a big cup final. It's also Chesterfield's Wembley debut, so a great experience is in store for staff, players and fans alike.
They have struggled in League One and are currently six points from safety, but this trip will provide a break from the rigours of league football. They still have to play four of the bottom seven sides and this game could be a real springboard for the rest of their season. A good performance could build their confidence and set them up for the run-in.
Three of their league regulars - Neal Trotman, Nicky Ajose and Liam Ridehalgh - are cup tied, so a little bit of tinkering will be required.
However, they have some excellent individuals in Jordan Bowery and in particular Craig Westcarr, who should flourish on the big Wembley pitch because he loves to run at people. He hasn't provided the goal threat that he did before his injury, but I expect him to catch the eye on Sunday.
At the back their outstanding player of the past couple of seasons has been goalkeeper Tommy Lee. He was man of the match in the semi-final against Oldham and this trip to Wembley is largely down to him.
So they've got a couple of star performers at each end of the pitch, but fundamental errors have cost this team throughout the season. They tend to do the difficult things well, but they sometimes let themselves down with the basics.
Having played in all 29 seasons that the Football League Trophy has been in existence you wonder if this will be Chesterfield's year.
Di Canio revolution
Yet the side from the league below them will go into this game as favourites. That's all down to the Paolo Di Canio revolution at Swindon.
He was always box office as a player, pushing a referee over and scoring sensational goals and he is also breaking the mould in management.
We all expected him to bring in technically-gifted foreign players, but he understands the importance of having British talent in his squad, too. He has fostered a sense of adventure with his positive team selections and things are going great.
It's been as entertaining watching the dugout as it has been watching the pitch at Swindon this year because the manager is so gesticulative. He wears his heart on his sleeve, he thinks out loud and nothing can be lost in translation with him. Every thought and emotion is etched on his face and his passion is refreshing to see.
But if you're looking for somebody to step up and take the limelight on the field then Matt Ritchie is the jewel in the Swindon crown. He has a great left foot, tremendous dribbling ability and a good turn of pace - so everything will be geared to getting the ball to him.
However, the signing of Paul Benson has been imperative to their success and shows that Paolo understands what is needed to thrive in League Two. He's a stereotypical centre-forward who scores goals, can link up play and lead the line, and he has formed a strong partnership up front with Alan Connell.
With a threat on both flanks and up top, Di Canio clearly thinks the best form of defence is attack and it should make for an entertaining game in the club's debut in the Football League Trophy Final.
Neither side has played in this final before, so in many ways this will be a day of firsts... but both sets of players will be hoping they aren't first up those Wembley steps at the end of the game!
Electric atmosphere
We have rarely been disappointed by the entertainment value in JPT Finals over the years and the atmosphere should be electric. The sponsors, Johnstone's Paint, have committed to the tournament and they do a marvellous job to ensure it's a great day out from start to finish.
The expectation and excitement often leads to slip-ups and lapses in concentration, which only adds to the drama. Usually the teams with more matchwinners and more mobile players in their ranks are the ones that end up winning.
As a result I think we're looking at Bowery and Westcarr for Chesterfield and Ritchie and Benson for Swindon as the four players that will be pivotal to the outcome.
If Swindon start well and get an early goal they can take advantage of the negativity that surrounds their opponents at the moment. However, there is plenty of attacking talent on both sides and it will depend on who can play the game rather than the occasion.
Both teams are capable of good, quick football if they can relax. Forget about the space on the big Wembley pitch; the most important space is the one between the players' ears.
If they can stay calm and play their natural game we should be in for a titanic tussle. Both managers have big jobs on their hands to keep their players focused.
Me? I can't call it. All I want is for the game to be settled by a moment of magic rather than an individual defensive disaster. These two teams will represent League One and League Two very well - and the referee will have a tough job keeping up with the pace of the game!
It'll be fast. It'll be passionate. Don't miss it!