Football League Expert & Columnist
Wednesday lottery
Peter Beagrie says Dave Jones would be a strong, if uninspiring, choice for Sheffield Wednesday.
Last Updated: 01/03/12 3:05pm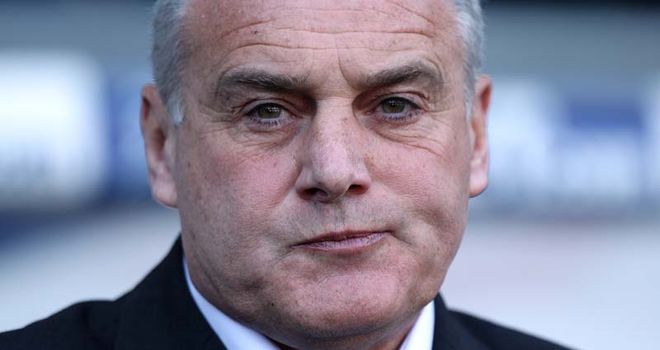 It always seemed likely that Sunday's Steel City derby would be pivotal in deciding Gary Megson's future at Sheffield Wednesday.
But despite securing the bragging rights for the blue side of the city, Milan Mandaric has decided to pull the trigger anyway. In the past, managers would be forgiven a multitude of sins for beating Sheffield United, but that wasn't the case this time.
Before that derby win they'd lost three games in a row and that brought pressure upon Megson. I thought beating the Blades would disperse that pressure, but the chairman had other ideas.
With Charlton in an unassailable lead at the top of the table, perhaps you have to look at the fact that the other clubs have only got one automatic place to chase. The Sheffield clubs plus Huddersfield and MK Dons are all targeting that one spot and maybe it's causing them to panic.
We know that was part of the reason behind Huddersfield's sacking of Lee Clark and the chairmen don't want to see those promotion hopes slip away. Bad results bring the axe and this is the point in the season when everybody starts to get nervous.
Sometimes a change is as good as a rest and a new manager can provide a catalyst for the final games of the campaign. Players who have been comfortable and complacent in thinking they are automatic choices might find an extra 10 or 15 per cent and the dynamics can totally change. Mr Mandaric will certainly hope so.
Sheffield Wednesday will be a very good job for somebody to get and the next man will take over a good squad that's rubbing shoulders with the teams near the top of the table.
Perhaps they'll turn to somebody with the experience of Dave Jones. He's been there, seen it and done it and is still highly regarded by a lot of the clubs he has been at, both as a manager and as a person.
He's a very steady Eddie, he's an intelligent manager and he has a history of buying the right players to get out of the division that he's in. He might not be a spectacular appointment or the type that would capture the imagination of the Sheffield Wednesday faithful, but he's a proper football man.
He tends to work clubs from top to bottom - from the youth system to the first team - and he likes to have his finger on the pulse of everything that's going on at a football club. You can see why the chairman might turn to someone like him.
I think Mandaric will be looking for an experienced replacement because he seems to work better with that type of manager. He hasn't had a very good relationship with some of the younger bosses he's been involved with in the past and might prefer a more mature and less volatile charge.
The most important appointment any chairman has to make is the next one and that's the challenge facing Mandaric now. A lot of eyebrows were raised when he came in initially, but the people of Sheffield seem fairly happy that he's got the club back on an even keel financially.
Lee Clark would be another really good choice if they decide to go for somebody at the other end of the spectrum in terms of experience, but at the time of writing, Jones is the odds-on favourite.
And you rarely see a poor bookmaker!
Live on Sky Sports
Blackpool v Hull (7.30pm, Fri Sky Sports 2 HD)
Leeds v Southampton (5pm, Sat, Sky Sports 2 HD)
We have a big double bill of live Championship football this weekend with a lot at stake in both games.
On Saturday evening, Leeds will be desperate for a win over Southampton. Only four sides have lost more home games than Leeds in the Championship this year and Neil Warnock needs to turn Elland Road into a fortress.
He came down from the stands to inspire the team to victory over Doncaster with a half-time team talk and he'll be hoping for a similar result from his first official home game in charge. The disappointing draw at Portsmouth last weekend saw them lose ground on the teams above them and they need to go on a run now.
But that won't be easy against the league leaders. If they push forward against this Southampton side then the outstanding talents of Rickie Lambert and Adam Lallana could unpick them. No team has more creative talent or pace on the break than the Saints.
Leeds will be looking to dominate the ball, but if Southampton can overturn possession quickly then they will be able to take advantage of Leeds' inability to keep clean sheets.
Ken Bates has described Warnock's appointment as the most important decision he's made at the club and a win against Southampton would get the juices flowing among the Leeds faithful.
In some ways it's a daunting game for the home team, but if they can take Southampton's scalp then it would generate a wave of optimism that could see them push on for the play-offs.
They need to start moving up the table because the teams we will see live on Friday night - Hull and Blackpool - have been in much better form.
All that's missing with Hull is a real cutting edge because the ability to keep clean sheets has been there for all to see. Some of their goalless games at home will have disappointed Nick Barmby.
They go to Blackpool, a side that has had to contend with two opponents in most of their home games - the other team and their own pitch!
Ian Holloway likes to play in a quick fluid manner with players such as Lomana LuaLua, Tom Ince and Matt Phillips interchanging the ball - as we saw at Bristol City last week.
But they can't play with the same freedom at home, where the Bloomfield Road pitch has been killing their season. If the ground staff can get that sorted it could be a deciding factor in whether they get into the play-offs or not.