Football League Expert & Columnist
All change at the top
Warnock, McDermott, Curle, Grayson... Beags looks at the Football League's managerial changes.
Last Updated: 24/02/12 4:58pm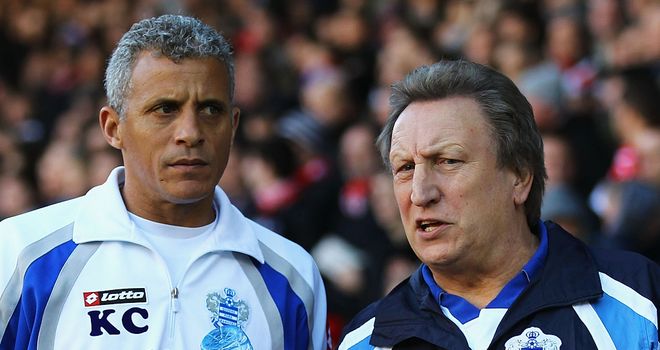 Neil Warnock doesn't need a PA or an agent... he's very much his own mouthpiece.
I don't think the new Leeds manager could stop himself from taking the credit for the big win over Doncaster. As soon as he saw the cameras on the way to his car he claimed he'd made some changes at half time to win the game, even though he wasn't officially in charge for the match.
After being given that job he will be looking for the eighth promotion of his career, having previously taken both Sheffield United and QPR out of the Championship. That shows he has genuine pedigree.
He likes to wheel and deal, so it will be interesting to see how much of a purse he gets. Simon Grayson was often frustrated by the lack of funds, despite the protestations of the club that the budget for player salaries increased by 30 per cent.
I'm sure the supporters used to hammer Warnock when he was in charge of their big rivals Sheffield United, but all is quickly forgiven when you help your team pick up results.
Grayson now finds himself in a similar situation as an ex-Leeds manager going to Huddersfield. I bet he was vilified by the Terriers faithful every time he went there in the away dugout, but now they have decided he is the best man for the job.
If you looked at a points-per-pound table for the Championship then Leeds would have been top, so there's no doubt in my mind that Grayson can do a good job there having taken both Leeds and Blackpool out of League One.
Three weeks is a long time in football and after speaking to him this week, it seems he has recharged his batteries and is in a no-lose situation at Huddersfield. He can try to get them promotion, but if they fall short then he can point to the fact they were not in the automatic spots when he took over.
They had a practice match on Tuesday and both XI's that Huddersfield put out could arguably finish in the top 10 of League One, so there's no doubt they have strength. He needs to work out his beat team, stick with it, show consistency in selection and see where it takes him.
If he can get them out of the league then it will justify the chairman's decision to relieve Lee Clark of his duties. He felt he had the ability and the backing of the players to see the job through himself, but now we will never know.
One thing's for sure. If Huddersfield get into the Championship via the automatic or play-off route - then I think Leeds fans will all applaud him and give him a great reception when he goes to Elland Road next year because of all he did for them.
Result for Reading
The best result for Reading this week did not come on the pitch, it came with Brian McDermott signing a new contract, despite interest from Wolves.
They are in a strong position in the league, they've picked up 24 points out the last 30, so it's extremely important to get everything settled down there.
It comes on the back of tying down talismanic wideman Jimmy Kebe on a long-term contract plus new additions like Jason Roberts. A takeover of the club is imminent and the club is in such a healthy position going into a promotion push in the final third of the season.
At the end of the season we might turn around and say McDermott's decision was the deciding factor in their promotion. It could be more pivotal than any goal.
Peter's review of the Football League week
As one door closes for one team, one opens for another... The weekend defeat for Portsmouth plus their 10-point deduction allowed Nottingham Forest to climb out of the relegation positions for the first time in a long time. Fortune has taken them out of the bottom three and they will be looking to push on now.
Hull's midweek draw with Brighton will suit neither team... This was Hull's second goalless draw in a row and they need to start beating the teams around them if they want to make an assault on the play-off positions. Brighton, now unbeaten in eight league games, will also be disappointed and the teams above them will be pleased with that result.
Red cards don't seem to bother West Ham... Sam Allardyce's side have gone top of the table despite having a man sent off for the third game in a row. Henri Lansbury played in goal because they didn't have a goalkeeper on the bench and Big Sam blamed the reduction in subs from seven to five. Well, some teams near the bottom couldn't fill a bench of seven! West Ham won 4-1 to go top of the pile and it was a great away performance.
We saw the fine margins between success and failure in the Reading v Burnley match... Jason Roberts is an astute signing for Reading and is a different type of forward to what they had before. He earned his luck with his goal through an experienced display. Burnley will rue their missed chances, particularly when Charlie Austin went through one-on-one with Adam Federici. The goalkeeper was as much of a match-winner as Roberts at the other end.
Cardiff are inactive in the Championship this weekend... they'll be playing in the Carling Cup Final, so the likes of Blackpool, Birmingham and Middlesbrough will be hoping to take advantage of that. It's going to be a very interesting and important weekend.
The pick of the weekend is Middlesbrough v Reading... this game features sixth versus fourth and it's a chance for Middlesbrough to leapfrog their opponents. Boro have come through a sticky patch of three defeats on the trot and are grinding out results again now. This is a really big home game for them.
Good luck to Cardiff in the Carling Cup Final... I'm sure everyone who isn't of a Liverpool (or Swansea) persuasion will be cheering on the underdogs at Wembley. This is a Football League column and so our loyalties must lie with the Championship side.
The managerial merry-go-round has been in action in League One too... Martin Allen has been sacked by Notts County after saving them from relegation last year. Keith Curle, who has been both and adversary and team-mate of mine in our playing days, will take over having worked under Warnock in the Championship and Premier League. After less than an hour on the training pitch, he managed to inspire them to a 1-0 win over Stevenage.
Swindon have surged to the top... As Southend falter, the Robins are flying, driven by their enigmatic manager Paolo Di Canio. It's been a rollercoaster of emotions this season, but the decision to give him the job is proving to be a moment of inspiration from the chairman. He's dragged them kicking and screaming to the top of the division and has kept hold of their crown jewel Matt Ritchie.
League Two is as tight at the bottom as it is at the top... three points separates the bottom four and Macclesfield are now in free-fall after failing to win in 2012 so you can perm any of the bottom six - including my beloved Bradford City.