Football League Expert & Columnist
Harsh-Lee treated?
Peter Beagrie was shocked by Lee Clark's sacking - and also by the reaction of Huddersfield fans.
Last Updated: 18/02/12 3:12pm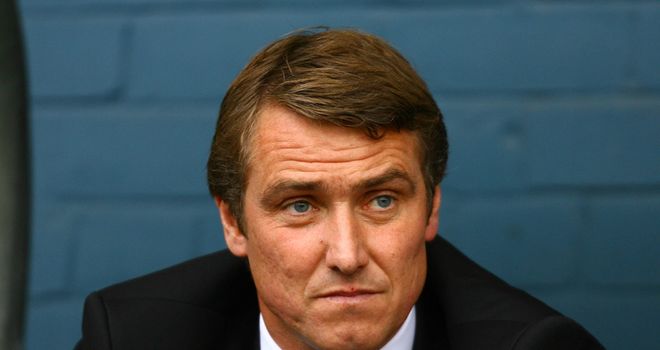 I could think of 50 managers in the English leagues that I would have expected to get sacked before Lee Clark.
So when I saw the Sky Sports News Breaking News ticker announcing that Huddersfield had axed him I couldn't believe my eyes.
Like most people in football, I see him as a bright, young progressive manager who seemed to be doing a very good job.
He also seemed to have a good relationship with the chairman, Dean Hoyle; they often spoke highly of each other in the press and they appeared to be in unison when they fended off sizeable offers for star striker Jordan Rhodes
When you look at the cold, hard facts it looks even more surprising:
- Huddersfield are currently in the top four and only four points off an automatic spot.
- Clark's record is P178 W87 D51 L40 and he has an impressive win percentage of 49%.
- The midweek loss to Sheffield United was their first defeat in 10 games.
- Clark led them on an incredible run of 43 games without a defeat stretching from the end of last season into this campaign.
The chairman said he has been looking at the situation for a period of time and made the decision to give the club the best chance of achieving promotion. He obviously feels that's more likely with someone else in charge.
I'm not sure many people would agree. The players have been signed by Clark and you would think their loyalties lie with him.
You have to remember that Huddersfield are competing with some very powerful sides in Charlton and the Sheffield clubs.
If they'd been on their current run in any other League One season they could easily have been in an automatic spot.
Lee has done such a fine job that when vacancies arose at Leeds and Wolves, many people assumed he would be in line for those jobs. Maybe the club started to question his commitment?
I just don't know and I won't know until I speak to Lee directly. I have texted him to tell him about my disappointment and I look forward to finding out what he has to say on the matter.
Reaction
But while I was surprised by the sacking, I was just as surprised by the reaction of Huddersfield fans on forums and on social media sites.
I envisaged a wave of sympathy for Clark, but they don't appear to be shocked by the decision. A lot of them are backing the chairman as he's a fan of the club and he knows what's happening in the inner sanctum.
Some supporters have pointed to the resources that Clark had at his disposal, maybe not in terms of transfer fees but in terms of the high wages that the club paid to players. The fans don't want to see a repeat of the last two seasons when they reached the play-offs, only to fall at the final hurdle.
Supporters of other teams would question this decision, but Huddersfield fans watch their games every week and they don't seem to be as gobsmacked as the rest of us.
These guys go to the games, watch the technical area and follow the team intently. What do they know that the rest of us don't know? I'd love any Huddersfield fans reading this to explain their views in the feedback form below.
Sentiments
Lee has gone on record as saying he is "shocked, disappointed and perplexed" and I share those sentiments.
I hope he will be back in the game soon. He may not be able to walk straight into another job because severance settlements need to be brokered and that can often be a protracted process.
The chairman has publically thanked Clark and his staff for their work and I hope those aren't empty words and they can come to a quick agreement. There's a few jobs available right now and I'm sure a few more will become available over the next three or four matches.
Clark would be an asset to any club. Whenever I've sat next to him in a TV studio he's come across as astute, knowledgeable, driven and passionate. He's also very professional in his preparation.
For those reasons I thought he was the best man to try and finish off the job at Huddersfield and get them promoted. I felt they would have benefitted from some continuity - and then if they fell at the last hurdle yet again they could have taken a look at the situation in the summer.
The chairman has made a decision that has stunned many of us in the game and he will now be judged by his next appointment. We won't know if it's the right decision until we see who comes in and whether or not he can pick up the gauntlet.
Whatever happens, the next man will take over a club in a great position with a fantastic group of players.