Football League Expert & Columnist
Warnock for Whites?
Peter Beagrie asks if Neil Warnock will want to fill Simon Grayson's shoes at Leeds?
Last Updated: 02/02/12 8:05pm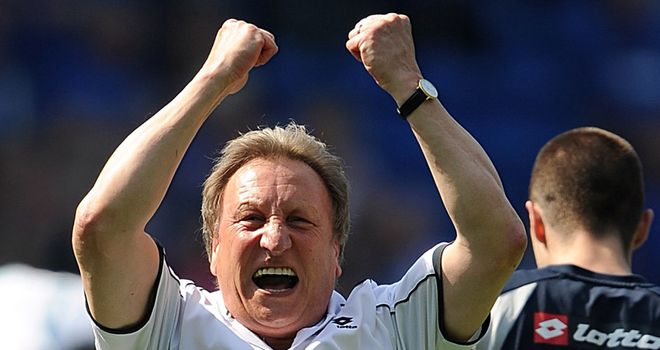 First and foremost, I'd like to go on record and say Simon Grayson did an outstanding job for Leeds United.
He took over a club that was languishing in League One and a succession of managers hadn't been able to get them out of their rut. He took them to the play-off semi-final in his first season, only to be denied by Millwall, but next season he took them out of the third tier via automatic promotion.
Last season's seventh-place finish in the Championship was, for me, an over-achievement. There were far bigger and better-quality squads in that division and I felt he covered himself in glory, even though they just missed out on the play-offs.
Of course, expectation levels rose but he has had to cope with the loss of players such as Jermaine Beckford, Max Gradel, Jonny Howson, Bradley Johnson and Neil Kilkenny. The chairman has a long-term plan whereby he wants to invest in the stadium first and the team second and it wasn't easy for Grayson to work under those conditions.
Three defeats over the Christmas period saw them slip out of the top six and they are currently down in 10th place. However, they are still only four points off fourth position with 18 games to go. Obviously, the 4-1 defeat at home in midweek was a blow, but they were defeated by a resurgent Birmingham side on a long unbeaten run.
So when the news of his departure came this week I wasn't surprised, but I was disappointed. Simon still fancied their chances of finishing in the top six, but the club have decided to see if somebody else can get more out of that squad of players.
I feel some of the players need to take some responsibility for what's happened because a lot of fundamental individual errors have been made; we saw that against Birmingham on Tuesday night.
Going forward they have been a joy to watch, but Grayson ultimately lost his job because he was unable to find a defensive formula. He has never been able to find a central defensive pairing, in particular, that could produce stability.
Chief executive Shaun Harvey has come out and said a decision had to be made and with a large part of the season left, someone else will now get the opportunity to make a difference at Elland Road.
Who next?
The moment Neil Warnock lost his job at Queens Park Rangers, every manager in the Championship came under pressure, particularly the ones at the bigger clubs.
The two main men under pressure, as far as I was concerned, were Paul Jewell at Ipswich and also Grayson. Unfortunately the midweek results went badly for Simon (a 4-1 home defeat) and very well for Paul (a 5-1 win against leaders West Ham). That saw the axe fall on one, while the other is safe.
Jewell was arguably under more pressure because Ipswich might suit Warnock better geographically, but he is now one of the big favourites for the Leeds job. He has a history of getting people out of that division and an excellent track record, but will he want to go and work in Yorkshire again?
He often used to let Stuart McCall do most of the coaching at Sheffield United and he'd go up at the end of the week to put a finer point on things. He may not want to move north, but when he thinks with clarity, surely Leeds, one of the highest-profile jobs around, is one that would encourage him to compromise?
Some fans may not like his associations with Yorkshire rivals Sheffield United, but if a former Celtic player like Maurice Johnston can be a success at Rangers then why can't Warnock be a success at Leeds? You need to look at the bigger picture and find the best man for the job.
Neil Redfearn (a Yorkshire legend from his 'it's just like watching Brazil' days at Barnsley) has been given the job on a caretaker basis and he will fancy it full-time. Other names such as Paul Ince have been mentioned and there will not be a shortage of applicants.
I wouldn't see the Leeds job as a poisoned chalice; it's a club with stature and it's a club with a huge following. Ken Bates chose the right man for the job when he appointed Grayson and now he needs to be equally as astute with his choice this time.
Finally, I wish Simon Grayson all the best. He definitely has a big future in the game.
What else we learned this week
Cardiff (3rd) and Birmingham (4th) are showing fantastic consistency.
Both are unbeaten in the last six games and the Blues' games in hand have been navigated successfully. Chris Hughton's side have already played a full season, given their European commitments, but they have shown their strength.
Who will be Watford's talisman now?
At the start of the season I wrote that Watford's survival could depend on Marvin Sordell's ability to replace the goals of Danny Graham. He has reached double figures and put in some scintillating performances, earning a big move to Premier League Bolton. Where does that leave Watford? I should also mention Nicky Maynard's move to West Ham, where he should forge a good partnership with Sam Baldock.
For Huddersfield, it wasn't about who came in, but who didn't go out
Lots of clubs, including West Ham and Norwich, put in sizeable bids for Jordan Rhodes and I even heard rumours that he'd signed a pre-contract agreement with Manchester United! However, Lee Clark will be more than happy that his chairman has refused to sell him and he could be the deciding factor in them getting promotion.
The same can be said for Swindon Town
Bids came in for Matt Ritchie, but Swindon are near the top of League Two and have decided he can help shoot them to promotion, so have looked at the bigger picture and decided not to cash in now. They would be a far lesser outfit without him.
Did you see the poor attempt at the Beagrie somersault?
Djibril Cisse's move to QPR also caught my eye. We thought he would bring some colour to the Premier League (literally when you look at his hair and his boots) and he scored in the 2-2 draw with Aston Villa. But his celebrations weren't a scratch on what I could pull off back in the day!