Football League Expert & Columnist
A cup to cherish
With Chesterfield and Oldham 90 minutes from Wembley, Beags explains the value of the JPT.
Last Updated: 27/01/12 1:33pm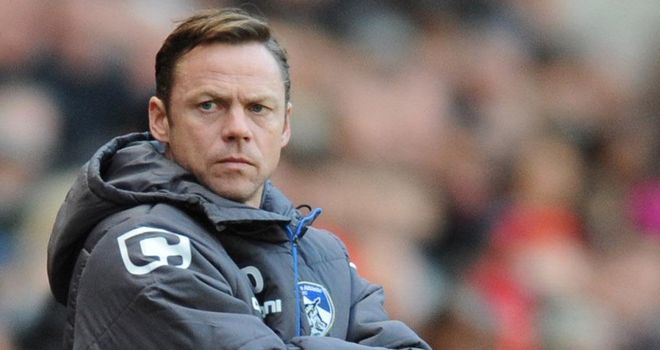 The Johnstone's Paint Trophy is a great competition - and don't let anybody tell you otherwise.
The kudos of cup football has waned in this country in recent years because some of the Premier League clubs have started to take the FA Cup and the Carling Cup less seriously. Some people frown upon this tournament as a result of that.
But I think the JPT is fantastic, especially for the likes of Oldham and Chesterfield, who are potentially 90 minutes away from a final at Wembley. The sponsors have worked very hard to promote this tournament and with a trip to the national stadium up for grabs there is plenty of gravitas attached.
Many have argued that this competition doesn't get exciting until the later rounds, but as a former pro I can assure you that the players don't think like that.
I remember there was always a buzz when the draw was made because you always felt you had a chance of winning this trophy. You're up against opponents in the same league (or the league above or below) and you're excited by the tease of getting to Wembley.
The last time I played in the Football League Trophy I had more than 750 games under my belt at all levels of English football, including the Premier League, but the tournament still made me excited.
I never played at Wembley in my 25-year professional career and that's one of my biggest regrets in football. When this competition rolled around I would plot a route through - you don't need to win a lot of games to get to the final - and I would get excited. I'm sure that remains the same for the current crop of players.
People say the players should go out and enjoy themselves when they're playing cup football, but when you're one game away from Wembley the nerves will inevitably jangle.
So that should give us plenty of excitement on Monday evening and even if there aren't lots of goals, there's bound to be incidents and action in both boxes as nerves get fraught. Expect a few mistakes as well.
You rarely see a dull game at this stage of the tournament.
Pressure
Chesterfield may be bottom of League One, but carry a 2-1 lead into this game from the first leg. However, they cannot afford to sit back because that will invite pressure.
They ended a run of 17 league games without a win against Colchester last weekend, which was vital because they can't afford to get cut adrift at the bottom of the table.
The club was hoping for a new dawn when they moved into their fantastic new stadium last season and will be desperate to retain their League One status because that facility deserves it. One hopes they can get enough results between now and the end of the season to survive.
And there's a good question to be asked ahead of Monday's area final. Would reaching a Wembley final make up for relegation this season? I think there's two ways of looking at a situation like that.
I think if they got past Oldham and then went to Wembley and won the trophy then the fans might forgive them if they fell into League Two. Simply reaching the final would not be enough though - they'd need to bring home the cup.
But from a business point of view, and for the fans with a long-term outlook, the financial implications of relegation need to be considered. In League One, the home matches against teams such as Huddersfield and the Sheffield clubs guarantees thousands of away supporters and that revenue would be lost in League Two.
Obviously some of those sides may be promoted anyway, but there's no doubt that the financial rewards are greater in a higher league.
Drive
I played against the Chesterfield manager, John Sheridan, many times and he was an incredibly cultured footballer. He went on for many years, despite big problems with his knees, because he had the passion and the drive to stay in the game.
He comes up against his former club on Monday and I remember watching him play in a reserve game for Oldham when he was the manager there. He played just in front of the back four and despite being surrounded by quicker, fitter youngsters he was far and away the best player on the pitch.
I played with his opposite number Paul Dickov during my days at Man City, too, and I enjoyed it because in his mind there was no such thing as a lost cause.
I remember playing bad passes that went 15 yards past him, but he'd turn it into a good pass by getting there before the defender. He would run anybody down and make me look like a much better player!
On the pitch he was like a Tasmanian devil, but off the pitch he was much less volatile. He's very cool, calm and calculated and he thinks deeply about the game.
He's carried that into management and he combines a modern approach to coaching with a strong work ethic and good values. He also has good links with clubs like Manchester City and has used that to his benefit by signing promising youngsters such as Luca Scapuzzi and Andrea Mancini on loan.
However, good contacts aren't enough. You must remember, Premier League managers won't loan their emerging talent to anybody. They want them to go somewhere where they can further their football education to work under managers that want to play the game in the right way - and Dickov does that.
His Oldham team possess the energy, commitment and desire that their manager possessed in his playing days and they attack games like he used to.
They may be behind after the first leg, but you'd have to say that based on league form, Oldham are one goal superior to Chesterfield, especially at home. Therefore, I would make them slight favourites.
However, this is a very well-balanced tie and I wouldn't like to pick a winner. Oldham need to come out and attack - and that will leave gaps for Chesterfield's quick players to exploit.
I can see Oldham winning the game with home advantage, but in terms of the tie I think it will go right down to the wire. I predict we won't know who's going to Wembley until the dying minutes of the game.
There are signs that this could go all the way and the players must not be distracted by the size of the prize.