Football League Expert & Columnist
Brown and out
Phil Brown had barely 50 games at Preston. Peter Beagrie looks at who might be in line to replace him.
Last Updated: 15/12/11 3:31pm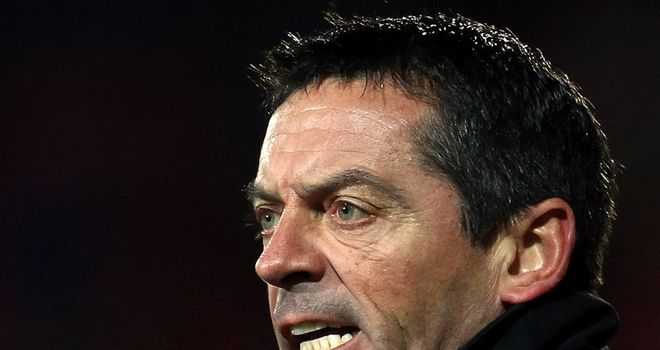 We often say there needs to be more consistency in football - and Preston have certainly been consistent in their approach to firing managers!
Their last boss, Darren Ferguson, was sacked after 49 games in charge and his successor Phil Brown was dismissed this week after his 51st match. Chairmen at football clubs throughout the divisions haven't been as trigger happy as usual this season, but that's evidently not the case at Deepdale where the gaffers get just half a century of games to prove themselves.
Brown has come out and said he wasn't given enough time and still felt his team was a work in progress. However, new chairman Peter Ridsdale has stated that the decision was based on results.
When Brown took over last January he failed to win any of his first 12 matches and the club went on to be relegated, finishing six points from safety. However, the budget had been drastically reduced and he was working with limited resources.
He was allowed to bring in his own back-room staff and also brought back big names like Graham Alexander and Neil Mellor and after a 4-2 defeat at home to Colchester at the start of the season they seemed to turn things around. They drew with Scunthorpe and then won seven league games in a row. Suddenly it seemed as if everything was slotting into place.
At one point in September they were as high as second in League One, but then the wheels fell off again following a run of just one win in the last 11.
They have only won four points from the last 18 games - only Chesterfield and Walsall have picked up fewer - and they sit in 21st place in the form table. They've dropped out of the play-off places, gone out of all of the cups and Brown has paid the price with his job.
Ridsdale tends to take bad luck wherever he goes and there's no worse luck for a manager than losing your job. Maybe the decision was taken before he came in, but looking at the social media sites it's not a popular decision among the players.
Neil Mellor has taken to Twitter to sympathise with the man who tempted him to return from a sensational loan spell at Sheffield Wednesday and some of the other players seem upset that Brown has gone.
It appears he had the dressing room, but the board have decided the results were not up to scratch and maybe they felt things weren't going to improve in Saturday's clash with MK Dons, who sit second in the League One form guide.
Reins
They've decided to allow Graham Alexander and David Unsworth to hold the reins (which seems appropriate during the Christmas period) until they can find a full-time replacement and there's several names in the frame who have connections to Preston, not least the two men who will be looking to make an impression whilst in caretaker charge.
There's also Billy Davies, who took the club to the play-offs for two years in a row in 2005 and 2006 plus Dave Jones, who is out of work and has previously enjoyed success in that part of the world during his days at Stockport.
I've seen Paul Ince's name mentioned, and he still lives in the Manchester area, while the profile of Fleetwood's Micky Mellon is currently quite high after their impressive FA Cup run.
And if you're looking for somebody who has played for the club, you can get 200/1 on David Beckham! He started off as a fledgling at Deepdale, but I'd say he's as likely to buy the club as he is to manage it.
There are options from right across the spectrum and the competition for jobs in the lower leagues is incredible these days. You'll often find managers are willing to do jobs unpaid for three months to try and prove themselves - and as a result the best man for the job doesn't always get it.
My advice to Preston - and to any club looking for a manager - would be to take the advice of former players who have the club at heart. There are impartial, experienced ex-pros who could help board members find the best man for the job.
In the meantime, Preston fans will need to play a waiting game. Watch this space. And in the meantime could the players pull a rabbit out of the hat against an MK Dons side that nobody expects them to beat?
Tune into Sky Sports on Saturday to find out...
Peter's Christmas crackers
Here are the key clashes from each of the three divisions that could have the most significance on the last weekend before Christmas...
CHAMPIONSHIP: The stand-out fixture in the division is between Cardiff and Middlesbrough, two clubs with their sights set on promotion. I'd also look at Leeds, who are in the sixth and final play-off spot and could be hunted down at any time by the chasing pack, which includes Saturday's opponents Reading. Then at the bottom of the table, we see recently-resurgent Bristol City taking on Nottingham Forest, who seriously need to find the winning formula to drag themselves away from the relegation threat.
LEAGUE ONE: Sheffield Wednesday against Huddersfield should be a cracker between two teams near the top of the table. Carlisle's game with Wycombe is important at both ends; the home side are only outside the play-off places on goal difference, but Wycombe might be able to jump out of the relegation zone with a win. And while we're talking about sides at the bottom, you can't ignore Chesterfield v Walsall. That's a real six-pointer down there.
LEAGUE TWO: There are plenty of proverbial David vs Goliath clashes in League Two this weekend. Bradford have been in free-fall of late and their trip to second-placed Southend sees Phil Parkinson desperate for a win. The other Friday night game between Barnet and high-flying Cheltenham sees the visitors, whose manager Mark Yates earned my vote for Manager of the Month, hoping to feed off the negativity surrounding Barnet after it was announced they are to leave Underhill after 104 years. On Saturday we'll see rock-bottom Dagenham & Redbridge travelling to promotion-chasing Burton. John Still's men won't feel cut adrift while they are within one result of safety.