Football League Expert & Columnist
Speed was a light
Peter Beagrie remembers Gary Speed as a player and person in his Football League review.
Last Updated: 01/12/11 4:22pm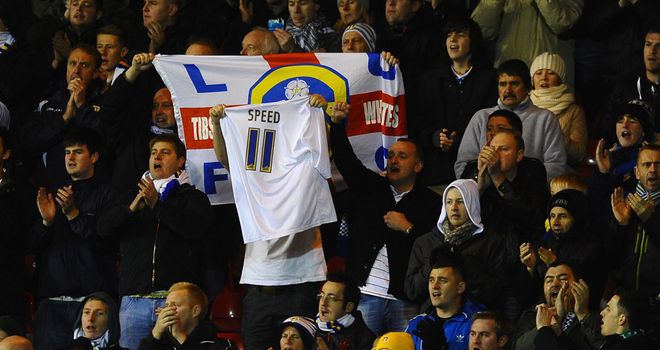 I was as shocked and devastated as everybody else when I heard the tragic news about Gary Speed.
I'd class myself as unfortunate not to have played with him, but our paths crossed many times. I'd moved to Man City by the time he joined Everton, but I still lived in the area and we socialised and played golf together.
Like everybody else who has paid tribute to him this week, I held him in the highest regard as both a person and a player. He was someone who found it as easy to light up a football pitch as he did to light up a room when he walked into it.
As a footballer he was gifted, athletic and his will to win from an early age pushed him past the boundaries. When everybody else was tiring he'd drag the more senior professionals through. Everybody in the professional game talks about his drive and desire and that formed part of his best asset, arriving late in the box and attacking balls.
He had an incredible left foot, but he was adept with his right as well. He was fantastic in the air and would always stick his head in when boots were flying around with no concern for his own safety. He was an incredible competitor.
He was also fantastic in the dressing room. Yes, as a student of the game he was opinionated, but I've never heard anyone have a bad word to say about him. He was also a fantastic communicator and that's why the fans of every club he played for respected him.
In a game full of big egos, he didn't have one at all. Gary was talented and good looking, so maybe he deserved to have an ego, but he didn't think about things like that. I think he was unaware of his greatness and how he could impress people who couldn't easily be impressed. He was a well-rounded and well-grounded man.
It all started at Leeds and in midweek Simon Grayson asked his players to deliver a tribute befitting of him and they produced a resounding 4-0 win over Nottingham Forest. The fans of both sides played their part with 11 minutes of applause and singing from the 11th minute.
Some people would be surprised by the depth of the tributes that have come in, but I'm not. That's the way he touched people. It's been a very emotional week for everybody who knew him and it seems he made a lasting impression even on those that only met him fleetingly.
It's a sad loss for the football family, but the most important thing is to respect and support the loved ones he has left behind. My heart goes out to his nearest and dearest at this time.
Live on Sky Sports
Crystal Palace v Derby
7.30pm, Fri, Sky Sports HD1
The performance by Crystal Palace against Manchester United was simply brilliant.
They were youthful, they were exuberant and they were strong at the back. There was pressure on these young players playing in a quarter-final at Old Trafford, but they were sensational.
I'd like to highlight the full-backs, who joined in superbly. Dean Moxey gave Antonio Valencia as many problems as he got going the other way and Nathaniel Clyne played like Mick Mills, looking brilliant in possession and doing his defensive duties very well. He can join Kyle Walker and Kyle Naughton on the list of eye-catching young English full-backs. A lot of Premier League clubs are looking at him.
In front of him, Wilfried Zaha had more tricks than Paul Daniels and displayed all the attributes you need, but the unsung hero was Stuart O'Keefe in midfield, who showed outstanding energy, enthusiasm and athleticism. He didn't give Manchester United's midfielders a minute's rest all night.
All Eagles fans can be proud of that display and the 5,000 supporters who made the trip deserve a special mention, making up around 10 per cent of the crowd. Even though these players aren't used to such a stage they grabbed the game by the horns and the result was a massive shot in the arm for Dougie Freedman, who is doing a fantastic job.
They now face a massive game on Friday night and will hope to continue the momentum against Derby. Personally, I feel both of these teams are in a decent league position. They both have small, fragile squads and they have more wins under their belts than I expected.
I know Derby have only won one of their last 11 games, but I'm sure their fans would have taken seven wins from 19 games when the season started. The spasmodic nature of their season has made their fall from grace look more drastic than the points tally suggests.
Derby had a marvellous start, keeping clean sheets for fun, but their goals have dried up and they've fallen out of the top six. However, they're still higher than the position I thought they would end up in and they need to draw the positives from their season as a whole.
They've had injuries to their forwards, but they need to be more ruthless and maybe score a few scruffy goals. However, it will be tough at Palace, who started the season very strong at home and will be buoyed by that sensational cup result.
Bristol City v Middlesbrough
5pm, Sat, Sky Sports HD2
Derek McInnes has been doing a marvellous job at Bristol City.
After losing his first game in charge they have gone unbeaten in six games and even though they are set up ideally for away games, they finally got the monkey off their back with a first home win over Burnley. Since then they have gone from strength to strength, beating league leaders Southampton in their last home game.
Stephen Pearson has made a difference since coming in on loan from Derby and their front three boasts genuine pace and quality. Albert Adomah is in a rich vein of defence-terrorising form and Nicky Maynard looks to be getting his sharpness back after injury.
They will be looking to cause trouble for a Middlesbrough defence that was the strongest in the league before the 2-0 defeat to West Ham. Boro were looking to go above Cardiff by winning that game, but unfortunately their nine-month unbeaten home record came to an end.
You mustn't write them off though. Their fans should be ecstatic with the job Tony Mowbray has done to get them into fourth place, even though their budget has been slashed. They have three home-grown players in the back four in Tony McMahon, Joe Bennett and Matthew Bates and that's important to the supporters up there.
Whatever happens in this game, there's no doubt both teams have the right man in charge to guide them forward.
What else we learned this week
The Saints passed a big test with flying colours... Southampton responded to their defeat by Bristol City by beating Hull, despite going a goal down. Rickie Lambert has topped the goalscoring charts this year, but it was two of their other options - Guly Do Prado and Adam Lallana - who got the goals.
West Ham are on a roll... They've picked up 19 points from the last 21. I spoke to assistant boss Neil McDonald this week and he was delighted to have overcome a massive test against Middlesbrough. They've utilised the size and strength of their squad, switched to 4-3-3, and there's now a bit of a gap between them and Cardiff in third.
There were Dyer consequences at Leicester... Lloyd Dyer was on hand to set up Andy King in their 2-0 win over Blackpool. He wasn't even making the bench on occasions under Sven-Goran Eriksson and it seems Nigel Pearson has revitalised some of the players he worked with first time around. Dyer is one who is benefitting most and it's becoming clear why Leicester made the expensive decision to change managers.
Will Leeds be haunted by their defensive deficiencies? Personally I'd look at things positively. Simon Grayson sets his team out to attack and his principle is that his players will dominate possession and score more than their opponents. You'd have to say 4-0 away to Nottingham Forest is a fantastic result.
It's all about the defence for Peterborough... They have the attacking prowess to take them to the verge of the play-offs, but if they don't defend well they could be in another relegation fight. They had a great result against Middlesbrough and then they battered Reading for 60 minutes, only to end up losing 3-2.
Brian McDermott didn't wait for it to happen, he made it happen... He sent on Adam Le Fondre and Hal Robson-Kanu from the bench and they scored in a 3-2 win even though they didn't play well.
Why are Football League clubs being denied seven substitutes? This is ridiculous. With seven subs you can have three or four forwards up your sleeve. Limiting them to five makes them less able to make attacking changes and also means academy players have less opportunities to be involved in a matchday squad. That decision saddens me.
Two Championship sides in the League Cup semi-finals... I've mentioned Palace, but I must also mention a great win for Cardiff. It's great for their supporters and the Football League as a whole.