Football League Expert & Columnist
Opportunity Fox
Peter Beagrie says Leicester City could once again match Martin O'Neill's ambitions.
Last Updated: 27/10/11 4:20pm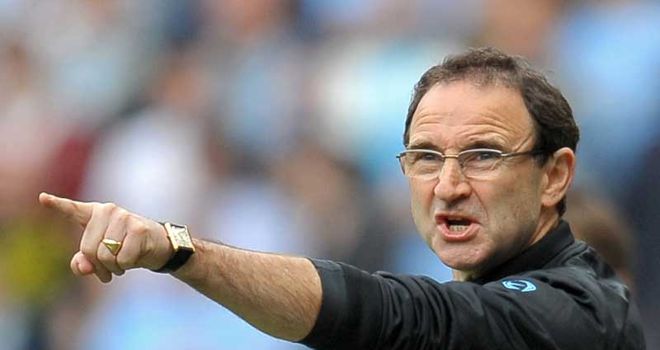 With an expensively-assembled and substantial squad, it was natural that Leicester were installed as pre-season favourites for automatic promotion along with West Ham.
Like many teams, they are currently within touching distance of a play-off place - just two points off sixth following the midweek games - and in terms of ability and experience have one of the best squads in the division.
Yet as early as September 16, Sven-Goran Eriksson was having to answer questions about his job. Reports claimed he had just five games to turn around an indifferent start to the season and he told a pre-match press conference he hadn't seen the speculation, nor was he worried about it.
It's hard for anybody to dislike the Swede and after his dismissal this week he refused to blame anyone for his failure, including himself, but was aware of the pressure and the extra focus his presence had put on the players. Maybe they were suffering as a consequence?
People may ask why Leicester employed him in the first place. There are many reasons, including the raised profile that comes with employing a former England manager, but also it seemed to be part of a long-term plan.
Eriksson is an experienced international and club boss and if they had realised their ultimate goal of reaching the Premier League then he was the sort of manager who could prepare them for the next stage by scouting and attracting top foreign players.
Call me a sceptic, but I don't think the 3-0 defeat to Millwall was the reason for his sacking. The owners of Leicester are very astute businessmen and, despite the press releases, my gut feeling is that you don't sack a manager you have invested in heavily unless you are well down the road in negotiations with his replacement.
Who will that replacement be? Martin O'Neill's mantra was never go back, but being a romantic it appears Leicester's ambitions may now match his own.
Having looked at the players potentially at his disposal and the obvious promise of more funds, the Leicester hotseat is a very attractive proposition for him or any other suitor. He could play any formation he wants with that squad - and if he needs another trophy signing then he will get the money to buy one.
In the technical area he is the polar opposite of the ice-calm Swede; remonstrating, gesticulating and jumping around like a hobbit. Having been associated with the great times at Leicester in both league and cup, he would definitely be the number one choice on the wishlist of the Leicester faithful.
Other names in the frame include Billy Davies, who has been responsible for promotions to the Premier League and geographically it would seem a good fit after his work at Nottingham Forest and Derby.
Alan Curbishley has been linked to the job and I had the pleasure of sitting next to him at Brighton v West Ham on Monday night. However, I checked his phone log and saw no foreign numbers or calls from a Leicester area code!
Mark Hughes' odds have shortened and he's a manager who has already suffered at the hands of rich benefactors in his Man City days. I don't think that would curb his enthusiasm because Leicester remains a fantastic prospect.
Simon Grayson has already said he isn't looking beyond his current attempts to elevate Leeds back to the Premier League and I don't think they would look at another former England manager in Steve McClaren.
I've even seen Alan Shearer and Roy Keane mentioned and, of course, any manager would see this as a massive opportunity. But I think it's a great fit for O'Neill. It works geographically, it works historically and it would tug on the heartstrings of the Leicester fans.
But more importantly it's a different club to the one he left behind and it should fit his sizeable ambitions.
For now it's a case of 'watch this space', but I'll leave the final word to Sven, who this week reiterated his belief that the current squad is capable of promotion and he's only sorry that he won't be on the bench when that is achieved.
"You treated me like a king and I shall miss working with you all," he said. Now he's on the look-out for a new castle.
Burnley v Blackpool
5pm, Sat, Sky Sports HD2
This will be a deeply passionate North-West affair, despite an indifferent start for both teams.
Burnley seem to be coming to the boil now that Eddie Howe has found a formation he trusts. They've had 10 ever-presents in the last six games and even though some of the stalwarts of their Premier League days have moved on, the manager has found a formula he likes.
Players such as Chris Eagles and Wade Elliott used to be pivotal to their pass-and-move game, but Eddie is doing things his own way and young forward Jay Rodriguez has caught the eye playing alongside Charlie Austin. That's a really good combination and Blackpool will have their work cut out trying to deal with them.
After finishing eighth next year they can tell Blackpool how difficult it is to bounce straight back after relegation and I hope their fans don't forget where they've come from. After taking them into the top flight for the first time in 40 years, it is unfortunate that Ian Holloway is getting a lot of criticism at the moment.
There are still 33 games to go and they are still looking for their best system. The exits of Charlie Adam, David Vaughan and DJ Campbell has ripped the heart out of the team, but they're still only two points off the play-off places.
A 4-0 loss to West Ham was hard to take and Holloway admitted the win over Doncaster was unconvincing, but this is a side that was going toe-to-toe with the Premier League's best teams just a few months ago. Their season ended in glorious failure and I always felt they might struggle because they expended so much energy last year.
Like about 14 other teams, they still have a realistic chance of the play-offs in a ridiculously close division and there's absolutely no way anyone should be questioning their manager.
Ahead of a passionate affair, nobody epitomises passion more than Holloway. Don't forget where this club has come from. Keep the faith.
What else we learned this week
Championship Player of the Week... Joe Mason scored and had a couple of assists in the 5-3 demolition of Barnsley and then scored the winner in the Carling Cup win over Burnley. The youngster is relishing being given a run of games in Cardiff's team and has been pivotal in their upturn in fortunes.
League One Player of the Week... Thirteen might be unlucky for some, but not for Jordan Rhodes, who has scored 13 goals in his last five games for club and country, netting three hat-tricks in the process. Lee Clark was criticised for not playing him away from home last year, but this year he's starting most games and proving what a brilliant acquisition he has been.
League One Goal of the Week... Barcelona might need 15 touches before scoring a goal, but Clayton Donaldson only needs three. He collected a long ball from the goalkeeper and with his third touch hit it into the top corner. It was an absolute classic and there have been some tremendous goals in that division lately.
League Two Player and Goal of the Week... Lewis Grabban scored a spectacular solo effort in Rotherham's 1-1 draw with Shrewsbury and scored from the spot in the midweek game with Morecambe. Sometimes great goals don't go hand in hand with great performances, but they did in this instance.