Football League Expert & Columnist
The QPR question
Peter Beagrie applauds Norwich and feels it would be unfair if QPR don't join them in the top flight.
Last Updated: 05/05/11 2:45pm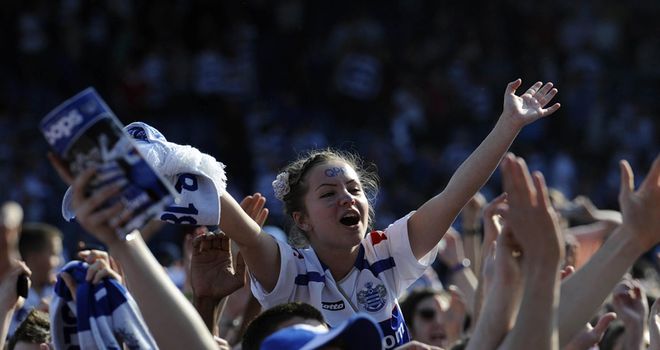 It was a tale of two Cities. Cardiff and Norwich were united by a shared dream of automatic promotion to the Promised Land. That's how make-or-break Monday began.
Both sides were in fine form and separated by a solitary point. Norwich had the slight advantage but on paper the toughest fixture with almost everybody expecting both teams' fates to be decided only after their respective final fixtures.
Even with Middlesbrough's recent fine form (one loss in 11), nobody could have predicted that they would be three goals up by half-time at the Cardiff City Stadium. The usually reliable Cardiff defence played like strangers and gifted Boro those three goals in just 21 minutes.
That left the Bluebirds fans clinging to the hope that Pompey could halt the Norwich Express, but the Canaries, fearless all season, produced a performance of real quality and maturity.
In essence it was the perfect away performance. They were solid in defence, imaginative and mobile in midfield with two strikers whose hunger for work was only matched by their hunger for goals.
One goal of real quality decided the outcome. It came from a flowing move and ended with man-of-the-moment Simeon Jackson diving headlong to get on the end of David Fox's pinpoint cross and scoring at the near post.
This was another tremendous team performance with the players working incredibly hard for each other. But it would be wrong to suggest that hard work and team spirit alone have enabled Norwich to succeed where many more so-called bigger and more-talented squads have failed.
They have some great individuals such as inspirational captain Grant Holt, the wonderfully creative Wes Hoolahan and two flying full backs in Russell Martin and Marc Tierney - all galvanised by the belief their manager Paul Lambert has instilled in them and the benefit of no big egos.
This is now a time of justified celebration for the Norfolk outfit and let's be honest, if you're going to have a party of huge proportions who better to do the catering than Delia Smith herself?
With the club struggling for investment, the joint majority shareholder wrote a couple more books to help fund the Canaries' dreams of once more rubbing shoulders with the elite. She has proved once again she knows the recipe for success.
Lambert has tasted success as a player both home and abroad with a Champions League medal to boot. He has served his football manager's apprenticeship from Livingstone to Wycombe and Norwich via Colchester and has certainly played a starring role in this fantastic fairytale.
Cardiff will have no time to feel sorry for themselves. They have the individuals, star turns and also the egos, but now need to find the spirit and togetherness to help them navigate their way through the lottery of the play-offs.
What price a Cardiff v Swansea final? Probably the same odds as a Reading v Nottingham v Forest final (Billy Davies' side will surely be in the mix unless a minor miracle happens for Leeds this weekend). That's how hard to call it is.
Faurlin fiasco
This is all assuming that the QPR fiasco has no bearing on the final positions. You couldn't make up this situation because the whole thing is stranger than fiction.
The Championship winners face the possibility of a points deduction following the outcome of an investigation into the signing of Alejandro Faurlín, but remember, the powers-that-be sanctioned the move at the time, accepting all the paperwork was in order and above board.
So why hasn't it been sorted out before now?
My understanding is that all QPR are guilty of is overstating in the media the fee paid for the player; an action that clubs sometimes do to make it appear to their fans that they are being proactive, ambitious and willing to spend.
This false bravado, bragging, call it what you will, seems to have backfired with the question now being asked by the authorities: if that was the fee then where has all the money gone?
There are several other minor issues to be taken into consideration, but I think it should be pointed out that they haven't signed Lionel Messi here. Faurlin has been a steady performer, but there were no other clubs vying for his signature and he has hardly made the difference between winning and losing the Championship.
Yet a faux pas of huge proportions has taken the gloss off what should have been a week of celebrations for the QPR players and fans who remain blameless in all of this - and yet as usual are the ones to suffer most.
This situation has been far too protracted and long-winded and risks disrupting the play-off schedule if QPR decide to appeal the verdict, which is likely to be delivered on Friday.
My thinking is that the powers-that-be may decide on a financial penalty - or a financial penalty plus a points deduction that would not deny QPR promotion. They may have to play the final game knowing that the title may still go to Norwich, but I do not see them missing out on automatic promotion.
That would satisfy some people, but not all of them. However, if the facts are what I understand them to be then that would be the fairest thing.
Best of the month
It would be amiss of us not to congratulate the teams that have earned promotion and secured their play-off places in the other divisions.
We have already praised Brighton, but congratulations are now due to Southampton who will join them in the Championship next year. Huddersfield, Peterborough, MK Dons and Bournemouth will contest the play-offs.
We know that Bury and Chesterfield are going up from League Two, but the other automatic spot - and the play-off places will only be confirmed after the final round of matches.
Finally, the nominees for the Player of the Month and Manager of the Month awards for April have been announced. Look over the contenders below and let us know your thoughts in the comments box below.
Have the panel made the right choices? Is there somebody from YOUR club who should have been on this list?
Championship Player of the Month (April):
Simeon Jackson (Norwich)
Marlon King (Coventry)
Scott McDonald (Middlesbrough)
Aiyegbeni Yakubu (Leicester)
PETER'S PICK: Simeon Jackson
After going 20+ games without a goal Simeon produced a show of true marksmanship in the month of April bagging eight goals in six games including two hat-tricks. That was to become seven in nine as he scored what was to be his 13th and most important goal of his season / career sending Norwich to the PL. That being Promised Land or Premier League - for Norwich they are one and the same.
Championship Manager of the Month (April):
Kenny Jackett (Millwall)
Dave Jones (Cardiff)
Paul Lambert (Norwich)
Brian McDermott (Reading)
League One Player of the Month (April):
Ashley Barnes (Barnes)
Danny Ings (Bournemouth)
Craig Mackail-Smith (Peterborough)
Neil Mellor (Sheff Wed)

PETER'S PICK: Neil Mellor
The end of March saw Sheffield Wednesday hovering above the relegation zone in 17th position in League One. Mellor, on loan from League One-bound Preston, contributed six goals in April which saw a solitary defeat in seven and helped navigate Wednesday 11 points instead of four points away from the bottom three.
League One Manager of the Month (April):
Nigel Adkins (Southampton)
Lee Clark (Huddersfield)
Gary Megson (Sheffield Wednesday)
Paul Tisdale (Exeter City)
League Two Player of the Month (April):
Stuart Fleetwood (Hereford)
Ashley Grimes (Lincoln)
Byron Harrison (Stevenage)
Ryan Lowe (Bury)
PETER'S PICK: Ryan Lowe
Captain Ryan Lowe's performances and goalscoring prowess have been there for all to see this season. With 27 league goals and 28 in all competitions, he has led from the front. The much-travelled hit-man's four goals and leadership qualities helped Bury's caretaker manager Ritchie Barker finish off the job Alan Knill started, securing the Shakers automatic promotion.
League Two Manager of the Month (April):
Richie Barker (Bury)
John Coleman (Accrington Stanley)
Graham Turner (Shrewsbury)
Gary Waddock (Wycombe)