No surprises?
Merse can't see Arsenal, Chelsea, Man Utd or Man City slipping up in the midweek games.
Last Updated: 16/04/13 2:04pm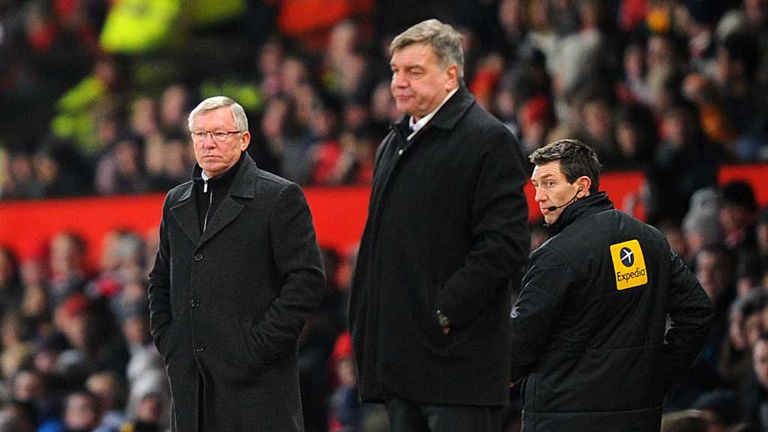 There's some big midweek games coming up with consequences at both ends of the Premier league.
We asked Soccer Saturday expert Paul Merson to look at the fixtures and give us his verdict on where the games will be won and lost.
Every week he'll be here on skysports.com to share his views on who he expects to be the winners and losers.
So read on for his shouts and don't forget to let us know your views via the comments box...
Ford Football Special: Arsenal v Everton
7pm, Tue, Sky Sports 2 HD
This is a big game because if Arsenal can beat Everton and then win at Fulham on Saturday, then Champions League football will be secured in my opinion.
They're on a good run and the fixtures have fallen kindly for them. They are playing before all the others play and Tottenham could be seven points behind by the time they play again - and that's against Man City, too!
They're the team with momentum at the moment. They're winning games while Chelsea and Tottenham have dropped points; if the other teams had matched Arsenal in the last few weeks then they would have been in trouble - but now things are looking very good for my old team.
However, Arsenal weren't great against Norwich and they play an Everton team that were comfortable at the weekend. QPR didn't look like losing in the first half, but Everton turned it on in the second half and were very worthy winners.
But I don't see them parking the bus in front of their goal. They will have a go and that plays into Arsenal's hands.
Everton have got some hard games coming up. They have to play Arsenal away, Liverpool away and Chelsea away and if they win all of those then they will deserve to get in the top four. But I think this will be a difficult game and I'll just go for Arsenal to win it.
PAUL PREDICTS: 2-1
Ford Football Special: West Ham v Man United
7pm, Wed, Sky Sports 2 HD
This is a weird game in many ways.
Manchester United have got the title done and dusted and West Ham are pretty much safe. They're probably a win away and I don't think they would have highlighted Man United at home as the game they need to win!
There's no pressure on either team so it should be a good game. We should get some free-flowing football, but even though West Ham had a good result against Southampton at the weekend, I think Manchester United should win.
Will United be able to cope with an in-from Andy Carroll at the back? We've seen them struggle with the likes of Marouane Fellaini this season and I'm not sure they'll enjoy playing against him with the form he's in.
He seems to be injury-free and if he gets the service then I think he's a good player. It's not his fault he was once bought for £30million and that seems to be what he's judged on.
If Man United win all their games they can break the points record for the Premier League, but do players really think about that? When you get your medal it doesn't have "record breakers" written on it!
But Man United pride themselves on playing well in every game. They were very comfortable against Stoke and I expect another win here.
PAUL PREDICTS: 1-3
Man City v Wigan
I can't think of a worse team for Wigan to go and play right now because Man City are in very good form.
I know Wigan have had an extra day of rest, but I just don't see City losing at home to these.
There would have been a lot of euphoria for the Wigan players after they won the FA Cup semi-final, but that will have soon ended when they woke up the next day to watch Sunderland win 3-0. That was a nightmare result for them.
I now think Wigan are majorly in trouble of relegation because everyone around them is winning, apart from Stoke.
Wigan need to win their games in hand to get out of the relegation zone, but when one of those games is away against a team that won at Old Trafford and then beat Chelsea in a big FA Cup semi-final then it's not as easy as it sounds!
Maybe the cup run will backfire on them and I don't see anything but a City win here.
PAUL PREDICTS: 4-0
Fulham v Chelsea
Chelsea were slaughtered in the first half of the FA Cup semi-final and I couldn't believe what I was watching at times.
They improved when they went 2-0 down, but it's easy to play at 2-0 down. They've had a lot of games this season and when you start getting a few bad results then players will start feeling tired.
If Arsenal beat Everton then this is a must-win game for Chelsea and if they slip up here then they've got a horrible game at the weekend away at Liverpool. Before you know it, they could be adrift of Arsenal.
This is a massive London derby and Fulham will be right up for it, so I see this as a very difficult game for Chelsea. They can't afford to slip up like they did against Southampton when the manager didn't put Demba Ba on when they were 1-0 down.
And they can't afford to drop out of the top four because if that happens, there's no chance Jose Mourinho will come back to Chelsea.
But I think Chelsea should just have too much... just!
PAUL PREDICTS: 1-2