Basement lax
Merse can't see Stoke, Sunderland, Villa, Norwich, QPR or Reading winning this weekend.
Last Updated: 13/04/13 4:00pm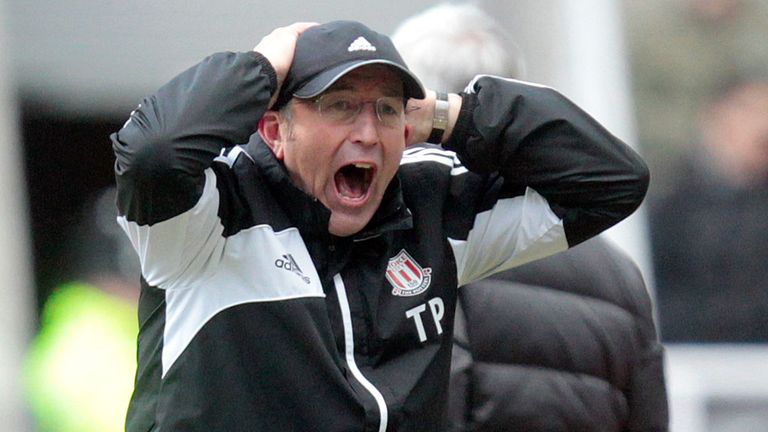 As ever, you can follow all the Premier League action this weekend on Sky Sports.
We asked Soccer Saturday expert Paul Merson to look at the fixtures and give us his verdict on where the games will be won and lost.
Every week he'll be here on skysports.com to share his views on who he expects to be the winners and losers of the weekend.
So read on for his shouts and don't forget to let us know your views via the comments box...
Ford Super Sunday: Stoke v Man Utd
2pm, Sun, Sky Sports 1 HD & Sky 3D
I've been doing this column for several years now and for possibly the first time I just can't see Stoke getting a result at home.
It's unusual for me to tip them to lose at home and I almost always go for at least a draw at the Britannia Stadium, even against the big boys. However, I just cannot see anything except a Manchester United win on Sunday.
For me, Stoke are the team on the slippery slope with glass slippers on. Since their win over Liverpool in December, I can't remember them playing well.
They ripped Liverpool apart that night and then in the next game against Southampton they relied on a worldy goal by Cameron Jerome to get a draw. Since then they've only won one game - and that was against Reading.
The fans have turned on Tony Pulis a little bit and that's the nature of the beast. It always seems to be the manager's fault, but you have to remember that he has taken them to great heights over the last few years and now they expect it year-in, year-out.
Every year Pulis gets to a certain amount of points and says "that's us safe for the season" and I always sit there thinking "you're mid-table, you're not going down". Well, this is suddenly the year they haven't got the points quickly enough.
I think they will be alright, but they'll be looking over their shoulders for a while. They can't win away from home for toffee and this is a hard home game that I don't see them winning either.
I'm sure Stoke would rather Man United had won on Monday night because Sir Alex Ferguson will want to bounce back. For me, they were second best against Man City and will want to prove themselves here.
I think Stoke might just stay up, but it will be a struggle. And I can't see them winning on Sunday.
PAUL PREDICTS: 0-2
Ford Super Sunday: Newcastle v Sunderland
11.30am, Sun, Sky Sports 1 HD
I don't think Paolo Di Canio could have picked two harder games to start his career at Sunderland could he?
They were away at Chelsea last week and they were a bit unlucky with an own goal and a deflected shot going against them and now he has a massive local derby to contend with. It's a big ask!
But in a way it could be a good situation for him. He'll get all the fans on his side if he wins here and he has the chance to make himself a hero.
You'd rather be playing a derby game than Reading at home when all the pressure would be on him to get three points. The Sunderland fans will stick with them all through the game, but if they were 0-0 with Reading after 20 minutes then things would be a bit different.
They haven't looked like scoring too many goals and that's been their main problem, but I liked the way they tried to get forward against Chelsea. They got players bombing on when they broke, which is more than they've done in previous games.
For the rest of the season I don't think draws are much good to Sunderland, but it might be a good result here, just to get them going. They need to get on a run and get a bit of confidence, so they can't afford to lose.
Newcastle had a kick in the teeth losing to Benfica and letting in a last-minute goal in that game and there's no doubt they will be tired.
But this is the perfect game to lift them again. They had a big result against Fulham last week, scoring with the last kick of the game and you could see from Alan Pardew's celebration what a big result that was. They're not far off safety now.
They'd love to help send Sunderland down by beating them on Sunday, but I'm going for a hard-fought draw.
PAUL PREDICTS: 1-1
Arsenal v Norwich
PAUL PREDICTS: 5-0
You might need to put extra lights in the scoreboard for this game. I watched Norwich on Soccer Saturday last week and they can't defend. They were all over the place against Swansea and the goals they let in were very poor. Michu had all sorts of chances due to the bad defending by the Norwich players. They won't be able to live with Arsenal's movement in this game, I'm afraid.
Aston Villa v Fulham
PAUL PREDICTS: 2-2
This is the sort of game the Villa players don't like playing in because they're at home and the fans will turn up expecting to win. The supporters there are often a different class - they stuck with the players all the way through against Stoke and Liverpool - but they don't stick with them as long in games they expect to win. There will be pressure on the Villa players and Fulham are a better team than people give them credit for. They were unbeaten in five before they lost to a last-kick goal at Newcastle, so I'll go for a draw. There will be goals though.
Everton v QPR
PAUL PREDICTS: 3-1
I'm watching this game on Soccer Saturday and QPR are the team you want to watch as a neutral at the moment because they're not beating around the bush. They need to win football matches and they're going for it. Everton don't mess around either - you won't see them sitting back on Saturday - so this should be a real good game. It should be end-to-end stuff. Everton have still got to play Arsenal, Liverpool and Chelsea so to get in the top four they will need to produce something special, but I think they will win this because they're a bit too strong for QPR.
Reading v Liverpool
PAUL PREDICTS: 0-4
A lot will depend on how quickly Liverpool score in this game. I find that if they score early in football matches then they batter teams, but if they don't score by half-time, like against West Ham, you rarely see them go on and win games. But Reading need to go out for the win to give themselves a faint hope of surviving and that should play into Liverpool's hands. I'm going for a 4-0 win for Liverpool because Southampton could have beaten Reading by that scoreline last week.
Southampton v West Ham
PAUL PREDICTS: 2-0
Southampton have done very well lately, but might struggle a bit against West Ham. Le Tiss made a good point on Soccer Saturday when he said their squeezing game doesn't work as well against lesser teams. The top teams roll it out from the back and that gives Southampton a chance to press and get tight, but teams like West Ham don't mess about and get the ball forward quickly. They will be closing down a lot in their own half, which doesn't play into their hands. However, I still expect them to win this game because West Ham had a hard game against Liverpool last week and did a lot of running around and closing down.