Time to deliver
Merse tips United to defeat City in the Manchester derby at Old Trafford on Monday Night Football.
Last Updated: 07/04/13 6:08pm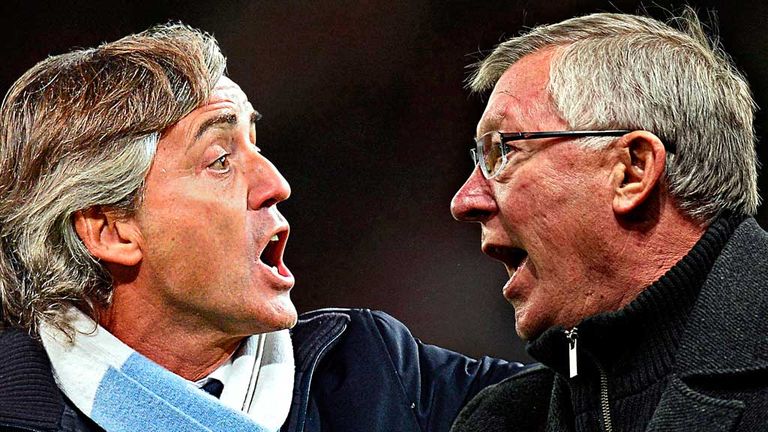 As ever, you can follow all the Premier League action this weekend on Sky Sports.
We asked Soccer Saturday expert Paul Merson to look at the fixtures and give us his verdict on where the games will be won and lost.
Every week he'll be here on skysports.com to share his views on who he expects to be the winners and losers of the weekend.
So read on for his shouts and don't forget to let us know your views via the comments box...
Ford Monday Night Football: Man Utd v Man City
7pm, Mon, Sky Sports 1 HD & Sky 3D
This is a bit of a weird game. When the fixtures came out we thought this was going to be a massive football match. Now it is a massive football match but for Manchester. I think that Man City have got to win, they can't lose face. Man City owe their fans a game and I hope they have a go. If Man United lose it is going to take the gloss off winning the league a bit so there is a lot to play for between the players and the fans. I just can't see Man United not winning this game with the way City have been playing. I don't think they will dominate - they haven't been like that recently - but they just seem to win football matches which City have struggled to do.
If City lose then they are 18 points behind United and the pressure has got to be mounting up on Roberto Mancini. It will all come down then for Mancini to the following week against Chelsea in the FA Cup. In terms of the key players for both teams, Van Persie has gone a little bit quiet but if he plays well United should win but at the other end I think, after what has gone on this week, Tevez could be a key player for Man City if he plays.
PAUL PREDICTS: 2-1
Ford Super Sunday: QPR v Wigan
3.30pm, Sun, Sky Sports 1 HD
QPR might as well turn the floodlights off if they lose this one, or even if they draw. I just don't think it would be enough. I think they have seven games left and Harry Redknapp is talking about winning four and drawing two. This is one of the ones he will be highlighting. If QPR had beaten Fulham, hadn't made those silly errors, and then went on to beat Wigan they would be a point from safety. It is extraordinary that it can get that close, that quickly, with back-to-back wins. I have got to go with QPR. They have to, have to win. And I know the way Harry plays and I know he will have a right go.
The problem, for QPR, is that they make silly mistakes at the back. It doesn't matter if you have Jose Mourinho, Sir Alex Ferguson, Arsene Wenger or Harry Redknapp in charge, if Samba is making mistakes like that then you have no chance. They have to cut those out. Wigan have got more than enough to get the result - all day long. They've been to Southampton, Reading, Villa - all the bottom teams - and won. They have to make sure they don't lose but they'll also be thinking they can get three points.
PAUL PREDICTS: 3-2
Ford Football Special: Reading v Southampton
12pm, Sat, Sky Sports 2 HD
I just hope the emotions don't get in the way of the game with Nigel Adkins playing his former club. Reading have to win and if they lose, I think they can turn the lights out as well. No disrespect to Southampton but they are not that far from the lower end of the table and Reading aren't going to play many more teams like that. They need to start winning quickly. Southampton have done very well; they have beaten the top teams. They've struggled away from home but I think Southampton will go there and make sure they don't lose. Reading need to win and Southampton need not to lose. It is exactly the same as the QPR game and I am going to go for a draw here. I think Southampton have enough to get that draw.
PAUL PREDICTS: 2-2
Norwich v Swansea
PAUL PREDICTS: 2-1

Swansea are in a bit of a lull now. They've won the League Cup and I think they are on a bit of a holiday if I am being honest. Defeats to Arsenal and Tottenham at home are no slights but they were beaten away at West Brom and are on a bit of a bad run at the moment. I think Norwich need to win and they are probably looking at this and thinking that if they win they are virtually safe. But they haven't won for four games either. There is more pressure on Norwich here. Sometimes you don't like playing teams who are mid-table because they are free-flowing but Swansea won't have that little bit of bite that Norwich will have. I have just got to side with Norwich here because of the situation they are in.
Stoke v Aston Villa
PAUL PREDICTS: 1-1

Again this is a massive game. Because there are so many teams at the bottom that could go down they are all huge matches. Stoke are struggling so badly and this is a game they need to win, not draw. They are only four points off the relegation zone and their away form is atrocious. At least with the other teams you always feel they may win away games, but Stoke NEVER look like winning away. If Stoke lose here then they are bang in trouble. They will be highlighting this game and thinking one more win and they'll be staying up. But if they lose it you'd have to tip them to go down or be in trouble to the end. And Villa can't afford to lose either. Villa let in goals but Stoke don't score goals. Villa can score goals so I think they will always be in this game. So I will go for a draw.
West Brom v Arsenal
PAUL PREDICTS: 1-3

Arsenal have to win. A draw would be no good to them. If Arsenal win this game they go above Chelsea and that will put severe pressure on them and Tottenham, who are both playing on the Sunday. If Giroud keeps on holding the ball up and playing as he is and Cazorla keeps on doing what he's been doing, I think Arsenal will have enough to get the win. It is strange but they look more solid at the back without Vermaelen and who thought we'd be saying that? If they can keep Lukaku quiet I think that will be enough.
Liverpool v West Ham
PAUL PREDICTS: 3-0

I have got to fancy Liverpool here. I think West Ham got a massive football result last week, beating West Brom, and that has taken severe pressure off them. With Liverpool at Anfield and West Ham not very good away from home, I am going to go 3-0 to Liverpool. Luiz Suarez is again going to be the main man for Liverpool. He was outstanding last week and he is without doubt up there with Gareth Bale and Robin Van Persie as one of the three players of the season.
Tottenham v Everton
PAUL PREDICTS: 1-1

If I'm right and Arsenal win, Tottenham will need to win and this is a very difficult game. They had a hard game in the Europa League on Thursday night against Basle. If they don't win this game and then play Chelsea away and Man City at home, in between Basle again, their season can go Pete Tong. Gareth Bale being injured will be a massive loss. If they don't beat Everton, get knocked out of the Europa League and lose at Chelsea, then their season has gone from full of praise to a nightmare. The problem for Tottenham is that they are now letting in a goal or two. It is not like they are rock solid and I think Everton will cause problems. But I am going to go for a draw.
Chelsea v Sunderland
PAUL PREDICTS: 3-0

Chelsea will need to win if Arsenal win and Tottenham draw. Two weeks ago this looked like an easy game for Chelsea but now Sunderland have a new manager. Chelsea played well on Thursday so I think Chelsea will still beat them quite easily. I like Paolo Di Canio as a player but I think it's a massive gamble from Sunderland to make him manager. I just don't get it. Why did they sack Martin O'Neill? Did they think they would beat Man United? They weren't going to beat United anyway so they may as well have sacked Martin two weeks ago. A new manager coming in can have a positive effect but if you look at the fixtures they have Chelsea away and Newcastle away. I find it a very strange appointment.
Newcastle v Fulham
PAUL PREDICTS: 2-1

If the results go the way I think they will - Villa and Wigan to draw, Norwich to win - all of a sudden Newcastle will only be a few points off the relegation zone. So they need to win this game. They have a tough period coming up as they play Benfica again, after losing the first leg of the Europa League clash 3-1, and then Sunderland. Fulham are flying, winning away and then at home, and they are five games unbeaten. But I am just going to go with Newcastle - although I don't think that it will be a walk in the park.