Not Gunner lose
Merse explains why Arsenal won't lose the derby and tips wins for Man City, Chelsea and Southampton.
Last Updated: 01/03/13 1:26pm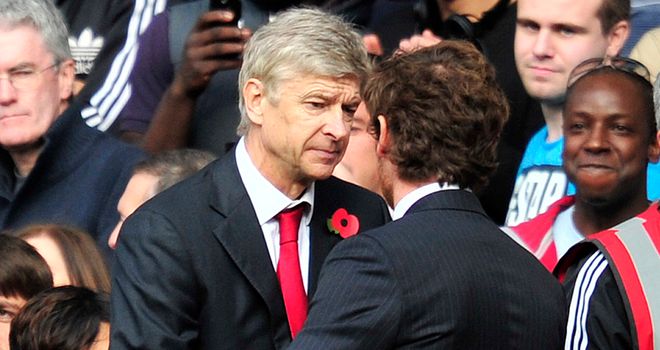 As ever, you can follow all the Premier League action this weekend on Sky Sports.
We asked Soccer Saturday expert Paul Merson to look at the fixtures and give us his verdict on where the games will be won and lost.
Every week he'll be here on skysports.com to share his views on who he expects to be the winners and losers of the weekend.
So read on for his shouts and don't forget to let us know your views via the comments box...
Ford Super Sunday: Tottenham v Arsenal
3pm, Sun, Sky Sports 1 HD & Sky 3D
Right now, Spurs are supposedly playing the best football they've played in years while Arsenal are getting stick in the papers every week.
And yet there could just be a one-point gap between them at the end of this match.
The expectations have changed and that's what makes this such an important match. A few years ago, the North London derby wasn't such a big game for the Arsenal players - they looked at Chelsea and Manchester United instead - but it's definitely a big game this year if they want to finish fourth.
People speak about the decline of Arsenal and the fact they haven't been winning trophies, but if they were to miss out on the Champions League for the first time since 1996 then that would be the drop of all drops. That would be where it has all gone wrong for Arsene Wenger.
The expectations have changed at Tottenham too. For the first time in at least 15 years, Tottenham fans will turn up and expect to win on Sunday and if they don't win they will be very disappointed. There have been times where they've thought they should win, but they will expect to open up a seven-point gap on Sunday.
And in a funny way, I think that could be to Arsenal's advantage. Tottenham's players will be under pressure to have a go at them and as a result I think Arsenal's midfielders will get a lot of the ball to influence the game.
I actually don't think Spurs have been playing great at all. If you take away Gareth Bale's goals in the last month, I dread to think where they'd be. You can't expect a player to keep putting balls in the top corner every week - even the best players in the world can't do that - and sooner or later it will stop.
Don't get me wrong, the lad has been outstanding. What I like about him is that he scores important goals. He doesn't score the last goal in a 5-0 win, he gets the crucial ones.
Arsenal won't do anything special to stop him though. I watched them play Bayern Munich two weeks ago, who have got top-drawer players all around the pitch, and they didn't change the way they played. So they won't change for Tottenham, who can't be mentioned in the same breath as Bayern Munich.
And to be honest, I don't see Arsenal losing this game, I really don't. Spurs will almost start with 10 men because Emmanuel Adebayor doesn't do anything and if Arsenal's forwards play well I think they will get a result.
PAUL PREDICTS: 2-2
Ford Monday Night Football: Aston Villa v Man City
7pm, Mon, Sky Sports 1 HD
I don't worry about Aston Villa going forward because players like Andreas Weimann and Christian Benteke can hurt teams on their day.
But for the life of me, I don't see how they're ever going to keep a clean sheet at the back. You can get away with having youngsters in your team as long as they're not all playing in the same position. You need a couple of old heads at the back and they haven't got that. People will look at Ron Vlaar, but this is his first season in this league and he needs a year to settle in.
I've said many times, if Villa can get through this season then they will be okay next year, but it's getting a bit tight down there now. Playing on a Monday night can go either way because if the team around them all lose then it will feel like a free swing, but if results go against them then it can be horrible.
This is a home game and they need to try and get a result, but I don't see them getting one. Man City are in a last-chance saloon and need to go out and win every football match to stay in the title race.
Draws are no good to them, so they're the team to watch at the moment. It should be good TV on Monday!
PAUL PREDICTS: 1-3
Chelsea v West Brom
PAUL PREDICTS: 2-0
The one thing you can be assured of is that Rafa Benitez will get a lot of stick during this game. He was wrong to say what he did. I've been to Stamford Bridge this season and the fans don't give the players a hard time at all, so I think he's just trying to cover himself. Chelsea have to win this game - and I expect them to finish in the top four because they've got kind fixtures - but they could do with three points here.
Everton v Reading
PAUL PREDICTS: 3-1
Reading had a shocker against Wigan last week and got battered in a game they really needed to win. Everton have done great this season, but seem to be getting a bit tired now and maybe the campaign has taken its toll. But if Marouane Fellaini plays I expect Everton to win this game.
Man Utd v Norwich
PAUL PREDICTS: 1-0
Norwich had a massive result against Everton last week, but I can't see them winning at Old Trafford. I'm sure Manchester United will have their eyes on the Real Madrid game on Tuesday - and after watching them against Barcelona on Tuesday night that's going to be a big test - but even with a few changes to the team they should just about have enough to win.
Southampton v QPR
PAUL PREDICTS: 3-0
This is a massive match and I'm sure Reading, Wigan and Villa will be cheering on QPR to drag Southampton into the scrap. In a way, QPR might take a draw because the three teams above them are likely to lose, but I think they should go for the win and try to pull Southampton back into the mire - but I don't see that happening. I hope I'm wrong because I love Harry and I like to see London teams do well, but I see QPR losing this to a very decent Southampton team.
Stoke v West Ham
PAUL PREDICTS: 1-0
I saw enough from West Ham on Monday night to suggest they'll be alright. If you take away Gareth Bale's unbelievable goal they'd have got a result and they've got at least two wins in them before the end of the season. I don't know what's happened to Stoke, who have drifted off form, but I never back against them at home.
Sunderland v Fulham
PAUL PREDICTS: 2-0
I would say this is a big game for Sunderland because they're only five points above the relegation zone and a defeat would leave them right in it. However, a win should get them out of it and I think they'll get the result they need. Fulham haven't been very good away from home this season.
Swansea v Newcastle
PAUL PREDICTS: 2-1
Newcastle had a very good result against Southampton last week, but I'm going for Swansea to win this game and follow up their good week after they won the Capital One Cup Final. I just think the way they keep possession and pass the ball around could be too much for Newcastle.
Wigan v Liverpool
PAUL PREDICTS: 1-3
Wigan are a hot and cold team. They went to Reading and won 3-0 and I don't see any of the other teams around the bottom being able to do something like that. But they could lose 3-0 at home this weekend and nobody would flinch. I don't think they will be able to live with Luis Suarez on a big pitch.