A Toffee test
Merse tips Man Utd to be held by Everton, but wins for Villa, Spurs, Liverpool, Arsenal and Man City.
Last Updated: 08/02/13 8:02am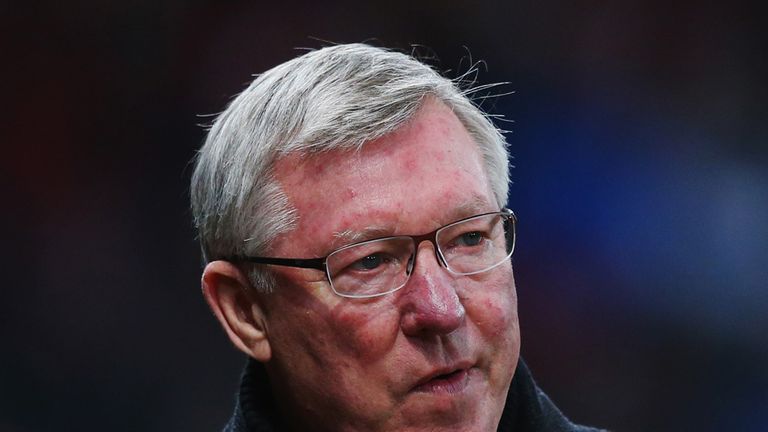 As ever, you can follow all the Premier League action this weekend on Sky Sports.
We asked Soccer Saturday expert Paul Merson to look at the fixtures and give us his verdict on where the games will be won and lost.
Every week he'll be here on skysports.com to share his views on who he expects to be the winners and losers of the weekend.
So read on for his shouts and don't forget to let us know your views via the comments box...
Ford Football Special: Tottenham v Newcastle
12pm, Sat, Sky Sports 2 HD & Sky 3D
I find it strange that Tottenham didn't buy a forward in January. They're really struggling for strikers at the moment.
Jermain Defoe is injured, Emmanuel Adebayor has just got back from Africa and the only other options are Clint Dempsey or a youngster. I just wonder if that will damage their hopes of getting in the top four?
They should almost be a shoe-in for a Champions League spot because Arsenal have rarely been this bad, Everton are punching above their weight and Liverpool seem too far away. For me, Spurs were a centre-forward away from a guaranteed top-four spot!
They will miss Defoe massively and you're putting a lot of pressure on Gareth Bale to be the main man. They can't keep relying on him all the time.
On Saturday they play a Newcastle team that's doing well. I wondered how quickly the lads from France would settle, but you've got to hold your hands up to the scouts because they've been outstanding so far.
They beat Aston Villa and Chelsea and are right out of the relegation battle now, so they've lifted the pressure on themselves. The last place you want to go when you're struggling is White Hart Lane, but maybe they will take the game to Tottenham because of the lack of attacking options?
Alan Pardew does like to have a go; I can't see him going there to play for a draw, but I'm predicting a narrow Tottenham win. It will be tight though, and it wouldn't surprise me if the loss of Defoe comes back to haunt them.
PAUL PREDICTS: 2-1
Ford Super Sunday: Aston Villa v West Ham
1pm, Sun, Sky Sports 1 HD
Aston Villa have to win this or else I think it's lights-out.
There is no in-between with Villa; it seems they're either very hot (like they were at Liverpool or for spells against Everton) or they're freezing cold (as they were against Chelsea, Bradford and Wigan).
When you haven't got experience at the back you're always going to panic. They threw away a win against Everton last week and might have lost it if Marouane Fellaini hadn't shot into the floor.
West Ham really struggle away from home, as we saw against Fulham, but I wonder if Villa can cope with Andy Carroll from free-kicks and corners? Swansea couldn't deal with him last week and they're 100 times better than Villa, defensively.
But at the same time I wonder if West Ham can cope with Christian Benteke? They seem to be really missing James Collins, who likes the physical side of the game, and they don't look as solid without him.
I suspect West Ham might be a bit too weak at the back and I'm just going to go with Villa because of Benteke.
PAUL PREDICTS: 2-1
Ford Super Sunday: Man Utd v Everton
3.30pm, Sun, Sky Sports 1 HD & Sky 3D
This is the fixture that lost Man United the title last season, but I expect them to win the championship this year.
I say that because if you look at the fixtures, Man United have still got to play most of the teams near the bottom.
But I'm not convinced they'll win this game. Everton are a good team and with Real Madrid coming up on Wednesday I think they might take half an eye off the ball. They're nine points clear and Sir Alex Ferguson knows they can afford to draw this.
That gap gives him the chance to rest players ahead of the trip to the Bernabeu and a draw wouldn't be a huge shame in the scheme of things.
But it will be a different kettle of fish if Fellaini doesn't play. Everton won when they met on the opening game of the season and he was superb on that day. They're completely different when he's in the team, so they'll hope he's fit.
As long as he plays - and with the Real Madrid factor hanging over it - I can see this one being a draw.
PAUL PREDICTS: 1-1
Ford Monday Night Football: Liverpool v West Brom
7pm, Mon, Sky Sports 1 HD & Sky 3D
Liverpool are starting to become a force again, in my opinion. They've gone to both Arsenal and Man City, two places where it's very hard to win, and come away with two draws.
Those were games they weren't expected to win, but this is a game they're expecting to win - and it's games like this that mark the top teams out. Can they cope with the pressure of having to win?
Personally, I think they will. West Brom have started to struggle in the last few weeks and even though I think they're good on the counter-attack, they seem to be on one of those runs where nothing goes right and no luck goes their way.
In contrast, Liverpool have given players like Jordan Henderson and Stewart Downing a run in the team and they're starting to build their confidence. They've taken a lot of stick, but they're doing well now and I'm pleased for them.
And I've also got to praise up Jamie Carragher who will be a big miss when he retires at the end of the season. He's been a top pro and has done well whenever he's come in this season.
I've played against him plenty of times and can tell you he's a very tough bloke to play against!
PAUL PREDICTS: 3-1
Chelsea v Wigan
PAUL PREDICTS: 3-0
This is a game Chelsea have to win and I expect them to win - but I wouldn't be surprised if they didn't (if that makes sense...) I say that because they've had some shocking results lately and they've thrown away leads against teams near the bottom of the table. Wigan won't go there with any fear, but I'm backing Chelsea to get it right this time.
Norwich v Fulham
PAUL PREDICTS: 2-1
Whoever wins this game can say they're safe for a season, that's how big I think this game is. They both have 28 points and a win here should leave one of these sides needing two or three wins from their final 12 games and that should be enough. Fulham played well against Man United and got nothing from the game, which is a slight concern, and I'm going to go for Norwich.
Stoke v Reading
PAUL PREDICTS: 2-0
I can't believe what's happened to Stoke, who've been letting in goals left, right and centre. They let in 15 goals in five Premier League games before they played Arsenal last Saturday and Asmir Begovic was unbelievable in that game! Reading's luck has changed and they have been brilliant of late, but I'm going to go for Stoke to win at home.
Sunderland v Arsenal
PAUL PREDICTS: 1-3
If Tottenham win early doors then the pressure will severely be on Arsenal in that race for fourth, but if not I think Arsene Wenger can afford to draw this. Sunderland are a very hot and cold team and I saw them get passed to pieces against Swansea for the whole game, so if Arsenal get their own game going I think they will win here.
Swansea v QPR
PAUL PREDICTS: 1-0
QPR need to score some goals. They've tightened up at the back and started picking up points, but now they need to start doing the business at the other end. However, the Liberty Stadium is a hard place to go and I've just got to go for Swansea here. However good QPR have been defensively I think Swansea will find a way through.
Southampton v Man City
PAUL PREDICTS: 0-2
I wonder if Sir Alex Ferguson said Southampton were the best team Man United have faced because he knew they had Man City coming up! Was that a bit of mind games? If Man City slip up here then it could be the end of the title race and the pressure is on them every time they play, but I'll go for the cream to rise to the top and I expect City to keep a clean sheet.