Crunch time
Merse shares his midweek tips and says Liverpool, Fulham and Villa face season-defining fixtures...
Last Updated: 29/01/13 4:27pm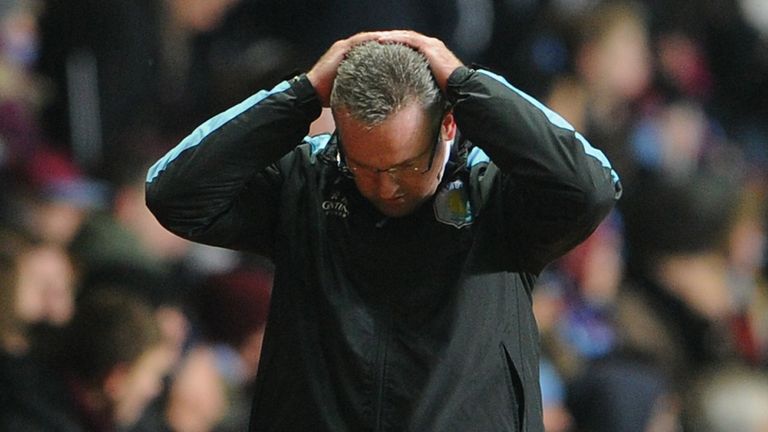 After the drama of FA Cup weekend, the Premeir League kicks back into gear with some fascinating midweek action - and, as ever, you can follow all the drama on Sky Sports.
We asked Soccer Saturday expert Paul Merson to look at the fixtures and give us his verdict on where the games will be won and lost.
Every week he'll be here on skysports.com to share his views on who he expects to be the winners and losers.
So read on for his shouts and don't forget to let us know your views via the comments box...
Sunderland v Swansea
7.30pm, Tue, Sky Sports 2 HD
For Swansea it is all about keeping their feet on the ground and not getting too carried away about the Capital One Cup Final with Bradford now. They did great to get past Chelsea but now they need to refocus on the league because that Wembley final is still about a month away. However, it's easier said than done with players thinking 'I don't want to get injured.'
Sunderland are also in good form and have turned the corner big time in the last few weeks. Before Christmas, they were bang out of form and getting dragged into the relegation scrap but Steven Fletcher (pictured) kept scoring goals, Adam Johnson's finally playing well and they've got good players.
I think this will be an entertaining game, they're both playing with confidence and it should be a good one. Neither of them will go out to defend so there should be a lot of goals as well.
PAUL PREDICTS: 2-2
Arsenal v Liverpool
7pm, Wed, Sky Sports 2 HD & Sky 3D
Arsenal tore West Ham apart in ten minutes last week, but that's them all over; one minute they're unbelievably great and then, as we saw in the first half against Chelsea, they can be shocking. But they always carry that lethal weapon of being able to rip teams apart.
Liverpool had a shocking result in the FA Cup, as shocking as they get. You can get beat 1-0, fair enough, but to let three in at Oldham, that's not acceptable from a team with enough first team players in it. Even the lads who don't play every week who came in still play for Liverpool Football Club and should be doing better.
This is a massive game for Liverpool because if they are to have any chance of getting in the top four - which is very slim - they have to win their next two games against Arsenal and Man City. Draws aren't any good to them.
In fact, a draw isn't any good to Arsenal either because if Spurs and Everton win the gap will just get bigger. So, it should be a very open game. Liverpool will go there and have a go - but I reckon Arsenal will have too much for them.
PAUL PREDICTS: 3-1
Aston Villa v Newcastle
PAUL PREDICTS: 2-1
Villa have had a nightmare getting knocked out of the Capital One Cup to Bradford over two legs, that's a shocker. However, I'm not sure going out of the FA Cup is too much of a problem, because they need to concentrate on the league. This is the biggest game for Villa in many a year. If they win they go above Newcastle, if they lose to a team who are struggling badly, they're in major trouble. But Newcastle desperately need a result too. Their five new signings will be hit or miss: they'll either settle as quick as snow or will struggle. It's a big gamble. There are going to be so many nerves in this game - but if Villa can perform how they have been for 45 minutes for 75-80 minutes I think they'll win it.
QPR v Man City
PAUL PREDICTS: 1-1
I know Harry (pictured) changed the whole team for the Cup defeat to MK Dons, but these players are walking around saying they're Premier League players and to be ripped apart by a League One team - well, they should be embarrassed. It makes Harry's job easier though; no one can knock on his door and ask why they're not in the team now. Saturday's game against Norwich is much bigger than this one for QPR and anything out of this one would be a bonus - but, going with my heart rather than my head, I reckon they're going to get a draw.
Stoke v Wigan
PAUL PREDICTS: 2-0
Stoke haven't been themselves in their last few games. They need to get back to the basics and, now they're out of all the cup competitions they just need to focus on finishing as high up the league as possible. Wigan are a good team for them to face now. They blow very hot and very cold, there's no grey area at all. At the Britannia I'd expect Stoke to win.
Everton v West Brom
PAUL PREDICTS: 2-1
I watched Everton draw 0-0 at Southampton last week and I have to say it was probably the worst I've seen them play this season. They were really poor, although credit to Southampton for restricting them. I think they'll get back to winning ways here though. West Brom aren't struggling but they're not playing great, Peter Odemwingie (pictured) wants to leave and I think there's a bit of unrest there.
Norwich v Tottenham
PAUL PREDICTS: 1-2
Norwich aren't getting relegated, in my opinion, and they're not getting into Europe, so to get beaten at home to Luton in the FA Cup is a shocker - especially considering all the teams that have gone out. What an opportunity to go to Wembley. But Spurs had a shocking result too because they'd seen the other teams struggle and should have known what to expect. Spurs drew their last league game with Man Utd and thoroughly deserved it but they need to get back to winning ways. The problem is I'm not sure how long Jermain Defoe is going to be out for, because they'll miss him.
Fulham v West Ham
PAUL PREDICTS: 1-1
This is a big game for Fulham. If they win this they'll be alright, but you always get one team wearing slippers on a glass slope who can't stop sliding. Fulham could be that team if they don't get a result here. West Ham were alright against Arsenal for the first 25 minutes and went 1-0 up. If they could have kept them quiet for five more minutes they may have caused an upset. The 5-1 result looks like they're a million miles away but the performance said different.
Reading v Chelsea
PAUL PREDICTS: 1-1
Reading have turned it around. Brian McDermott has changed a few things and they've become harder to beat. He will have been the first to admit they were too open and you can't do that in the Premier League, it's too ruthless. Chelsea, meanwhile, are struggling; they were very poor at Brentford and Champions League winners should have enough to beat them. I don't know what Rafa Benitez is doing at Chelsea - you feel like stopping the game and interviewing him and saying what were you thinking doing that? This is the best time Reading could play Chelsea and they have to capitalise.
Man Utd v Southampton
PAUL PREDICTS: 4-1
I thought Southampton played very well in the first half against Everton in Mauricio Pochettino's (pictured) first game in charge. They were holding on a bit at the end but in the first 45 they were outstanding. I didn't think it was fair for Nigel Adkins to get sacked but fair play to the Southampton fans who got behind the team from the start. They'll go to Old Trafford and have a go and I think they'll score a goal but with Robin van Persie back Man Utd will have too much for them. But it's so tight down the bottom it could come down to goal difference, so Southampton will hope they don't get ripped to shreds.