Box of nightmares
Merse expects Boxing Day to yield losses for Aston Villa and Reading - and a battering for Newcastle.
Last Updated: 26/12/12 1:06pm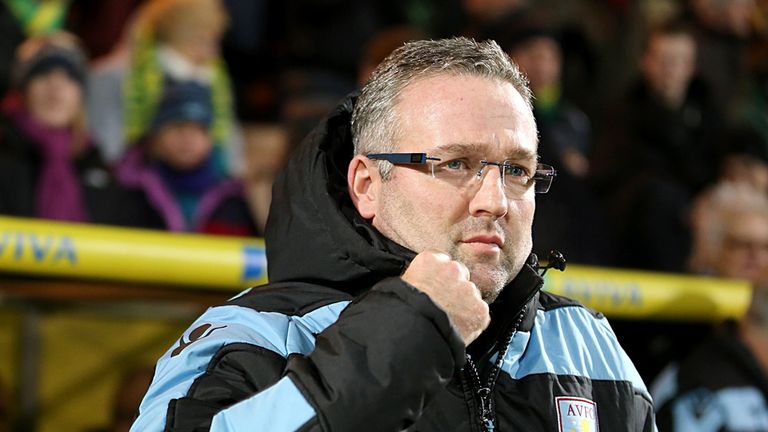 The Premier League teams will be back on the pitch on Boxing Day as the bumper festive fixture list gathers pace.
Soccer Saturday expert Paul Merson will be a keen observer and ahead of the clashes, he gave skysports.com his take on where the games could be won and lost.
Read below for his views on Aston Villa's Sky Live battle with Tottenham Manchester United's match with Newcastle, Everton's contest with Wigan and more.
And don't forget to have you say by filling in the feedback form below...
Aston Villa v Tottenham
5.30pm, Boxing Day, Sky Sports 1 HD
Aston Villa were completely out of their depth against Chelsea and it looked like Sunday morning stuff at times.
But while it is embarrassing to lose by eight, I don't think you can blame the players or manager becuase none of the Villa players would get in the Chelsea team.
However, I do think Lambert could have taken his best three players off at half-time, said: 'We aren't going to get anything out of his game' and saved them for Tottenham.
Villa are certainly candidates for relegation - especially after yesterday - but I think they will be alright, because they have Christian Benteke up front and just behind him, Brett Holman, who I also think is a good player.
Tottenham have some quality players in Jermain Defoe, Gareth Bale and Moussa Dembele, but there seems to be something missing. I don't know whether it's the manager telling the players not to lose rather than go out and win - something Rafa Benitez did at Liverpool - but they are lacking a bit of spark.
They played 4-4-2 in the home draw with Stoke and I think that is Spurs' best formation, but they have lost a bit of attacking attitude as their full-backs don't push on; Kyle Walker used to bomb forward under Harry Redknapp but you don't see that any more.
However, Villa are a young team and Sunday's thrashing will take a lot out of them and while they won't get battered by Tottenham, I think they will lose.
PAUL PREDICTS: 1-2
Stoke v Liverpool
7.30pm, Boxing Day, Sky Sports 1 HD
Asmir Begovic is a very good goalkeeper and Ryan Shawcross is a very good defender but I don't think they are the only reason Stoke have got such a strong defensive record.
They defend from the front and I've never seen anyone work as hard as Jonathan Walters on the football pitch.
However, while it's never easy to keep clean sheets, it is easier if you are not scoring a load of goals and that's what Stoke are doing at the moment and for them to get even better I think Peter Crouch, someone with international experience, needs to start.
I think they are missing his extra bit of class at the moment; Kenwyne Jones has pace and is great in the air, but Crouch has a fantastic touch, knows how to bring other players into the game and works well with Walters.
Stewart Downing played very well for Liverpool on Saturday when they beat Fulham 4-0, but he knows one good game in a year-and-a-half is not really good enough. He is being given another chance by Brendan Rodgers at one of the biggest clubs in the world and I think he can take it because he does have ability, especially in his left foot.
Daniel Sturridge could put his place under threat on the right of the attacking three, but I think he is going to Liverpool to play up front - and if he is not, I'd ask him serious questions as to why he is going there.
PAUL PREDICTS: 1-1
Everton v Wigan
PAUL PREDICTS: 3-1
I expect Everton, who got a great result against West Ham on Saturday, to win this game but it won't be easy. The fans will think it is a home banker but they might have to be patient because Wigan are one of these teams that can be unbelievably brilliant one minute and unbelievably bad the next. I think they will give Everton a match but the home team will get the points in the end.
Fulham v Southampton
PAUL PREDICTS: 2-0
Fulham have to win this game against a Southampton side who had a shocking result on Saturday at home to Sunderland or they are going to get majorly dragged into a relegation battle. Martin Jol's team like playing at home and getting their footballers on the ball, though, and Southampton will allow them to play. I think Dimitar Berbatov will make the difference.
Man Utd v Newcastle
PAUL PREDICTS: 5-0
Newcastle's win over QPR on Saturday was a massive result as their next run of games are a nightmare and they could have been in the bottom three by the middle of January. I think they'll be alright because they have a good manger and some talented players and they would be the best team to go down if they did get relegated. However, Man United need to win this game after dropping points against Swansea and I think they will - convincingly.
Norwich v Chelsea
PAUL PREDICTS: 0-3
Chelsea were outstanding against Villa and when they hit top gear, and Juan Mata and Eden Hazard get on the ball, they are so hard to live with. It seems like the penny has finally dropped for Chelsea with David Luiz, too, as they are playing him in holding midfield, something I, who got sacked by Walsall, have been saying for months! Norwich have been flying at home but I think they'll lose this.
QPR v West Brom
PAUL PREDICTS: 2-1
QPR have got to win this game; they never really looked like scoring against Newcastle so they could have another tough day but I think they'll nick it. I loved what Harry Redknapp said about some players in his squad getting paid a lorry-load of money and not deserving it, while I also liked it when West Brom's Romelu Lukaku said at the weekend about maybe staying at the Hawthorns longer to gain experience before going back to Chelsea.
Reading v Swansea
PAUL PREDICTS: 1-3
I don't think Man City's winner at Reading was a foul; if Nicky Shorey had stood up and headed the ball away his team would have got a great point, but he didn't. This is a must win game for Reading but the way Swansea are playing I don't see it. It looked intentional when Swansea's Ashley Williams kicked the ball against Robin van Persie's head on Sunday and that ruined his afternoon because once again he was outstanding.
Sunderland v Man City
PAUL PREDICTS: 0-3
Sunderland turned the corner against Everton a month or so back; they lost that game but they began to create a lot more chances and have picked up since. City will be feeling good after they got a last-minute winner against Reading and Man United only drew with Swansea. I think they will get a comfortable win at Sunderland because of that.
Stay up to date with all the Boxing Day scores by tuning in Soccer Special, from 2.30pm on Sky Sports 1 HD and Sky Sports News HD.