Might before Xmas
Merse tips Arsenal, Chelsea and Man Utd to flex their muscles in their pre-Christmas fixtures.
Last Updated: 21/12/12 5:29pm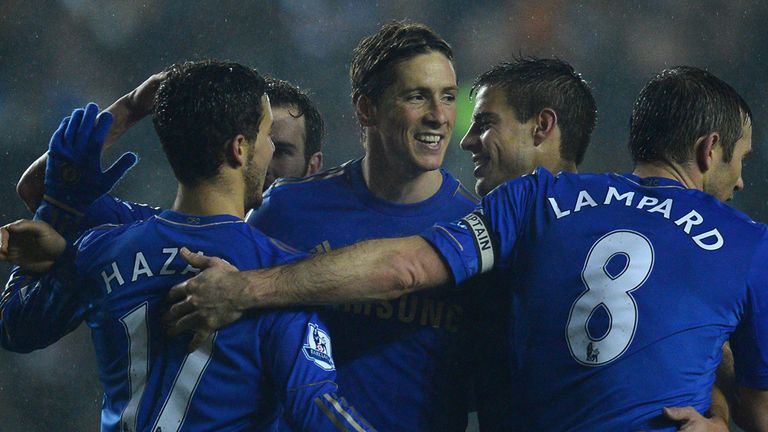 As ever, you can follow all the Premier League action this weekend on Sky Sports.
We asked Soccer Saturday expert Paul Merson to look at the fixtures and give us his verdict on where the games will be won and lost.
Every week he'll be here on skysports.com to share his views on who he expects to be the winners and losers of the weekend.
So read on for his shouts and don't forget to let us know your views via the comments box...
Ford Football Special: Wigan v Arsenal
12.30pm, Sat, Sky Sports 2 HD
It's good to see Arsenal signing their young players up. It's about time they stopped letting players' contracts run out because it's just stupid to keep doing that.
You can say this Arsenal team is a work in progress, but it's been a work in progress for eight years now. The name of the game for them this season is to finish in the top four and get in the Champions League. That's so important for their future.
They had a good result on Monday night, but Reading were very, very, very average - and I mean very average. It was easy for Arsenal, but they still let in two goals and it makes you worry a little bit. The first goal was an absolute shocker, a lack of concentration, and they need to work on that.
But I think it worked playing Theo Walcott up front. People are petrified of his pace and he forces defenders to sit back, which opens the game up for people like Santi Cazorla, Jack Wilshere and Mikel Arteta to get on the ball and make things happen.
Teams like Bradford have compacted the game against Arsenal, but when you have quick forwards you can overcome that. I'm sure Walcott will start up front against Wigan - and if he does the business against the lesser teams then I don't see why he won't against the big boys.
I think Wigan is another perfect game for Arsenal. You look at Wigan and they've played really well in some games this season, but they're in the bottom three from nowhere. They seem to have gone back to their normal position.
Arsenal are not going to get kicked off the park and I expect them to win this game.
PAUL PREDICTS: 1-3
Ford Super Sunday: Swansea v Man Utd
3.30pm, Sun, Sky Sports 1 HD & Sky 3D
If Swansea go out and play the way they usually play - and don't play the shirt - then I think they can give Man United a right game.
I remember playing at Arsenal and you'd watch videos of opposition players who look really good - but as soon as they come up against someone like Tony Adams they don't do the kind of stuff that they normally do.
So the Swansea players mustn't think 'this is Man United' and start doing things differently. If Wayne Routledge or Nathan Dyer get the ball they need to run at the defenders like they normally would; I hope we don't see them rolling it back inside.
Michael Laudrup has got to make sure his players don't play the shirt because if they play their normal game I think they'll do alright. Remember, Sunderland created chances against Manchester United last week and they don't keep too many clean sheets.
However, I think the two up front - Robin van Persie and Wayne Rooney - will make all the difference. They're on fire and I expect them to score in every game they play.
Sir Alex Ferguson won't underestimate Swansea either. They've got a lot of games coming up, but they've got easier fixtures than this so I'd be shocked if he rests any of the big players for this one.
It will be a hard game, but I'll just go for 2-1 to Man United.
PAUL PREDICTS: 1-2
Ford Super Sunday: Chelsea v Aston Villa
3.30pm, Sun, Sky Sports 1 HD
Aston Villa will go to Stamford Bridge with a lot of confidence after that great result at Liverpool last week.
That was an unbelievable game for them and they've also got a great chance of getting to Wembley in the Capital One Cup, which is brilliant for them.
I've said all along that this group of players could go far if they can stay up this year. They're a young team and with another year of experience under their belt they could be very handy.
The only problem is whether Christian Benteke will still be there because I can see someone taking a big punt on him. What a good player he is!
There isn't anything he can't do. He's big, he's strong, he's quick, he scores goals, he's good in the air and he's only 21... he reminds me of a young Didier Drogba. He's settled quicker than snow in English football, too.
But I suspect Chelsea will have a bit too much for them on Sunday. I know they've just got back from Japan, but they looked alright against Leeds in midweek, especially in the second half.
Rafa Benitez is not a bad manager, even though he's got the job at the wrong time in the eyes of the Chelsea fans. He just needs to keep on doing what he's doing because the fans just want to see winning football.
I think Villa will score, but their defence might not be able to live with people like Juan Mata.
PAUL PREDICTS: 3-1
Man City v Reading
PAUL PREDICTS: 4-0
I'm not joking, this could be any score you like. Reading are struggling badly and I feel for them because they've not had a lot of luck this season, but at the same time they will be happy to have come off the pitch only conceding five to Arsenal. I'm saying 4-0 to Man City and I might be being kind there.
Newcastle v QPR
PAUL PREDICTS: 1-1
I think three draws and one win is a good return for Harry Redknapp. People say they need to win more games, but those points might mount up in the end. They will go to St James' Park with no fear against a Newcastle team who could have been on the end of a real hiding to Man City last week. I think QPR will go there and get a real good draw.
Southampton v Sunderland
PAUL PREDICTS: 1-1
I thought Sunderland did alright at Old Trafford. They started off poor and I was thinking it could be six or seven, but they turned it around. They only concern is that Steven Fletcher went off injured and I'm not sure if he'll be fit to play on Saturday. I still think Sunderland will go there and make sure they don't lose because I've seen signs that they're turning a corner.
Tottenham v Stoke
PAUL PREDICTS: 2-0
Stoke have not got a great record away from home and Tottenham have been in some decent form of late. They played well against Swansea last weekend and should have won by a lot more goals. I think it will be comfortable for the home team.
West Brom v Norwich
PAUL PREDICTS: 2-1
West Brom are in a real lull. They've lost three and drawn one and if they don't win this I can see them sliding down the table. People were getting carried away and talking about them getting in the Champions League, but all of a sudden they'll be in the bottom half of the table. Norwich are doing well and dominated the first half against Wigan last week, but they weren't as good in the second half so I'll go for West Brom here.
West Ham v Everton
PAUL PREDICTS: 1-1
Marouane Fellaini is a major loss; his suspension is a nightmare for him and a nightmare for Everton because he's a massive player for them. He's been one of the best players in the league this year. I would have fancied an Everton win if he was playing because they've been doing really well, but I'm going for a draw.
Liverpool v Fulham
PAUL PREDICTS: 3-1
Brendan Rodgers said last week they were aiming for second place and not giving up on first - and then they had a shocking result against Aston Villa. If he gets them in the top four he'll be Manager of the Year, never mind second place, because that's how big a job it is. I expect them to bounce back, this is a nice game for them, and if they can keep Dimitar Berbatov quiet then they should win.