Vital victories
Merse is tipping crucial wins for Man City, Tottenham and Arsenal plus a first success for QPR.
Last Updated: 14/12/12 10:48am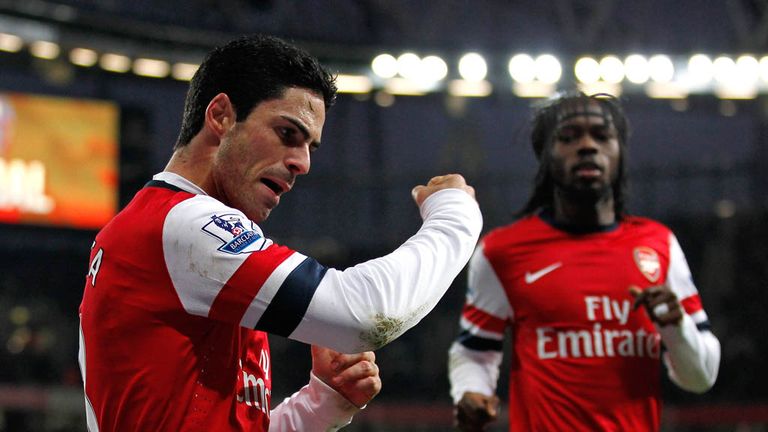 As ever, you can follow all the Premier League action this weekend on Sky Sports.
We asked Soccer Saturday expert Paul Merson to look at the fixtures and give us his verdict on where the games will be won and lost.
Every week he'll be here on skysports.com to share his views on who he expects to be the winners and losers of the weekend.
So read on for his shouts and don't forget to let us know your views via the comments box...
Ford Football Special: Newcastle v Man City
12.30pm, Sun, Sky Sports 2 HD
Man City need to bounce back from that derby defeat... and they need to do it quickly.
If they lose to Newcastle then the title race could be all over. Manchester United will beat Sunderland and that would put them nine points behind, which is too many. You wouldn't back City to catch up a nine-point gap with a full season to go, never mind half a season. In fact, a draw is no good either in my opinion.
Carlos Tevez has surely got to start this game; how he doesn't start ahead of Mario Balotelli is beyond me. I'd play him with Sergio Aguero all day long.
They play a different formation every week, but Samir Nasri wouldn't get in my team (he won't be getting a Victoria Cross after what he did last week will he?) They're too open for me and you need players like Gareth Barry to knit it all together, so his ban will be a problem for them.
As for Newcastle, they punched above their weight last season and their downfall this time has been too many injuries. There's no chance of them going down though because they're a match for anybody when those players are fit.
But this will be a difficult game for them. City haven't played great all season, but after that big defeat I think they will just about bounce back - especially if they get Tevez and Aguero clicking.
PAUL PREDICTS: 1-2
Ford Super Sunday: Tottenham v Swansea
1pm, Sun, Sky Sports 1 HD
Andre Villas-Boas would have been disappointed to draw with Everton after leading 1-0 in injury time - but to lose it was sloppy beyond belief.
But I watched the game and I thought they played well for most of it. They now need to get back on song against a very good Swansea side and that won't be easy.
They mustn't do what Arsenal did against Swansea and allow them to pass the ball around. You need to get into their faces and if they end up passing it around you under pressure then you've got to hold your hands up and say 'fair play'. It's easy to stand off - anybody can do that - and Spurs need to be brave to win this.
Swansea will be full of confidence after getting into the Capital One Cup semi-final and they've done great this season but I don't see them winning this game, despite their style of play.
I say that because people like Moussa Dembele, Aaron Lennon, Jermain Defoe and Clint Dempsey are very lively and that could prove to be too much for Swansea
PAUL PREDICTS: 3-1
Ford Super Sunday: West Brom v West Ham
3.30pm, Sun, Sky Sports 1 HD
This is a big game for both teams after they both lost last weekend.
West Brom are on a little bit of a downward run. They had a brilliant start to the season and people were getting carried away and saying they could finish in the top four, but they were always going to have a blip. That was always going to happen.
They're still playing well and their form will go in waves, but this is the sort of game they should be targeting to win.
That said, West Ham have been great themselves although I was shocked to see Wally Downes leave as first team coach. He's a good character who is a laugh in the dressing room and he's a very good coach. The players might miss that.
I don't see them attacking too much. They'll sit back and play the counter-attacking game that West Brom have had a lot of success with themselves this year. If they go forward too much it will play into the hands of the home team.
However, I think West Brom should be too strong at home.
PAUL PREDICTS: 2-0
Ford Super Sunday: Reading v Arsenal
7pm, Mon, Sky Sports 1 HD
I've gone through the season so far and I cannot remember one occasion when Reading have been lucky.
They are maybe a slice of luck away from turning their season around. Maybe when they hit the post against Southampton it could have bounced the other way and gone in? Maybe they could have held on against Man United when they played so well and got beat?
Perhaps they need to look at what Norwich have done by making things tight at the back and working from there. They seem to be chasing their tails and trying to win every game, but this is a long season and a few 0-0 draws will do. Those points will mount up.
As for Arsenal, they were so atrocious against Bradford it was bordering on embarrassing. They had 10 international footballers on that pitch.
Of course shocks happen in football and that's not a problem, but there's something to be said when the goalkeeper on the other team isn't the best player on the pitch. Arsenal didn't have a shot until the 70th minute and that's embarrassing.
And yet on their day they'll still look good. It's a nice big pitch at Reading and they might be allowed to play their game a little bit more. They could win easily, but I'll go for a modest victory.
PAUL PREDICTS: 1-3
Liverpool v Aston Villa
PAUL PREDICTS: 3-1
Aston Villa have turned things around a little bit. They've drawn a few games and have reached the semi-final of the League Cup, but I've got to go for Liverpool. They're on a roll, confidence is high and with Luis Suarez coming back they should win this.
Man Utd v Sunderland
PAUL PREDICTS: 4-0
This should be comfortable for Manchester United. Sunderland had a good win against Reading in midweek, so will feel a little bit more relaxed, but they won't expect to get anything. For me, if Man United hit the ground running in this game they could win it by four.
Norwich v Wigan
PAUL PREDICTS: 2-1
One minute Wigan look brilliant and the next they're anything but. They could have beaten Man City the other week, but then failed to get past QPR last week, so they're very hot and cold. Norwich had a big disappointment against Villa in the week and need to bounce back and I hope it hasn't knocked the stuffing out of them because they've been on a good run. I still think they will win this.
QPR v Fulham
PAUL PREDICTS: 2-1
If QPR want to get their first win they need to stop the outstanding Dimitar Berbatov, who has been excellent. We keep saying every week that QPR have to win and they definitely need to do it before long. They've played Sunderland, Aston Villa and Wigan and not won any of them and soon those fixtures will get a lot tougher. They badly need a result here and because of Harry Redknapp I'll back them to get it.
Stoke v Everton
PAUL PREDICTS: 1-2
I'm doing this game on Soccer Saturday and Stoke will give anybody a game at home. But I've watched Everton a lot this season (that's why Thommo thinks I'm a Blue...) and they've been outstanding. I can't remember the last time I went against Stoke at home in this column, but I think Everton are playing well enough to cause major problems.