November pain?
Merse tips midweek wins for Chelsea, Man Utd and Man City - but defeats for Liverpool and Newcastle.
Last Updated: 28/11/12 3:22pm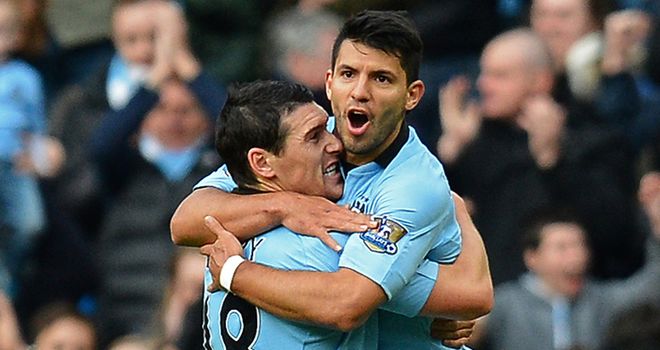 As ever, you can follow all the Premier League action this midweek on Sky Sports.
We asked Soccer Special expert Paul Merson to look at the fixtures and give us his verdict on where the games will be won and lost.
Every week he'll be here on skysports.com to share his views on who he expects to be the winners and losers.
So read on for his shouts and don't forget to let us know your views via the comments box...
Sunderland v QPR
PAUL PREDICTS: 1-1
It's going to be hard to keep QPR up - even the Derby team that finished with 11 points had more points after 13 games than this QPR team - but if anyone can do it then Harry can. This is the lowest ever Premier League return after 13 games, but I think they will get one more point here. I watched them against Man United and they were unlucky - but a better team would have won that game. They should get more goals under Harry.
Aston Villa v Reading (7.30pm, Tue, Sky Sports 2 HD)
PAUL PREDICTS: 2-1
Aston Villa went 2-0 up at home to Man United and were better than Arsenal on Saturday - but can they do it against teams when they're expected to win? The fans will turn up at Villa Park expecting their team to turn Reading over and if Reading get through the first 20 minutes then they could get a result. I'm just leaning towards Villa to win narrowly here, though.
Chelsea v Fulham
PAUL PREDICTS: 1-0
Chelsea's game with Man City was a shocker and that's down to the way Rafa Benitez sets up. I think there will be a lot more dull games with him in charge. He wants to make sure they don't lose before they try to win, but I expect them to beat Fulham, who have played well in certain games but haven't been consistent enough. I think Chelsea will win a tight game 1-0.
Everton v Arsenal
PAUL PREDICTS: 2-2
I've been disappointed in Arsenal lately. They've had some bad results and if Emmanuel Adebayor hadn't been sent off I don't know if they'd have beaten Tottenham either. Usually you watch Arsenal and even if they don't win they create a lorryload of chances, but they hardly had a shot against Villa. Everton have only won one in seven though and aren't pulling up any trees, so I'm going for a Desmond.
Southampton v Norwich
PAUL PREDICTS: 2-1
It's funny what a week can do in football; if Southampton win this game they could be right out of the relegation mix. You'd have to say Norwich are flying as well, but they've had to work very hard lately and I'll go for home advantage. I'm glad to see Mark Clattenburg rightly back in a Premier League game, too. Good for him.
Stoke v Newcastle
PAUL PREDICTS: 1-0
Newcastle have just played games against Swansea, West Ham and Southampton and you would have expected at least seven points from those - but they ended up with none. If they lose this game they'll only be a couple of points above relegation - and I think they will lose to a Stoke team that's always a force at home.
Swansea v West Brom
PAUL PREDICTS: 1-3
I've seen the odds for this game and I can't believe West Brom aren't favourites to beat these. At the moment West Brom are one of the best teams in the Premier League and are scoring lorryloads of goals. Even when they've lost - to Newcastle and Man City - it was the last kick off the game or a deflected shot. I've got to go for another West Brom win because they look so good, especially away from home.
Tottenham v Liverpool
PAUL PREDICTS: 2-1
Liverpool were involved in a very disappointing game against Swansea at the weekend, while Tottenham got a good result against West Ham. I just get the feeling that home advantage will be the key factor here and I don't know if the Liverpool defence will be able to cope with Jermain Defoe.
Man Utd v West Ham
PAUL PREDICTS: 3-0
I watched Man United on Soccer Saturday and it was the worst I've seen them play for the first 60 minutes. They had an eight-minute spell when they scored three goals but apart from that it was shocking. They need to stop falling behind, but I think they'll have too much for West Ham.
Wigan v Man City (7.30pm, Wed, Sky Sports 2 HD)
PAUL PREDICTS: 1-4
I think Man City will win this game, but it will be difficult against a Wigan side that have been hot and cold this season. I thought Man City were quite comfortable at Stamford Bridge and if they play anywhere near their top level then they should be head and shoulders the better team in this match.
See Aston Villa v Reading live from 7.30pm, Tuesday, Sky Sports 2 HD, followed by extended highlights of Sunderland v QPR.
See Wigan v Man City live from 7.30pm, Wednesday, Sky Sports 2 HD, followed by seven-match choice on Football First from 10.30pm.