A London eye
Merse predicts a North London derby draw and wins for all the other capital clubs... except Chelsea!
Last Updated: 16/11/12 12:48pm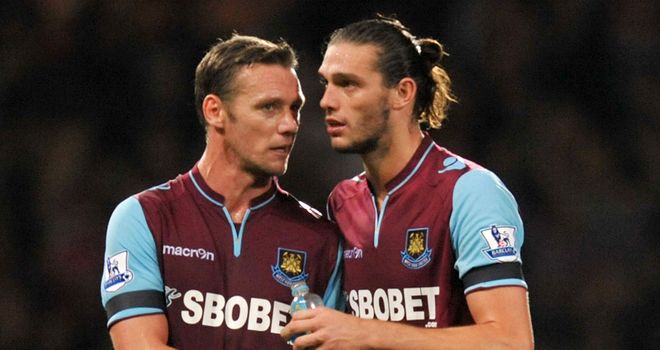 As ever, you can follow all the Premier League action this weekend on Sky Sports.
We asked Soccer Saturday expert Paul Merson to look at the fixtures and give us his verdict on where the games will be won and lost.
Every week he'll be here on skysports.com to share his views on who he expects to be the winners and losers of the weekend.
So read on for his shouts and don't forget to let us know your views via the comments box...
Ford Football Special: Arsenal v Tottenham
12pm, Sat, Sky Sports 2 HD & Sky 3D
The only time I miss playing football is when this game comes around. It's such a big, big game.
Neither of these teams can afford to lose this one and both teams are as bad as each other right now. They're certainly not as good as some people think they are.
Look at Tottenham. Everyone knows I'm no Spurs fan, but I liked to watch the free-flowing football they played under Harry Redknapp. They attacked games and if they didn't win, at least they went down in a blaze of glory.
That's not the case under Andre Villas-Boas. When they went 1-0 up against Man City they sat back for the entire second-half. The week before, he took off one striker and put on another when they were losing to Wigan. We've seen him play two defensive midfield players in home games.
Sometimes this is a very simple game for complicated people. I think he's making things too complicated. Why not play two up front and put Man City on the back foot? If things were going well then people would be proclaiming him as a great manager, but at the moment it's not going well.
As for Arsenal, they're nowhere near as good as people think. In fact, if you went player-for-player through the two teams then Tottenham are probably better. That's how much things have swung.
People say they started the season well, but that 0-0 draw at home to Sunderland looks like a shocking result and the win at Anfield doesn't seem so impressive when you look at Liverpool's record. Then they were also absolutely battered at Old Trafford; it really should have been six or seven that day.
In my opinion, both Arsenal and Tottenham are a way behind Everton in the race for fourth. It's a long season and I'm sure both teams will get better, but at the moment Everton are in pole position.
So this is a massive game and I can't see either of the teams keeping a clean sheet (especially if this talk of Arsenal playing three at the back is true). I'll go for a draw.
PAUL PREDICTS: 2-2
Ford Super Sunday: Fulham v Sunderland
3.30pm, Sun, Sky Sports 1 HD
One of these teams scores loads of goals and one of these teams doesn't score any goals. That's why I can only see one winner here.
To be fair to Sunderland, I thought they were unlucky in the first half against Everton last week. They made chances, played well and could have scored more goals. They won't have played better than that too often this season and it's worrying that they still lost the game.
Earlier in the season they were defensively sound, but couldn't score a goal for toffee. Last week they were creating chances, but were too open at the back. They now need to find a happy balance.
Martin O'Neill is under pressure for maybe the first time in his career. I don't mean his job is under pressure, but his methods are being questioned and that's unusual for someone who's been around so long.
Fulham are a good team, they played better than Arsenal last week, and pass the ball around nicely. Dimitar Berbatov and Bryan Ruiz are outstanding players and I expect them to win this.
They should be top-half this season, especially with a lot of teams struggling, but I see Sunderland in a relegation battle unless they improve quickly.
This should be a comfortable home win.
PAUL PREDICTS: 3-1
Ford Monday Night Football: West Ham v Stoke
7pm, Mon, Sky Sports 1 HD
West Ham thoroughly deserve their place in the upper reaches of the Premier League. There's no luck about it at this stage of the season and your league position is where you deserve to be.
I'm sure they'll have a blip at some stage (as every team apart from the top ones is bound to) but I always thought they'd stay up with Sam Allardyce in charge. They've got plenty of points on the board and when that blip comes along I don't think they'll get dragged into the relegation scrap.
Kevin Nolan has been key for them this year. He scores important goals, as we've seen in a lot of games this year, and I honestly don't know why he's never been called up for England. Maybe it's because he plays in the first team every week? He'll probably go down as one of the most unlucky players to never get a cap.
He has a good partnership with Andy Carroll, who is doing his fair share of work as well. I know he hasn't been getting the goals, but they'll soon come.
I've been quite disappointed with Stoke this season. I never fancied them to go down, and I still don't, but they fell over the line against QPR (who haven't won a game and were the better team) last week.
It would be unfair to say this will be an ugly game to watch. There will be a lot of good players on the pitch and neither side play like the Wimbledon team of years ago, despite their reputations.
It should be a good game to watch and I expect West Ham to win.
PAUL PREDICTS: 2-0
Liverpool v Wigan
PAUL PREDICTS: 2-0
Liverpool are a young team, who will have their ups and downs and the question is whether Wigan can control Luis Suarez. I'm just going to go for a Liverpool win, but it won't be a walk in the park like everybody seems to think.
Man City v Aston Villa
PAUL PREDICTS: 2-0
Aston Villa did well against Manchester United last week, but the worry is that they lost the football match. They're a young and enthusiastic team, but when you're 2-0 up you need a bit of experience to ensure you don't lose. Their enthusiasm will give Man City problems at the start, but I think the home team will grind them down and win.
Newcastle v Swansea
PAUL PREDICTS: 3-1
I was looking forward to watching Swansea against Southampton last week but they were shocking; I don't think they kept the ball for more than five passes. Teams are starting to get used to Swansea now, they're squeezing them all over the pitch and not letting them play, and as individuals they're not good enough to make things happen. If Newcastle don't sit off them, they should win this.
QPR v Southampton
PAUL PREDICTS: 3-0
I don't like talking about anyone getting the sack - be it a football manager or a factory worker - but there's no doubt this is a massive pressure game. The owners will say Mark Hughes' and Nigel Adkins' jobs aren't on the line, but there's a third of the season gone after this match and they don't have many points on the board. Southampton keep shooting themselves in the foot and I think QPR have better players and home advantage. If QPR get the first goal, people like Cisse and Taarabt can pick them off and get more.
Reading v Everton
PAUL PREDICTS: 1-3
Reading haven't won yet and there's no chance of that changing on Saturday. I'm not being disrespectful because Reading work very hard, but sometimes you have to hold your hands up and say you're a bit out of your depth. It's not down to the manager or the players, it's just the way it is. Everton are as good as anybody right now and will win this.
West Brom v Chelsea
PAUL PREDICTS: 2-1
This might surprise some people, but I'm calling a home win. Chelsea have a huge game against Juventus in the Champions League and I think they may rest a couple of players. This would be a hard game with Chelsea's best team playing, but I think we'll see some changes because if they lose to Juventus they're out. West Brom have won every home game except Man City (when they should have drawn) and they're no mugs. They deserve respect.
Norwich v Man Utd
PAUL PREDICTS: 1-3
Even if Norwich score five goals in this game then Man United will get six. Norwich will make it hard and at some point a team will score first against United and hold on, but I can't see a shock here. Sir Alex Ferguson can put his strongest team out because they're through in the Champions League and that's the advantage they've earned over some of the other teams.
Follow Saturday's football on Soccer Saturday from 12noon on Sky Sports News HD and then see extended highlights on Football First from 8.25pm on Sky Sports 2 HD.