Open goals
Merse says Chelsea are too open to beat Liverpool, but Man Utd, Man City and Arsenal will win.
Last Updated: 09/11/12 2:34pm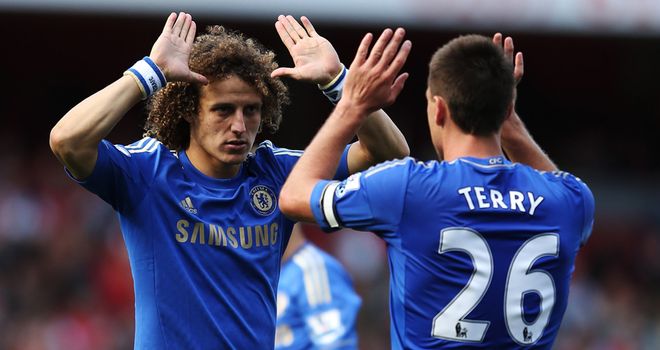 As ever, you can follow all the Premier League action this weekend on Sky Sports.
We asked Soccer Saturday expert Paul Merson to look at the fixtures and give us his verdict on where the games will be won and lost.
Every week he'll be here on skysports.com to share his views on who he expects to be the winners and losers of the weekend.
So read on for his shouts and don't forget to let us know your views via the comments box...
Ford Football Special: Aston Villa v Man Utd
5pm, Sat, Sky Sports 2 HD & Sky 3D
Aston Villa had a massive result last week, especially when you look at how hard their next few fixtures will be.
The win at Sunderland has opened up a little bit of a gap at the bottom and that could be so important. This game is now a free swing, but I can't see them getting much out of it. If they get a draw it will be a great result because their record against Man United is atrocious
I don't think Darren Bent has got a chance of starting the game. I'd rather see him play, but think Paul Lambert will stick with Christian Benteke and Gabby Agbonlahor. For me, Bent is the most natural goalscorer, but Benteke has done very well for a 21-year-old.
Manchester United haven't really started playing well and yet they're top of the league. I don't think they'll win it (I think Man City going out of the Champions League will be a big advantage to them), but they're clearly going to be in the mix.
Even though they should win this game comfortably, I would be surprised if Sir Alex rests any players at Villa Park. He'll go with his first choice side and I'm looking forward to seeing Wayne Rooney and Robin van Persie starting together. I don't think Aston Villa can hurt Man United, so I think they'll go for it.
I played many times for Aston Vila against Man United and we never got anything - and I don't think Saturday will be any different.
PAUL PREDICTS: 1-3
Ford Super Sunday: Man City v Tottenham
1pm, Sun, Sky Sports 1 HD & Sky 3D
People have been giving Manchester City a bit of stick, but they haven't lost a Premier League game yet.
I think they will win the Premier League, especially if they go out of the Champions League and the Europa League. That will give them time to prepare for each league game and that could be a massive advantage over their rivals.
The biggest problem for Roberto Mancini is that he doesn't know his best team. Vincent Kompany and Joleon Lescott were the best central defenders in the Premier League last season, but he keeps swapping things around this year. I don't know why he's changing that.
And up front, I would like to see him start Carlos Tevez and Sergio Aguero every week. I think if you asked opposition defenders, they'd rather be marking Edin Deko and Mario Balotelli than those two.
However, I can't see Man City failing to win this game. Spurs were well beaten by Wigan last week; it wasn't a smash and grab and Wigan were well worth their win. That doesn't bode too well for a trip to Man City.
At 1-0 down in that game, Andre Villas-Boas took off Jermain Defoe and put on Emmanuel Adebayor. Surely you need both of them on when you're losing a football match? So I can't see them going for it here because if you're only playing one striker at home to Wigan, you're not going to play two away at Man City.
PAUL PREDICTS: 3-1
Ford Super Sunday: Chelsea v Liverpool
3.30pm, Sun, Sky Sports 1 HD & Sky 3D
I don't think Chelsea will win anything playing the way they're playing at the moment.
They're far too open. If you're a neutral it's great to watch and I'm sure the Chelsea fans are enjoying it, but they won't if they start losing football matches.
Juan Mata, Oscar and Eden Hazard have been unbelievable, but Ramires likes going forward and so do the two full-backs. Before you know it, there's only the two centre-halves and John Obi Mikel trying to stop the opposition.
That's one of the reasons why I would bring John Terry back into the team now his ban has finished. I was shocked he didn't start against Shakhtar Donetsk on Wednesday night because they've been letting in far too many goals.
I would put him in for David Luiz. If you were a Chelsea fan, you wouldn't want to see him and Gary Cahill as the first-choice centre-backs because they've conceded lots of goals in the last few games.
So I think Liverpool can get a result here, even though their team hasn't been too good this season. For me, Luis Suarez is as good as you can get and they haven't got a lot to lose against a Chelsea side that hasn't been brilliant at home.
Remember, Chelsea had a hard game in midweek, which could take its toll, and Liverpool sent their reserves to Russia.
If they go out and express themselves they can get a draw here.
PAUL PREDICTS: 1-1
Arsenal v Fulham
PAUL PREDICTS: 2-0
I watched Fulham play Everton last week and they were atrocious; I don't know how they drew that game. They let in two goals (they should probably have let in 10) and also let in three against Reading, so I'm definitely going for an Arsenal win. Playing Fulham at home will be very different to playing Man United away and I don't see anything, but a banker home victory.
Everton v Sunderland
PAUL PREDICTS: 2-0
Sunderland can't score a goal for toffee and they are struggling badly right now. This is probably the first time in Martin O'Neill's managerial career that he's been in a bit of trouble and he's facing an Everton team who are as good as anybody at the moment. This should be an easy walk in the park for David Moyes and his side.
Reading v Norwich
PAUL PREDICTS: 1-2
I fancy an away win here. I know Reading got a good result against QPR last week, but they will feel they have to win this game and that could put a lot of pressure on their shoulders. I feel Norwich have turned the corner and will pick them off on Saturday afternoon.
Southampton v Swansea
PAUL PREDICTS: 2-1
I watched Southampton play West Brom on Monday night and there wasn't a lot wrong with the way they were set up. Sometimes you just have to hold your hands up and say the players are not good enough. However, I fancy them to win this game if they can convert a few of the chances they've been getting. I think it's a must-win game - and it will be turn-the-lights-out-time if they don't.
Stoke v QPR
PAUL PREDICTS: 1-0
I rarely back against Stoke at home, but they really need the three points in this game. They are in a bit of a lull at the moment and they need to build a bit of confidence in themselves. QPR blew a great chance to beat Reading last week and I think they'll just get edged out of this one. Stoke aren't a free-scoring team, so I'll go for a 1-0 win.
Wigan v West Brom
PAUL PREDICTS: 2-2
You wouldn't have said it at the start of the season, but this should be a really good game. Wigan have done great and are playing better than all of the teams at the bottom, so I expect them to stay up. West Brom have obviously been in top form so we should see plenty of goals.
Newcastle v West Ham
PAUL PREDICTS: 2-0
West Ham played well last week and would have beaten Man City if Kevin Nolan's perfectly good goal had been given. However, I'm just going to go for Newcastle here. It was only a piece of Suarez brilliance that stopped them winning at Liverpool and I think they're a pretty good team.
Follow Saturday's football on Soccer Saturday from 12noon on Sky Sports News HD and then see extended highlights on Football First from 8.25pm on Sky Sports 2 HD.