New Blues for Fergie
Chelsea should beat Man Utd and Villa could be heading for the drop... Merse makes his predictions.
Last Updated: 26/10/12 2:06pm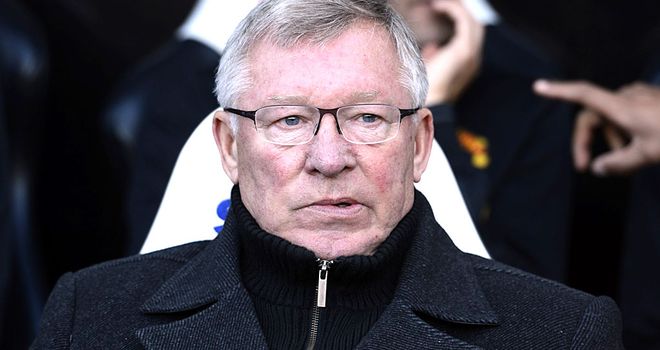 As ever, you can follow all the Premier League action this weekend on Sky Sports.
We asked Soccer Saturday expert Paul Merson to look at the fixtures and give us his verdict on where the games will be won and lost.
Every week he'll be here on skysports.com to share his views on who he expects to be the winners and losers of the weekend.
So read on for his shouts and don't forget to let us know your views via the comments box...
Ford Football Special: Aston Villa v Norwich
12.30pm, Sat, Sky Sports 2 HD
I'll say this now: if Aston Villa lose this football match they will get relegated.
They play Man Utd, Man City and Arsenal in back-to-back games in November and they play Liverpool, Chelsea and Tottenham back-to-back in December. They'd need to play out of their skins to get a couple of points out of those games.
So they need to start getting points on the board quickly or else they'll be stuck in the bottom three by the time we get to Christmas.
Personally I think Paul Lambert is making a mistake with Darren Bent. He's not going to run around all afternoon, but when you have a team that doesn't make many chances then you need a striker who needs one chance to score a goal.
He came off against Fulham last week and Christian Benteke missed an absolute sitter to make it 1-1. Bent would have scored and that could have made such a difference to Villa's season. It's hard to find a goalscorer in football and that's why strikers cost the most money. He needs to play every minute.
Villa are low on confidence, but Norwich are on Cloud Nine after beating Arsenal. They'll go there, look to keep Villa quiet for 20 minutes and go from there. I've watched Norwich a few times this season and while they let in a lot of goals, they create a lot of opportunities. They always look like scoring.
This is a must-win game for Villa and I'll go with my heart because I hope they win... but I think they could go down if they don't.
PAUL PREDICTS: 2-1
Ford Super Sunday: Everton v Liverpool
1pm, Sun, Sky Sports 1 HD & Sky 3D
This is a heads or tails game, such has been the improvement made by Everton this season.
I would even make Everton favourites if Marouane Fellaini and Steven Pienaar were playing, but they are two big losses. That's akin to Steven Gerrard and Luis Suarez being missing for Liverpool.
Those two have been their major attacking players. Nikica Jelavic has been different gravy, but at the same time you're only as good as the people that provide for you.
Also, if you look at Everton's last two games, they've struggled against two teams in the bottom five in Wigan and QPR, whereas Liverpool have been becoming a better team with two clean sheets on the trot in the league.
I would advise them not to over-play in this game though. Liverpool have been good to watch this year, but sometimes they've become a bit predictable. Against Reading, they were rolling it out from the back but one dodgy pass will let the other team in.
Goodison Park is tight and compact and with the crowd behind them, Everton will squeeze Liverpool. If Brendan Rodgers doesn't alter his tactics then Everton might suffocate them. They need to get the ball in the other half; you don't want to mess around with it in your own half too much in this game.
But I don't think there will be much between the teams and I think we could see a draw.
PAUL PREDICTS: 1-1
Ford Super Sunday: Chelsea v Man Utd
3.30pm, Sun, Sky Sports 1 HD & Sky 3D
I definitely fancy Chelsea to beat Manchester United on Sunday.
Sir Alex Ferguson's team have been so suspect at the back this season it's been unreal. I watched their game with Stoke last week and they went 1-0 up and had chances to go two or three up. They also gave Braga a two-goal start in the Champions League.
They came back to win both of those games, but if you give Chelsea those opportunities then you ain't going to win the match. They've gone behind in eight out of 12 games and you can't keep giving teams head starts.
They've had a lot of injuries at the back and I think it's a certainty that Rio Ferdinand will come back in. I can't see him going with Michael Carrick in this game.
Man United have outstanding forwards, but they can't afford to be too open. I'd be shocked if he played the 4-3-3 system he used against Stoke and I'd expect a more compact 4-5-1 on Sunday because they can't afford to lose and go seven points behind Chelsea.
If you're the Chelsea manager the only option is to attack Man United from the start. I think they've been carrying Fernando Torres, but they're top of the league because the other attacking players have been very good, especially Juan Mata.
Also they haven't had too many key injuries so far. Frank Lampard is going to be a big miss and John Terry is obviously suspended, but I can't see them not winning this game.
PAUL PREDICTS: 3-1
Arsenal v QPR
PAUL PREDICTS: 1-0
The last two games have been absolutely atrocious for Arsenal. I'm no manager, but I can't understand how Arsene Wenger gets away with leaving a £12m striker on the bench and playing a winger up front and a midfielder on the wing. They've gone two games without scoring, so give Olivier Giroud a run in the team! They should beat a team that hasn't won a game this season - but I don't think QPR will have as much fear as they would have had three weeks ago.
Reading v Fulham
PAUL PREDICTS: 2-1
I'm doing this game on Soccer Saturday and I'm looking forward to it because it's a must-win match for Reading. This is one of those they would have circled at the start of the season and if they lose you wouldn't be surprised to see them go down. Fulham have done really well and have started giving teams a game in their away matches this year, but I hope the two teams don't cancel each other out. I'll lean towards a home win.
Stoke v Sunderland
PAUL PREDICTS: 2-0
I thought Sunderland would be mid-table this season, but they're now in that pack of clubs that could go down. I don't think many people could argue with that after watching them against Newcastle. They were shockingly poor for a derby game against 10 men and were lucky to get a point. They aren't scoring enough goals, they're relying on Steven Fletcher too much and I see them getting absolutely nothing out of this game. It should be comfortable for Stoke.
Wigan v West Ham
PAUL PREDICTS: 2-2
I always thought Sam Allardyce would do enough to keep West Ham up, but I've been surprised by how well they've started. After a shambolic performance at Swansea they've gone for it a bit more in their away games. Wigan are another one of those seven or eight teams in the relegation mix but they're not playing badly and I think we could see a Desmond here. There should be goals.
Man City v Swansea
PAUL PREDICTS: 4-0
This is a perfect game for Man City after a bad week because Swansea won't kick them off the pitch and they should win easily. I think the players have been using excuses over the tactics and the preparation and they have been a million miles off the pace in Europe. However, they have got much better players than Swansea and they should bounce back here... but the fans will wonder why they win these games and can't do it against the big teams in Europe?
Newcastle v West Brom
PAUL PREDICTS: 3-2
West Brom should not have lost to 10-man Manchester City last week and they were naïve to let it slip at the end. That late goal will dent their confidence and set them back a bit. Newcastle will be buzzing after drawing the derby and they got a good result in Europe too, so they'll look forward to this. It will be a good game because West Brom have pace on the counter-attack and I think it will be a very open game.
Southampton v Tottenham
PAUL PREDICTS: 1-4
As a neutral you want to watch Southampton because they have a go and the manager is very positive, but the simple fact is their defence is not good enough. It's nothing to do with tactics, players are sometimes out of their depth, and I think Tottenham will absolutely rip them to shreds. I always think Southampton will score (although I can't understand why Nigel Adkins dropped Rickie Lambert last week), but they won't be able to cope with Jermain Defoe.
Follow Saturday's football on Soccer Saturday from 12noon on Sky Sports News HD and then see extended highlights on Football First from 8.25pm on Sky Sports 2 HD.