Huge for Hughes
Merse tips a damaging defeat for QPR, plus draws in the derby games in London and the North East.
Last Updated: 20/10/12 11:36am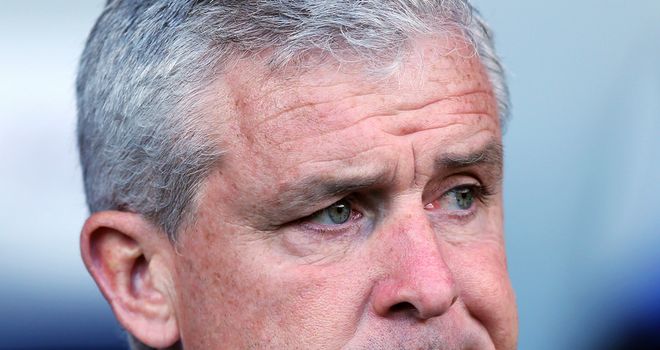 As ever, you can follow all the Premier League action this weekend on Sky Sports.
We asked Soccer Saturday expert Paul Merson to look at the fixtures and give us his verdict on where the games will be won and lost.
Every week he'll be here on skysports.com to share his views on who he expects to be the winners and losers of the weekend.
So read on for his shouts and don't forget to let us know your views via the comments box...
Ford Football Special: Tottenham v Chelsea
12pm, Sat, Sky Sports 2 HD and Sky 3D
Even if Andre Villas-Boas stays at Tottenham for the next five years, this could be his best chance of beating Chelsea.
I know Chelsea are top of the table, but Tottenham are absolutely flying. They've won four on the trot and are on a roll and I can't see them bumping into Chelsea too many times when they're on a run like this. Plus they're at home at the end of an international week, which is even more of a leveller.
A lot of the attention will be on Villas-Boas against his old team, but that's probably better for the players. Their good run will have bred confidence and if Spurs want to be a top-four team they need to look to win this game. However, Chelsea know they need to avoid losing at places like this if they want to win the league.
The thing I'd say with Chelsea is I don't think they've played great this season and they haven't had too many hard games. But when they were asked to step it up a gear against Arsenal they were outstanding. If they play like that and win at in-form Tottenham too then you'd have to say they are major players in the Premier League title race.
I expect this to be an open game with chances for both teams and in the end I'll go for a draw.
PAUL PREDICTS: 1-1
Ford Super Sunday: Sunderland v Newcastle
1pm, Sun, Sky Sports 1 HD & Sky 3D
I'm a London boy and even though Tottenham are playing Chelsea, you've got to say this is the big game of the weekend.
I put my foot in it when I was writing this blog a few years ago because I said this wasn't a very big derby; that was one of my worst ever sayings and I won't be doing that again!
Last year Sunderland should have beaten Newcastle at home and the result put Steve Bruce under severe pressure. This season is completely different because while both sides will fear losing, neither manager will fear the sack if they lose. That should make it a fairly open game.
It's obviously a big game for both teams and Newcastle need to get back on track after taking a hiding against Manchester United. I fancied them to get something out of that game and they were a bit disappointing on the day.
If they lose this game they could soon be looking at the bottom half. They were outstanding last year, but if they finished 10th this year you wouldn't blink an eyelid. With Everton and Tottenham flying it's going to be hard to repeat what they did last season.
So they need to avoid defeat and I think they can go and get a draw. Newcastle never know when they're beaten and it should be a tight one.
PAUL PREDICTS: 1-1
Ford Super Sunday: QPR v Everton
3.30pm, Sun, Sky Sports 1 HD
I think Mark Hughes has to win this football match... but I couldn't think of a harder game for QPR this week.
I know Everton had a blip against Wigan but, for me, they're playing as well as any team in the Premier League at the moment. They're entertaining, they're scoring goals and even though Marouane Fellaini is injured, I think they will increase the pressure on the QPR boss.
I don't like to see any manager lose his job and I'm a massive fan of Hughes, but when you've got someone like Harry Redknapp in the wings without a job you wonder how long they'll let this go on?
The chairman has backed him, but I've seen that a million times (my chairman at Walsall backed me...) and at the end of the day it's rare that you are sacked by the board. Usually the fans sack you and you can hear discontent on the terraces already.
I think Sunday could be a game too far if they lose again. They've spent a lot of money, but they haven't won a league game all season and if they fall behind to Everton I fear for them. They have to start this game well.
It's time for the players to perform for their manager because too many of them have been below par. It's not bad luck, the players haven't been good enough and I fear for them again here.
PAUL PREDICTS: 1-3
Fulham v Aston Villa
PAUL PREDICTS: 2-1
I thought Aston Villa did well in the first half against Tottenham, but when they fell behind they didn't get their composure back and the game was soon finished. That's the problem with a young football team. You need to score first against Fulham and if they don't do that then I see another defeat.
Liverpool v Reading
PAUL PREDICTS: 3-0
Luis Suarez has played two matches for Uruguay this week and made a 14-hour journey back and now everything is on his shoulders in this game. I can't believe a big football team like Liverpool are relying on one forward to do it all for them! I still expect them to win this game though because he's a top-drawer player.
Man Utd v Stoke
PAUL PREDICTS: 2-0
Defensively Stoke have been outstanding this season, but away from home they tend to sit back against the big teams and wait for something to happen. If they do that, I think Manchester United will break them down by the end of the match with the quality they've got. I don't think Man United are playing great, but I can't see Stoke taking the game to them.
Swansea v Wigan
PAUL PREDICTS: 1-1
Swansea are on a slippery slope and have been letting in goals for fun, so this is a game they'll think they have to win. As for Wigan, they had a good result against Everton and will go into this match thinking they can't afford to lose. Roberto Martinez should know Swansea quite well and be able to counter-attack them, so I think they can get a draw.
West Brom v Man City
PAUL PREDICTS: 2-2
Man City were impressive against Fulham and had a stroll in the park against Sunderland, but this will be a hard game for them. They're joint-second in the league but they haven't hit top gear and I think they will find it tough to beat West Brom away. There should be a lot of goals and I think it will be a fairly entertaining game.
West Ham v Southampton
PAUL PREDICTS: 3-1
I've got to go for West Ham here because they've been impressive so far this season. With Andy Carroll up front and Kevin Nolan off him I think they will cause plenty of problems. They didn't get near Arsenal last time, but that was the best Arsenal performance I've seen for a long time and I expect West Ham to be too good for Southampton.
Norwich v Arsenal
PAUL PREDICTS: 0-4
If Arsenal play like they did against West Ham then I dread to think what the score could be here. Arsenal were outstanding in that game, but Norwich haven't been playing well. I watched them against Chelsea and they did well in stages, but at times I thought Chelsea could have scored as many as they wanted. If Arsenal play anywhere near their best they could score five, but I'll predict a four-goal win.
Follow Saturday's football on Soccer Saturday from 12noon on Sky Sports News HD and then see extended highlights on Football First from 8.25pm on Sky Sports 2 HD.