Out of Toon
Merse says Newcastle have the pace to beat Man Utd, and tips wins for Man City and Chelsea.
Last Updated: 05/10/12 8:04am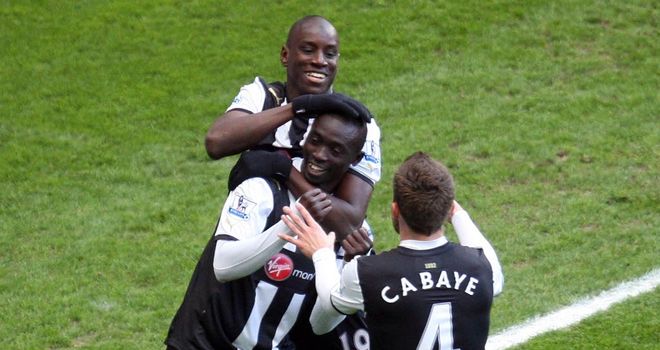 As ever, you can follow all the Premier League action this weekend on Sky Sports.
We asked Soccer Saturday expert Paul Merson to look at the fixtures and give us his verdict on where the games will be won and lost.
Every week he'll be here on skysports.com to share his views on who he expects to be the winners and losers of the weekend.
So read on for his shouts and don't forget to let us know your views via the comments box...
Ford Football Special: Man City v Sunderland
12.30pm, Sat, Sky Sports 2 HD and Sky 3D
Manchester City need to start winning ugly, I'm afraid.
As a neutral it's great to watch them at the moment, but the manager and fans know they aren't going to win anything if they keep letting in goals every week.
Against Borussia Dortmund, they had more shots against them than any other Champions League team. I know they created lots of their own chances, but if it hadn't been for Joe Hart that could have been a very bad night for them.
They were successful playing a certain way last season and I think Roberto Mancini is over-complicating things, switching to three at the back in the middle of games and things like that. They just need to get back to where they were last season.
You can't keep swapping your centre-backs every week. Just like with forwards, it's about partnerships and understanding each other. Vincent Kompany and Joleon Lescott won the league and were the best partnership around last season. They haven't become bad players overnight.
They are asking too much of Yaya Toure at the moment; they just need to get him forward and play around him. I also think David Silva is finding it difficult right now.
Saying all that, I still expect them to win on Saturday. Sunderland will need to ride their luck to get something out of the game and I expect them to sit back like they did at the Emirates.
But I'm sure Mancini would rather win 1-0 than 6-3 this week. A clean sheet is a priority for him here.
PAUL PREDICTS: 2-0
Ford Super Sunday: Southampton v Fulham
1pm, Sun, Sky Sports 1 HD
Southampton have had a tough start to the season and I think they've given a good account of themselves so far.
They were always going to be near the bottom of the league this season and Nigel Adkins hasn't done much wrong. They've already played Man City, Man Utd and Arsenal plus Everton away, which is one of the hardest games in the league at the moment.
They ended up 3-1 down at half-time in that match because they were far too open and there was no midfield. However, they looked solid in the second half, played with a better shape and restricted Everton to long-distance shots. For me, Southampton shouldn't try to go out and entertain, they're not good enough to do that.
The one disappointing result was against Wigan, but they beat Aston Villa at home and they'll look at this match as another one they have to win.
They've got an even bigger chance because it looks like Dimitar Berbatov is still injured. They have other good players, but he's Fulham's biggest threat and he could have made the difference.
I would have picked Fulham if he was playing, but I'll go for a draw instead.
PAUL PREDICTS: 1-1
Ford Super Sunday: Newcastle v Man Utd
3.30pm, Sun, Sky Sports 1 HD & Sky 3D
Manchester United have fallen behind in five out of six games this season and you can't afford to do that against the big boys.
They have come back against teams like Southampton and Fulham and even Cluj in the Champions League, but when they went behind to Tottenham (who I would class as a big boy) they ended up losing the game.
It will be the same story against Newcastle. If they go behind against them then I don't see them winning. They might get a draw but they won't win it because Demba Ba and Papiss Cisse have the pace to pick them off.
It's hard to explain why Man United aren't playing well. They've had injury troubles in defence and I think they need a world-class central midfielder if they are to be a threat in the Champions League.
You can't moan too much because they're still winning matches and a lot of teams would like to be in their position, but if you want to be double successful you can't keep playing like they are at the moment.
I'm going to go for a Newcastle win in this game. I just don't think Man United are playing well enough and the pace in Newcastle's side will cause them major problems.
If Ba and Cisse play well they can exploit a defence that's all over the place at the moment.
PAUL PREDICTS: 2-1
Chelsea v Norwich
PAUL PREDICTS: 3-0
Forget the scoreline, Chelsea were poor in the Champions League on Wednesday and if they play like that away at Shakhtar and Juventus they will be in trouble. The 4-0 win papered over a lot of cracks. However, they were very good against Arsenal last Saturday and I can't see Norwich, who haven't won a game yet, causing them any trouble.
Swansea v Reading
PAUL PREDICTS: 1-1
This is a massive football match for Swansea and they have to highlight this as a must-win game. After a great start, they have lost three on the trot and are starting to look like the team that people were predicting could go down this season. However, Reading scored two against Newcastle and three against QPR and will fancy their chances.
West Brom v QPR
PAUL PREDICTS: 3-1
QPR are bottom of the league with six games gone and the major problem is that if you sat down with Mark Hughes then he wouldn't be able to tell you his best XI. I could roughly name you the Man United, Arsenal and Chelsea teams for this weekend, but you can't do that with QPR. Also, Steve Clarke will know his best West Brom team and that's one of the reasons why they're near the top of the league. I can't see anything but a home win.
Wigan v Everton
PAUL PREDICTS: 0-3
This should be a walk in the park for Everton. Wigan were very poor mid-way through last season and they seem to be back there again. They started the season quite well against Chelsea and I thought there was some hope for them, but recently they've gone back a bit. Everton went to Swansea and won 3-0 so I don't see them having any trouble doing it to Wigan as well.
West Ham v Arsenal
PAUL PREDICTS: 1-1
Arsenal weren't great against Chelsea or Olympiakos and now they're coming up against a West Ham team that is full of confidence and playing very well. Sam Allardyce will fancy his chances here, especially if Andy Carroll is fit enough to be involved. I don't see Arsenal winning this and I think it could be a draw. That might be a good result for Arsenal.
Liverpool v Stoke
PAUL PREDICTS: 2-1
Liverpool should have as many points as Man United by now. They've played well (apart from the Arsenal game and 30 minutes against West Brom) and have been unlucky, so the win over Norwich was thoroughly deserved. It was only a matter of time before they clicked. Stoke did very well at Chelsea, so it won't be an easy game, but I'm just going to go for Liverpool because I think they're on a bit of a high.
Tottenham v Aston Villa
PAUL PREDICTS: 3-1
It wasn't hard to find a winning formula at Tottenham because they've got so many good players. Harry left a good team, but the players are playing for the new manager and seem to be working their socks off. You never know which Villa team will turn up; one minute they'll be great and the next minute they won't. So I've got to go for Tottenham because they're playing very well and Villa are quite inexperienced.
Follow Saturday's football on Soccer Saturday from 12noon on Sky Sports News HD and then see extended highlights on Football First from 8.25pm on Sky Sports 2 HD.