Big guns misfiring?
Merse tips Arsenal to beat Chelsea, but isn't calling wins for Man Utd, Man City or Liverpool this week.
Last Updated: 28/09/12 1:19pm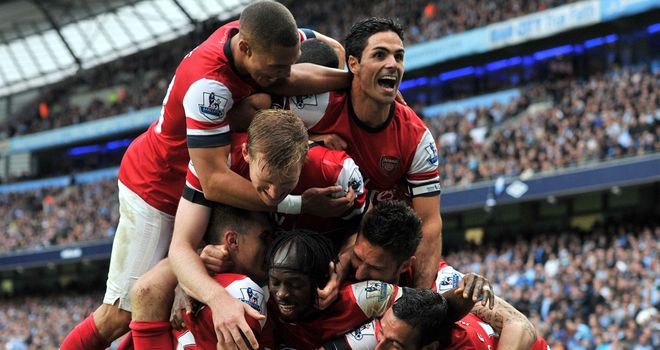 As ever, you can follow all the Premier League action this weekend on Sky Sports.
We asked Soccer Saturday expert Paul Merson to look at the fixtures and give us his verdict on where the games will be won and lost.
Every week he'll be here on skysports.com to share his views on who he expects to be the winners and losers of the weekend.
So read on for his shouts and don't forget to let us know your views via the comments box...
Ford Football Special: Arsenal v Chelsea
12pm, Sat, Sky Sports 2 HD
I think Arsenal are in a better place than Chelsea at the moment.
Chelsea may be top of the league, but with all due respect to the teams they've played I think they've had a kind start. It reminds me of that Scolari season when they won lots of games early on, but then struggled against the bigger teams.
They've had home advantage against Newcastle and Stoke and their away games have been at Wigan, Reading and QPR. When they have faced strong sides they got slaughtered by Atletico Madrid and I thought Juventus thoroughly deserved their draw.
I think they're too open and I don't see how they will be a success playing Fernando Torres up front on his own. Didier Drogba was a big and strong out-and-out striker who would hold the ball up, but Torres can't do that. Against the better teams the ball will keep bouncing off him and they'll concede too much possession.
Daniel Sturridge is not a lone striker and I worry for them throughout the season if they don't sort it out (and they can't sort anything out until January). Romelu Lukaku can play that way, but they've sent him on loan to West Brom.
They play very open football and I think Arsenal will take advantage of that. Remember, they are unbeaten as well and they've had much harder games.
They've played Man City away (when they were bang unlucky), Stoke away (when they got a draw) and Liverpool away (which was a comfortable win). That's very different to Chelsea's start.
They're playing as a unit at the moment. The three players up front have great movement, the three in midfield can provide and pass and the defence is looking very solid. So I would be shocked if Arsenal lost this game.
For me, Chelsea need to be a bit more negative and go back to playing the way that won them the Champions League in this game. They need to play counter-attacking football like Manchester United do when they go to the Emirates.
If they don't then I can only see one result here.
PAUL PREDICTS: 3-1
Ford Super Sunday: Aston Villa v West Brom
3.30pm, Sun, Sky Sports 2 HD
Paul Lambert hit the nail on the head after the Manchester City game when he said this Aston Villa team are so young that they'll blow hot and cold for most of the season.
I can't see them being consistently boiling hot like they were against Manchester City, but they won't always be as bad as they were in the second half against Southampton. It's impossible for pundits because I don't know which team will turn up on Sunday.
They could easily beat West Brom, like they did against Swansea, but you could just as easily see them lose again. Every time they play it's impossible to call.
I would play Gabby Agbonlahor in this game because his pace will cause trouble. He scored two in midweek and his confidence should be sky high. But from West Brom's point of view I don't know if Villa can handle Lukaku, who also blows hot and cold.
He's younger than people realise and sometimes he's so effective that you can't understand why Chelsea let him go out on loan. Every defender who plays against him will know they've been in a match.
I watched West Brom play against Reading last week and they looked very comfortable. They were never going to lose that game.
It's very hard to say how this one is going to go, but I think there will be goals.
PAUL PREDICTS: 2-2
Ford Monday Night Football: QPR v West Ham
7pm, Mon, Sky Sports 1 HD
QPR have been playing well, but losing games. That's so worrying for a manager.
They played well against Reading in the League Cup and managed to lose the game. Against Tottenham last week they were the only team in the game in the first half - Brad Friedel was the best player on the pitch - and they ended up letting it slip in the second half. They won't play that well in the next game they win!
Some fans might be expecting a first win on Monday night, but when you're near the bottom of the league it's very hard to pencil in games as likely victories. Their confidence is probably so low that they could walk under a snake with a top hat on!
West Ham are solid away from home and I think they will like going to Loftus Road, so I can see them getting a result.
The name of the game is staying in the league, so sometimes Sam Allardyce will tell his players to go long and at other times he'll tell them to play with the ball. They can mix up their approach and I don't see a problem with that.
Allardyce doesn't want to play attractive football if it means they go down. He just wants to win football matches and stay in the best league in the world.
I'm expecting more goals in this one. It should be a good weekend for sport on the telly!
PAUL PREDICTS: 2-2
Everton v Southampton
PAUL PREDICTS: 3-0
I couldn't understand why David Moyes rested players against Leeds because the Capital One Cup is their best chance of a trophy this season. They played their first team against Leyton Orient in the first round and then rested players in a harder game, which seemed strange. However, Goodison Park is a hard place for a top-four team to visit, never mind a bottom-four team like Southampton. I expect Everton to turn it on, win the game and half-soften the blow of what happened on Tuesday.
Fulham v Man City
PAUL PREDICTS: 2-2
I haven't been impressed with Man City at all this season. They're letting in goals left, right and centre and Roberto Mancini will be worried. The better teams like Real Madrid and Arsenal have got results off them and I think Fulham could do the same. Dimitar Berbatov is knitting them together, he can play like he did at Tottenham, he'll stroll around and make things happen and he's got good, underrated players around him. I think they can cause problems for Man City at both ends.
Norwich v Liverpool
PAUL PREDICTS: 1-1
Sometimes it's better to be lucky than good! I feel sorry for Brendan Rodgers because Liverpool have been very unlucky this season. Jonny Evans could have been sent off last week and Liverpool could have had a penalty, but they're not getting the breaks. They haven't looked good when they've been chasing games, but they deserved results against both Man United and Man City. It's the same story for Norwich, who have played well without getting the rub of the green. I'll go for the draw, but if anyone wins it will be Liverpool.
Reading v Newcastle
PAUL PREDICTS: 1-3
You can't argue with the decision to give Alan Pardew an eight-year contract because he's done brilliantly. He's done some outstanding work, especially in the transfer market. I'm pleased for him, but remember, contracts don't mean everything - if Man United come in for him tomorrow he'll soon be off! Reading had a good result in midweek, but haven't looked like scoring in some of their earlier games. I think I have to go for an away win.
Stoke v Swansea
PAUL PREDICTS: 3-0
This is a big game for Stoke, who have drawn four and lost one so far. I expect them to overpower Swansea and I think a lot of people got carried away with them at the start of the season. They are one of the teams I fancied could go down and after the way they started I thought I might end up with egg on my face, but it's a long old season. I don't expect them to get anything at Stoke.
Sunderland v Wigan
PAUL PREDICTS: 2-0
Wigan have slumped back into last season's form - and not the amazing form they showed at the end of the season! They seem to be struggling and it seems to be back to normal for them after the loss of Victor Moses. For Sunderland, Steven Fletcher is scoring goals for fun and I can't see anything but a home win in this game.
Man Utd v Tottenham
PAUL PREDICTS: 1-1
I don't see Tottenham getting beat if Andre Villas-Boas gets his tactics right. Some Spurs fans will say I'm mad because they were atrocious in the first half against QPR (if they play like that I don't know what the score will be at half-time), but he needs to stop making strange selections. He played Gareth Bale at left-back against QPR and he played two defensive midfielders at home to Norwich! But Man United aren't playing great (although it's a pretty good sign that they keep grinding out results) and with Jermain Defoe in top form I can see them getting something out of the game.
Follow Saturday's football on Soccer Saturday from 12noon on Sky Sports News HD and then see extended highlights on Football First from 8.25pm on Sky Sports 2 HD.