Man of woe
Paul Merson tips one of the Manchester clubs to lose on Super Sunday. Read all his shouts here...
Last Updated: 21/09/12 8:24am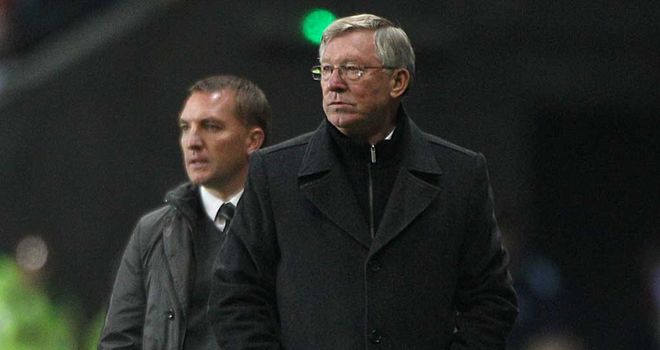 As ever, you can follow all the Premier League action this weekend on Sky Sports.
We asked Soccer Saturday expert Paul Merson to look at the fixtures and give us his verdict on where the games will be won and lost.
Every week he'll be here on skysports.com to share his views on who he expects to be the winners and losers of the weekend.
So read on for his shouts and don't forget to let us know your views via the comments box...
Ford Super Sunday: Liverpool v Man Utd
1pm, Sun, Sky Sports 1 HD & Sky 3D
Liverpool have started the season like they normally do: hot and cold.
They were hot, at times, against Man City and Sunderland, but they were freezing cold against Arsenal. That's been the way for a few years now with Liverpool; the consistency hasn't been there.
I worry that they've only got one real forward in Luis Suarez and if he gets injured I can see them struggling. They haven't got anyone else and I think Brendan Rodgers made up his mind too early to get rid of Andy Carroll.
Rodgers still needs time to impose his way of playing on the team. He wants the players to pass the ball but when that isn't working - as against Arsenal - the players need to be big enough to keep wanting to get on the ball.
It's a bit easier to do that at Swansea when the fans aren't expecting you to win every weekend, but at Liverpool the fans will put pressure on the players.
Steven Gerrard is my favourite footballer, but his game is all about opening teams up with 40-yard passes. Now he's being asked to give it five or 10 yards. Joe Allen will keep the ball all day long, but he won't really hurt you, whereas Gerrard's at his best when he's putting the ball through the eye of a needle.
There's no way you can leave him out, but Rodgers must let him play his own game because that game has made him one of the best players in world football. I'd be worried if he's asking him to change.
This is a big game for both teams and is probably the biggest of the season so far for Manchester United. I think they might approach it like Arsenal did by sitting back and playing counter-attacking football.
They haven't been playing well, but they're near the top of the league because they know how to grind out results. They were extremely lucky to beat Galatasaray in the Champions League, Wigan were comfortable against them for 45 minutes last week and Southampton took them all the way. For that reason I don't see Liverpool losing this game.
Liverpool need to send the fans home with the feeling that they can get into the top four. I'm going to take away the Arsenal defeat and think about the Man City and Sunderland games. If they play that well, and get a bit of luck, I think they will win.
PAUL PREDICTS: 2-1
Ford Super Sunday: Man City v Arsenal
3.30pm, Sun, Sky Sports 1 HD & Sky 3D
Arsenal won't be worried about going to Manchester City. There's nothing to fear for them.
They were as comfortable as you can get against both Liverpool and Stoke and they've only let in one goal in the league so far.
The appointment of Steve Bould has made them much more solid at the back. He played in the best defence the Premier League has ever seen and he's made sure they all know their positions. They always looked like conceding last season, but he's tightened them up.
Earlier in the season I was worried about the balance. In the first couple of games they were keeping clean sheets without looking like scoring. They've addressed that now and the front three looks very good.
The great thing is they've got lots of players like Gervinho, Theo Walcott, Olivier Giroud and Alex Oxlade-Chamberlain who can come into those positions and Lukas Podolski is flying at the moment. It's hard to guess which players will play on Sunday.
There's still a lot of improvement to do, but they are in good shape to take on a Manchester City team who were second best in the Bernabeu on Tuesday night.
But even though they were outplayed for long periods they should have won the match. If Yaya Toure had put his chance away I think they would have.
Roberto Mancini will be concerned they are letting in too many goals. They haven't kept a clean sheet in six games this season and have conceded two or more on four occasions. That's not like Man City.
It used to be the other way around. They would keep things tight and then go from there. It will be interesting to see what the manager does about that.
However, Man City have learned to do what Man United have done over the years - they know how to get into football matches even when they're not at their best. Even if they're 2-1 down with 10 minutes to go you can never write them off.
This should be an open game with both sides making chances and Man City will always be in it. I'm going for a Desmond.
PAUL PREDICTS: 2-2
Ford Football Special: Swansea v Everton
12.30pm, Sat, Sky Sports 2 HD
Some people are saying Swansea were disappointed to lose at Aston Villa.
With all due respect, we are talking about Swansea City here. I think we might be getting a bit carried away with them. I tipped them to win last week, but I wasn't surprised afterwards. There isn't much between those teams.
Meanwhile, Everton were outstanding against Newcastle. The word 'unlucky' doesn't do them justice. That Victor Anichebe shot was so far over the line it was unbelievable.
And what a player Leighton Baines is. I haven't seen a left-back affect a football match so often since Roberto Carlos was at Real Madrid. I can't praise him any more than that. He's a star player as a left-back, which is very rare.
They are a good team all over though and should have brushed aside a very good Newcastle team in the first-half. The only concern is there's not many waiting in the wings if they get injuries and suspensions. If they're all fit, I could probably name their team now.
I think they will win this game if Nikica Jelavic is fit because he scores goals and brings people into the game, but it looks like his knee injury will keep him out. If he doesn't play I'm going for a draw.
PAUL PREDICTS: 1-1
Chelsea v Stoke
PAUL PREDICTS: 1-0
Stoke have drawn all four games this season. It sounds okay to say they're undefeated, but if they lose this one it'll be five games without a win. I don't expect them to win this one though. I would expect Chelsea to win at home fairly comfortably here.
Southampton v Aston Villa
PAUL PREDICTS: 1-2
Paul Lambert has got Aston Villa hungry again. It's taken a couple of weeks, but I think the cup game against Tranmere turned around the confidence and belief of those players. I fancy Villa to go to St Mary's and win because the pressure will be on Southampton. I think Villa will pick them off.
West Brom v Reading
PAUL PREDICTS: 2-0
I thought Reading would be alright this season, but they were so far out of their depth against Tottenham it was scary. They played 4-5-1 at home to a Tottenham team that was severely under pressure and it played into their opponents' hands. So I've got to go for West Brom to bounce back at home.
West Ham v Sunderland
PAUL PREDICTS: 2-0
West Ham have had a great start to the season, but I was disappointed by Sunderland against Liverpool last week. The first 20 minutes will be very important here because West Ham tend to fly out of the blocks and blow teams away at home. Sunderland need to try to keep it tight or they could be in trouble.
Wigan v Fulham
PAUL PREDICTS: 2-2
Wigan got blown away in the second half against Manchester United last week, but I think they can draw a lot of confidence from what they did in the first half. I think this is set to be a very open game against a Fulham team that got a good win over West Brom. There should be goals in this one.
Newcastle v Norwich
PAUL PREDICTS: 3-1
I was surprised Norwich didn't beat West Ham last week and the pressure is on them in this game. Newcastle were outplayed by Everton for long spells but still came away with a 2-2 draw - and that just shows what a good team Alan Pardew has got there. This team will always be a threat.
Tottenham v QPR
PAUL PREDICTS: 3-0
Tottenham played two defensive midfielders at home to Norwich a few weeks ago, but you looked at their team sheet last week and there were goals in the side. If they can go out with a bit of bottle and try to win the match - rather than avoid losing it - then I see them beating QPR. I think QPR will get it together, but I'm not sure how quickly.
Follow Saturday's football on Soccer Saturday from 12noon on Sky Sports News HD and then see extended highlights on Football First from 8.25pm on Sky Sports HD2.