Sunday service
Merse says Man Utd, Chelsea and Spurs will win, but Arsenal and Man City will get Super Sunday draws.
Last Updated: 24/08/12 3:27pm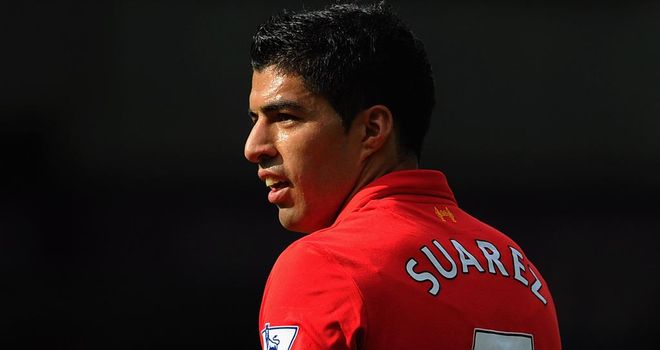 As ever, you can follow all the Premier League action this weekend on Sky Sports.
We asked Soccer Saturday expert Paul Merson to look at the fixtures and give us his verdict on where the games will be won and lost.
Every week he'll be here on skysports.com to share his views on who he expects to be the winners and losers of the weekend.
So read on for his shouts and don't forget to let us know your views in the comments box...
Ford Football Special: Swansea v West Ham
12.30pm, Sat, Sky Sports 2 HD
I tipped to Swansea to struggle this season and for the first 50 minutes against QPR I thought I was going to be right.
I didn't think they were great - QPR controlled a lot of the game and Robert Green threw one in - but once Swansea got their second they were absolutely superb and won 5-0. It was back to the Swansea of last year, passing the ball and keeping it for long spells.
So they're a 'watch this space' job. If they win on Saturday they'll be a long way down the road to 40 points, which is what they've got to aim for this season. Their fans will turn up expecting to beat West Ham and Michael Laudrup will look very closely at how his players respond to that pressure.
West Ham had a good result at home to Villa and if they can get a draw on Saturday they'll be very happy with four points from their first two games. I'm sure Swansea would have taken four points from the first two, but they'll now set their sights a bit higher.
I see West Ham sitting back and trying to catch Swansea on the counter-attack. If they try and run after the ball, like Swansea do, then they could easily get torn apart.
So I reckon Sam Allardyce will want his players to keep things tight, but I'm just leaning towards Swansea. Michu looks like a good buy and he could be the difference.
PAUL PREDICTS: 1-0
Ford Super Sunday: Stoke v Arsenal
1pm, Sun, Sky Sports 1 HD
Stoke are one of those teams that seem to enjoy playing Arsenal. The crowd are always up for it and they've got a decent record against them at home in the last four seasons.
Arsenal failed to score at home to Sunderland and I think you could say that if Robin van Persie had been there then they would have won. They didn't create loads of chances, but I'm sure he'd have scored the one that Olivier Giroud missed at the end - and might have sniffed out another. That could haunt them at somewhere like Stoke.
Santi Cazorla was outstanding last week, but he won't have played a team like Stoke before and I do wonder who the replacement for Alex Song will be. I'm a big fan of Abou Diaby, but I'm not sure if he can play 38 games in a season. At the moment, his name on the teamsheet won't worry opposition players like Alex Song's does.
Stoke will have been disappointed to have let three points slip against Reading with that last-minute penalty but I think they'll be pleased to play Arsenal next. I think they'd prefer to play them at home rather than someone like Wigan because they'll all be up for it and there's no pressure on them.
Arsenal didn't start well last year and it would be a nightmare if they didn't start well this year, but to be honest I don't see much between these two teams at the moment. With home advantage I think Stoke can get a draw.
PAUL PREDICTS: 1-1
Ford Super Sunday: Liverpool v Man City
3.30pm, Sun, Sky Sports 1 HD & Sky 3D
Until Liverpool get a top-drawer centre-forward I don't see them doing anything.
Every chance falls to Luis Suarez and he doesn't get enough goals in tight football matches. Last season he was getting five or six chances every week and it was the same against West Brom, but wasteful finishing cost them badly. He's a great player, he'll make chances and he'll chip in with goals but you can't rely on him as your main scorer.
Until they get a 20-goal-a-season striker, other teams are going to be in the match against them. You can't see them running away with any game.
If they sign a proven goalscorer then they won't be far away at all. There's not a lot missing in that side, but the hardest thing in football is scoring goals and they need someone to do that job.
Man City have lost their best scorer in Sergio Aguero and that's a big loss. However, I think someone like Edin Dzeko can come in and do a job for three or four games. If Aguero was out for six months then I would be worried for them because he's a natural world-beater, but they'll cope for a few weeks.
They were wiping the floor with Southampton last Sunday, but I think they were finding it too easy and let them back into the game. I wouldn't be too worried about their defence and I think they will tighten up against Liverpool.
I think this will be a tight game overall. Liverpool are at home, but there's a lot of pressure on them to avoid losing two games in a row under a new manager.
But Anfield is still a very hard place to go and I think both teams would settle for a draw.
PAUL PREDICTS: 1-1
Aston Villa v Everton
PAUL PREDICTS: 0-1
If Everton can get their best 11 players on the football pitch they can give anyone a game and that was proved against Man United. They thoroughly deserved to win that game. As for Villa, they passed the ball nicely at West Ham, but never went anywhere and Darren Bent touched the ball about four times in 90 minutes. I don't see where Villa can hurt Everton and I can't see the away team losing.
Man Utd v Fulham
PAUL PREDICTS: 3-0
I would expect Man United to bounce back in this game. I expect to see Robin van Persie make his full debut at Old Trafford and I'd be surprised if he doesn't get on the scoresheet. Fulham had a great start against Norwich, but I think they could get ripped apart in this one.
Norwich v QPR
PAUL PREDICTS: 2-1
Both these teams lost 5-0 last week and this game could define their seasons. Another defeat would mean a nightmare start. However, I think QPR have got the ammunition in the transfer market to get themselves out of trouble as we've seen with them going for Michael Dawson and Ricardo Carvalho this week. I can't say the same for Norwich, but I don't think you should judge them on last week's performance. I wasn't impressed with QPR's defending last week and Grant Holt may have too much for them.
Southampton v Wigan
PAUL PREDICTS: 1-3
Southampton had a free swing last week. They went to Man City with nothing to lose because everyone expected them to get well beaten, but the pressure is on this week because there are different expectations. Wigan can beat Southampton because they'll have the pace to pick them off. After the first 10 minutes, there wasn't much between Wigan and Chelsea last week, although the loss of Victor Moses may hurt them!
Sunderland v Reading
PAUL PREDICTS: 1-1
Reading were unlucky to lose to Chelsea in midweek and I think they'll get something out of this game because I can't see how Sunderland are going to hurt them. They don't have very much up front at the moment and may rely on counter-attacking football. Reading have had a hard start against Stoke, Chelsea and Sunderland and if they get a draw from this one I think they'll be happy.
Tottenham v West Brom
PAUL PREDICTS: 3-0
Tottenham have bought Emmanuel Adebayor now, which is a bit strange. Why didn't they buy him before the Newcastle game and then they would probably have got a result? I think having him in the side will help massively and I expect them to win. West Brom played very well against Liverpool, but Adebayor tends to play well against them and could have a big impact here.
Chelsea v Newcastle
PAUL PREDICTS: 2-1
I was wondering if Newcastle would be able to repeat what they did last year, but they looked very impressive against Tottenham. Demba Ba is scoring goals again and they're always going to be a threat. However, I'm just going to go for Chelsea here because they're in decent form and are slightly stronger. Three wins in a week would be a great start for them.
Follow Saturday's football on Soccer Saturday from 12noon on Sky Sports News HD and then see extended highlights on Football First from 8.25pm on Sky Sports HD2.