Open for business
Paul Merson predicts early wins for Man City, Man Utd, Chelsea and Arsenal - but tips Spurs to lose.
Last Updated: 17/08/12 5:08pm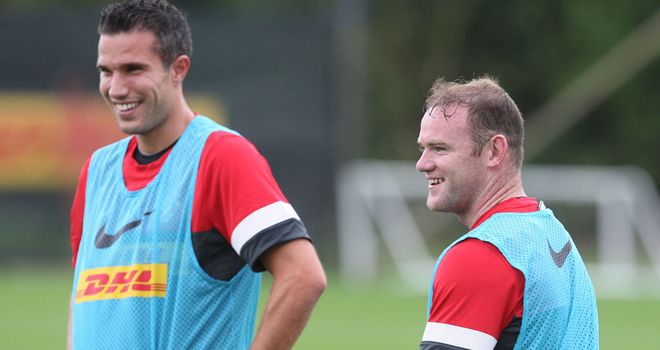 As ever, you can follow all the Premier League action this weekend on Sky Sports.
We asked Soccer Saturday expert Paul Merson to look at the fixtures and give us his verdict on where the games will be won and lost.
Every week he'll be here on skysports.com to share his views on who he expects to be the winners and losers of the weekend.
So read on for his shouts and don't forget to let us know your views in the comments box...
Ford Super Sunday: Wigan v Chelsea
1pm, Sun, Sky Sports 1 HD & Sky 3D
At the end of last season we'd all be saying Wigan would have a great chance here.
They punched well above their weight, maybe because they needed to win games and teams underestimated them, but I don't think it will be the same this time.
I think Chelsea will just nick this game, but Roberto Di Matteo must be careful. They've signed a lot of attacking players over the summer and I wonder if that will upset the balance of the team. If they go forward too much it could play into Wigan's hands.
They've bought players to entertain and we could see Fernando Torres, Eden Hazard, Juan Mata, Ramires and Frank Lampard in the same team, who are all attacking players. Even the left-back Ashley Cole is an attacking player!
So how much protection is John Terry going to get? The manager's job will be to find that happy medium and get some balance in the side.
However, man for man, they should have too much for Wigan, especially on the opening day of the season. Last April I would have flicked a coin to call a winner, but Wigan aren't renowned for starting well.
I expect Chelsea to just win this game.
PAUL PREDICTS: 1-2
Ford Super Sunday: Man City v Southampton
3.30pm, Sun, Sky Sports 1 HD & Sky 3D
This is a great fixture for the defending champions to start with.
Man City had Swansea at home on the first day of last season and now they have a promoted team once again. I think this should be a comfortable afternoon for them.
I think Southampton will struggle this season. They haven't got a lot of pace in their team and this is a nightmare start for them against a Man City team full of confidence after putting three past Chelsea in the Community Shield.
Nigel Adkins won't want to start life in the Premier League on the end of a six or seven-goal hiding which leaves his players low on confidence before they've even started.
This was the last fixture he wanted. They did great last year, but they didn't play against world-class footballers like Man City have got. He would be more than happy if he can get out of this game without being embarrassed or getting any injuries.
It will be interesting to see how Rickie Lambert gets on. He did well in the lower leagues, but I've always believed if you play up front and want to be a success you need to have pace.
He's an intelligent footballer and I think he can provide a lot. I wouldn't want to put too much pressure on him to get loads of goals though.
As for Man City, I still think they might need to go and buy another centre-half. They might be a bit short if they get a couple of injuries.
However, this should be a walk in the park for them.
PAUL PREDICTS: 3-0
Monday Night Football: Everton v Man Utd
7pm, Mon, Sky Sports 1 HD
How are Robin van Persie and Wayne Rooney going to play together?
If you put two top-drawer players together then it should work, but I can't see them both scoring more than 20 goals each like they did last season. I expect Van Persie to play further forward - and that system should work - but Rooney likes scoring goals as well. It's going to be interesting to watch.
You wonder how much Danny Welbeck will play and how much Javier Hernandez will play. As for Dimitar Berbatov, I think I'm probably further up the pecking order than he is!
They haven't got a world-class central midfielder at Man United, but the signing of Van Persie should push them right up against Man City in the race for the title.
This will be a hard game for them on Monday night. I've often said that if Everton get all their players injury-free and on the pitch then they can be a match for anybody.
They should be right up there, but they don't seem to handle the pressure at the start of the season. Then towards the end of the campaign when the pressure's off they seem to do well. David Moyes needs to address that.
I expect a close game, but Van Perise likes a goal against Everton, so I'll go for Man United.
PAUL PREDICTS: 1-2
Arsenal v Sunderland
PAUL PREDICTS: 2-0
Sunderland will be hard to beat under Martin O'Neill, but I've got to go for Arsenal to win at home. I think they've bought very well and after selling Robin van Persie, I don't see how Arsene Wenger can leave any of his new signings out. He's got to play them. People will say they've already spent the Van Persie money, but I think they'd have spent that anyway. I'd like to see them spend more. And I wonder why this wasn't all sorted out in June!
Fulham v Norwich
PAUL PREDICTS: 2-1
Chris Hughton won't let anybody down after becoming the new Norwich manager, but Fulham are a hard team to beat at home. They are a middle-of-the-table / bottom-half team and Craven Cottage is a hard place to go on the opening day, as plenty of top teams have found out over the years.
QPR v Swansea
PAUL PREDICTS: 2-1
I think Swansea could struggle this season and I could see them going down. Mark Hughes has bought well and has vowed they won't end the season where they did last year. I'd be very happy if I was a QPR fan with the likes of Junior Hoilett, Park Ji-Sung, Rob Green, Andy Johnson and Fabio.
Reading v Stoke
PAUL PREDICTS: 1-1
Stoke are a difficult team to beat, but their away record hasn't been great in the last couple of years. I fancy Reading to do well this year because they have pace in their team and I think this will be a harder game for Stoke than it is for Reading.
West Brom v Liverpool
PAUL PREDICTS: 0-2
Brendan Rodgers should get Liverpool going this year. We saw West Brom win at Anfield for the first time since 1967 last season but I expect the opposite result this time around. I don't think West Brom will pick up such big results this year and I fear they could struggle a bit.
West Ham v Aston Villa
PAUL PREDICTS: 1-1
This is a difficult game to call because I don't think there'll be much between these two teams all season. Paul Lambert is a good appointment for Villa, but I felt sorry for Alex McLeish because he was never really given a chance after coming from Birmingham. Lambert should grasp that chance.
Newcastle v Tottenham
PAUL PREDICTS: 1-0
This is a tough start for both teams. There's a lot of expectation at Newcastle after they did so great last year and the fans will turn up expecting to beat Tottenham. It's a very tricky one for Andre Villas-Boas and I think Papiss Cisse and Demba Ba will be a right handful. Spurs may play Jermain Defoe up front on his own - and he's not a target man - so they may find the ball coming back very quickly.
Follow Saturday's football on Soccer Saturday from 12noon on Sky Sports News HD and then see extended highlights on Football First from 8.25pm on Sky Sports HD2.