Think it's all over...
Merse gives his predictions and sees Man City on top, Bolton going down and Tottenham in third.
Last Updated: 11/05/12 9:10am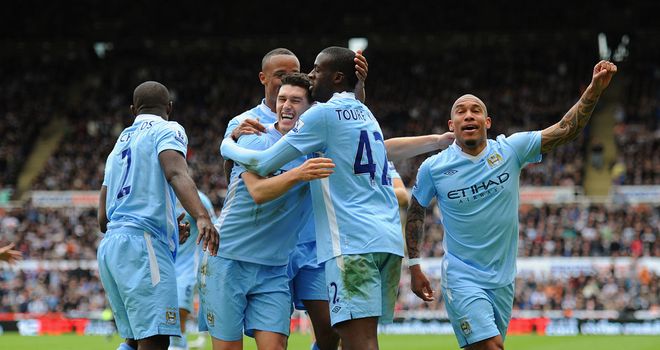 It's the final day of the season and, as ever, you can follow all the Premier League action this weekend on Sky Sports.
We asked Soccer Saturday expert Paul Merson to look at the fixtures and give us his verdict on where the games will be won and lost.
He's taking a close look at the live games and he's also having his say on all of the other matches, too.
So read on for his shouts and don't forget to let us know your views in the comments box...
Ford Super Sunday: Man City v QPR
2pm, Sun, Sky Sports 1 HD
I don't see anything but a Manchester City win. I'd be shocked if they're not champions by Sunday evening.
People say they are under pressure, but the pressure was on them at Newcastle - a far better team than QPR - and they came through that one.
They took their time in that game, they didn't panic when it was still 0-0 after 70 minutes and they came through in very impressive style. Yet again on Sunday there's no rush for them. They've got 90 minutes to score a goal.
Some would argue they are a better team with Sergio Aguero up front on his own and Yaya Toure played further forward, but that might play into QPR's hands. It will allow their back four to sit back.
So I think Roberto Mancini should start with the same team that beat Man United and Newcastle with Carlos Tevez up front.
If you go by QPR's last away game at Chelsea - when they were thrashed 6-1 - then you'd have to say they have no chance. They were shocking in that game.
QPR need a draw to survive, but I think their best chance is to hope Stoke do them a favour against Bolton.
They can't afford to be too open at the Etihad and they've just got to go and play for a draw. Perhaps if they ride their luck they can get a 0-0, but I don't see that happening.
Forget the Mark Hughes factor. Forget the Joey Barton factor. Man for man and player for player you have to say that City are a better team. They're in better form. I see nothing but a Man City win. No drama.
PAUL PREDICTS: 3-0
Ford Super Sunday: Sunderland v Man Utd
2.55pm, Sun, Sky Sports 2 HD
I won the league on goal difference with Arsenal in 1989, but I can't imagine what it would be like to lose the league that way.
That year there was only one goal in it and Liverpool's players must have looked back at all sorts of moments throughout the season when things could have gone differently.
Man United won't feel quite like that because the difference to Man City is eight goals. But they will look back to that 6-1 at Old Trafford. If they hadn't capitulated and let in three goals in the closing minutes then that would be a six-goal turnaround.
You could argue they need a new spine to their team this summer. They need a world-class forward to play with Wayne Rooney, a world-class central midfielder, a right-back and maybe a new centre-half. They're about four players short of threatening in the Champions League.
If Man United had put six or seven past Swansea last week they could have put a bit of pressure on City. That way, if they went 2-0 up against Sunderland early on then it would have been game on.
But the Old Trafford team seemed resigned to losing the title last week and that surprised me. If Man City score early I can see them taking their foot off the gas a little bit.
I think United will go to the Stadium of Light and win because Sunderland aren't the best at the back, but it wouldn't surprise me if it ended up as a draw, especially if they get some bad news early from the Etihad.
PAUL PREDICTS: 1-2 (but it depends on what happens at the Etihad)
Stoke v Bolton
Having watched Bolton last week I'd be shocked if they went to Stoke and won.
They were playing a team with nothing to play for, yet West Brom had chance after chance. It was like watching a testimonial match; there were 21 shots in the first half which was very surprising.
When you're fighting relegation you want to make it into a tense fight for your opponents. If Bolton had got stuck into the West Brom players early then maybe they wouldn't have fancied it. They don't want to get injured before their holidays!
People say Wigan went to Stoke last year and won to stay up, but Stoke were the better team that day. Wigan were hardly in it. That's the positive for QPR to look at.
The Stoke chairman and manager will want the team to finish as high as possible to bring in some money to kick on next season. The only problem is that the players are ready for their holidays after a good season, especially in the cups.
However, Stoke are unbeaten against the current top four at home this season and I think they could send Bolton down.
PAUL PREDICTS: 2-1
West Brom v Arsenal
PAUL PREDICTS: 1-1 or 2-2
I was very impressed with West Brom last week and I don't see Arsenal winning there. I thought there might be a negative reaction to Roy Hodgson leaving, but fans turned up with England flags and wished him luck. They'll want to send him away on a positive note and I can't see them failing to score when you look at Arsenal's atrocious defending lately. Are Arsenal going to get two or three? I'm not sure. Against Norwich it looked like they were gone.
Tottenham v Fulham
PAUL PREDICTS: 3-0
I see Tottenham beating Fulham and finishing third. Fulham have done great this year, but their away record is not the best in the world and on the last day of the season I don't think they'll have the same intensity as Tottenham. Spurs were unlucky to only draw with Aston Villa last week; they dominated that game and I think they'll win and finish third.
Everton v Newcastle
PAUL PREDICTS: 2-1
Of the teams trying to finish third, Newcastle have got the hardest game. Everton have been on a great run, they're trying to finish above Liverpool and they want to send their fans away on a high. They also want to prove that, maybe, they could repeat Newcastle's success next season. Everton are playing well, they deserved to beat Wolves last week, and I think they'll win this one.
Chelsea v Blackburn
PAUL PREDICTS: 5-0
Chelsea will want to make sure they put on a show for the fans after the dismal showing at Anfield in midweek. They'll rest players for the Champions League Final, but the players that are suspended for that game should play and they will still put a decent team out. Blackburn haven't looked like winning a game in the last two weeks, even though they needed the victories. I tipped them to beat Wigan 6-0 on the last day in 2010 and the other Soccer Saturday boys laughed. In the end they won 8-0 and I think it could happen again...
Swansea v Liverpool
PAUL PREDICTS: 1-3
You'd like to think Liverpool will finish the season on a little bit of a high. People always remember the last couple of games and if they go to Swansea and get beat then everybody will be deflated going into the new season. It will be a hard game for both teams, but I don't see Swansea being able to live with Luis Suarez and Andy Carroll.
Norwich v Aston Villa
PAUL PREDICTS: 2-1
I've always believed that after 38 games the bottom three are the worst three teams, but clearly this season hasn't been good enough for Aston Villa. They've only won three league games since Christmas Day and I can't see them doing anything at Norwich, who were outstanding at the Emirates last week. I expect them to finish the season on a high at home.
Wigan v Wolves
PAUL PREDICTS: 3-2
In the last eight games, Wigan have won six and only lost the other two by late goals. That's outstanding. They should finish top of the bottom six, which is a great feat for them in a competitive Premier League. They've stayed up and now they just need to finish as high as they can. Wolves will have a go, they're a different animal away from home, but I think Wigan will win.
Follow the games on Soccer Special from 2pm on Sky Sports News HD and then see full highlights on Football First from 8.25pm.