All the difference
Merse predicts a Man City win, but says Man Utd will make a huge dent in their goal difference.
Last Updated: 04/05/12 11:50am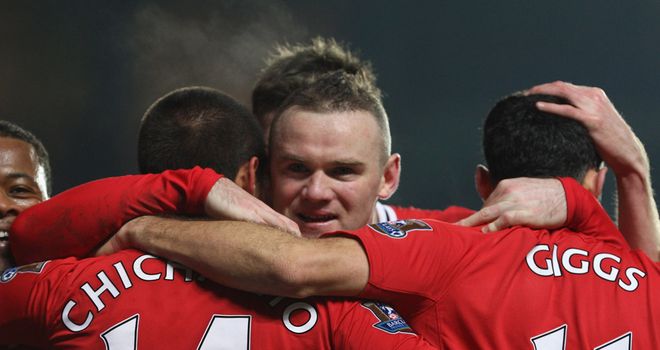 As ever, you can follow all the Premier League action this weekend on Sky Sports.
We asked Soccer Saturday expert Paul Merson to look at the fixtures and give us his verdict on where the games will be won and lost.
He's taking a close look at the live games but this season he's also having his say on all of the other matches, too.
So read on for his shouts and don't forget to let us know your views in the comments box...
Ford Super Sunday: Newcastle v Man City
1pm, Sun, Sky Sports 1 HD & Sky 3D
Roberto Mancini says this game will be harder than playing Man United at home - and I agree with him.
I don't think Man United have been playing great and, in my opinion, Newcastle have been in better form. And the fact they won at Stamford Bridge is a nightmare for Man City. I'm sure they thought they would go to Chelsea and lose and their season would be finished. All of a sudden they're right in the race for third.
So it is a harder game, but I also think Mancini is trying to take the pressure of his players by making everyone believe it's a hard game - but they'll be kicking themselves if they don't win the title from here.
The pressure hasn't been on Man City for the last few weeks, but now it's back in their hands. They mustn't think they can win this game in the first 10 minutes though; they need to be as patient as they were against Man United.
They've got to pick the same team that played against Man United too and not complicate it. Gareth Barry was outstanding in midfield and the four attacking players are always a threat.
Papiss Cisse and Demba Ba are going to be a handful; the two goals against Chelsea were out of nothing and the second one is up there with Marco van Basten's classic goal. But you have to remember they're playing against the best centre-half in the Premier League this season in Vincent Kompany.
Newcastle are doing great, but if Man City turn up with their A-Game there will be only one winner. If both teams play well then City will come out on top.
There are some away games in the Premier League where Man City could play badly and still pick up three points, but that won't be the case here. City need to handle the pressure and be on their game.
PAUL PREDICTS: 1-2
Ford Super Sunday: Man Utd v Swansea
3.30pm, Sun, Sky Sports 1 HD & Sky 3D
This weekend Man United have an easier game than Man City - but next weekend it swings around the other way.
So I think they have to score as many goals as they possibly can against Swansea. They need to try and win this by five or six.
People are assuming that Man City just need to win both of their games to win the title, but I'm not so sure. If Man United can run up a score on Sunday then they have an outside chance of catching the goal difference. When they get on a roll you wouldn't put it beyond them.
Swansea are not whipping boys, but at the end of a hard season they are capable of letting in goals. Man United have put five past better teams than Swansea in the past. The fact they have to go for it makes it even more possible.
Sir Alex Ferguson made a mistake with his team on Monday night and any other manager would have been slaughtered in the papers the next day, but it'll be back to 4-4-2 and having a go on Sunday.
Danny Welbeck is injured, so I think they'll go with Wayne Rooney and Javier Hernandez up front, although personally I'd go for Dimitar Berbatov. For me, he's a much better player than Hernandez, who has had a hit-and-miss second season. And when Berbatov has played his scoring record is very strong.
Then I would play Antonio Valencia and Ashley Young on the wings. They might get overpowered in midfield for 10 minutes or so, but I think playing at Old Trafford will carry enough fear for the Swansea players.
Man United have got to go all out for goals and I'm backing them to get five, which could be massive in the title race.
PAUL PREDICTS: 5-0
Ford Monday Night Football: Blackburn v Wigan
7pm, Mon, Sky Sports 1 HD
It's been a nightmare end of the season for Blackburn.
When they went to Bolton at the end of March I thought a win would have made them safe, but they lost that game and have only won once since then. Now they could be all-but relegated before this game kicks off.
They've had a few injuries, they're too reliant on Yakubu and it's been bad after bad for them - and when it is bad for Blackburn it is really bad.
They had a "free swing" game at Tottenham last week and they didn't even have a shot. I thought they did okay against Norwich, but that performance has completely put me off.
A few weeks ago Wigan at home was as close as you could get to a gimme, but now they are one of the last teams you'd want to play. I still think they need to be careful too and need a couple of results to go their way.
They deserve a lot of credit for changing their system. I don't think Gary Caldwell is the quickest centre-half in the world, but when they play three at the back he is very good.
He knows the game, he's a strong organiser and his lack of pace doesn't get exposed. That's worked a treat. They have plenty of pace on the break and they're confident in this new system.
It's a hard game to call because a lot depends on Sunday's results, but I think it will be an open match with both teams trying to win. I'll go for a Desmond.
PAUL PREDICTS: 2-2
FA Cup Final
I reckon Chelsea are going to win the FA Cup, mainly because Liverpool need about 7,000 shots to score a goal. They won't get that many opportunities in this game.
Chelsea haven't got that problem with Didier Drogba and, in particular, Fernando Torres who is looking like the player he was when he was at Liverpool. I would play him on Saturday because he's been a shining light this week, even against Newcastle.
I almost fell off my seat when I saw all the changes Roberto Di Matteo made for that game on Wednesday. They still had a chance of getting in the top four but he rested people like Ashley Cole, Frank Lampard and Juan Mata for the FA Cup Final. I couldn't believe it.
As for Liverpool, Luis Suarez looked good scoring an instinctive hat-trick last week, but I still worry about all the chances they miss. We saw that time and time again against Fulham.
I'm going with Chelsea because they don't need many chances to win.
PAUL PREDICTS: 1-0 to Chelsea
The rest of the Premier League games
Arsenal v Norwich
PAUL PREDICTS: 4-0
Norwich have had a very good season, but I see them getting steamrollered on Saturday. A team like Arsenal can play at 70 per cent and win a football match, but Norwich can't do that at this stage of the season. They've had to work their socks off in every game and they're safe with two games to go - so I think this will be a game too far. Arsene Wenger will be happy with the two fixtures they've got left, but he still needs to go out and buy in the summer.
Aston Villa v Tottenham
PAUL PREDICTS: 0-2
Aston Villa got a massive point against West Brom and their goal difference is like an extra point as well. As long as results don't go mad against them then I think they should be alright - but they might have a bit of sweating to do on the final day. I'm going for a Tottenham win here to keep them in the hunt for the top three.
Bolton v West Brom
PAUL PREDICTS: 2-1
There was a stage against Tottenham when I thought Bolton were going to go on and win - and within the blink of an eye they were 3-1 down. West Brom are safe and even if they don't slack off, the Reebok is still a hard place to go. Bolton badly need to win this game - and I reckon they will.
Fulham v Sunderland
PAUL PREDICTS: 2-0
I think this is a banker home win. With two games to go Sunderland look like a tired team and they have a big game against Man United next weekend and I think players like James McClean will be looking forward to that one. I always say Fulham are very good at home and I think they'll win 2-0.
QPR v Stoke
PAUL PREDICTS: 2-1
This will be a hard game for QPR. Loftus Road is a small pitch and when Stoke get a throw-in on the half-way line they'll be throwing the ball to the far post. QPR have to defend for 90 minutes and not go 1-0 down in the first minute like they did against Chelsea. I'm just going for QPR to win, which could leave us with three teams on 37 points going into the final day. That would make it very interesting.
Wolves v Everton
PAUL PREDICTS: 1-2
You'd like to think Wolves will put on a show for their fans who have been there through thick and thin, but Everton are a decent team. You can see they want to finish above Liverpool and I think this will be an away win.
Follow Saturday's football on Soccer Saturday from 12noon and Sunday's matches from 1pm on Soccer Special on Sky Sports News HD.