Breaking point
Paul Merson makes his predictions and it's not good news for Man Utd, Arsenal, Newcastle or Villa...
Last Updated: 27/04/12 12:30pm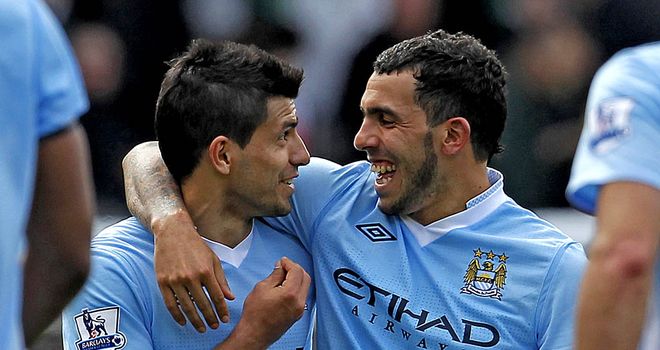 As ever, you can follow all the Premier League action this weekend on Sky Sports.
We asked Soccer Saturday expert Paul Merson to look at the fixtures and give us his verdict on where the games will be won and lost.
He's taking a close look at the live games but this season he's also having his say on all of the other matches, too.
So read on for his shouts and don't forget to let us know your views in the comments box...
Ford Monday Night Football: Man City v Man Utd
7pm, Mon, Sky Sports 1 HD & Sky 3D
If I was a Man United fan I'd be very worried right now. Firstly they're not playing well and secondly, Man City are very dangerous when they click.
They might have a three-point lead, but I still don't think they've been playing well. They lost to Wigan and never looked like winning the game and against both QPR and Aston Villa the first goal was a very dubious penalty.
Then the 4-4 draw with Everton was extraordinary. I'm a big fan of Everton, but they are not a free-scoring football team. If you score two goals at home against them then you think you've won.
I thought very little in football could surprise me, but seeing Man United letting it slip from 3-1 and 4-2 was a major shock (as was what happened in the Nou Camp on Tuesday night, by the way). The league title should be over, but if Man City win on Monday they will suddenly become the favourites.
City have played great when the pressure has been off. Now the pressure is back on again. That's the main issue Roberto Mancini has got to sort out.
But I still think they will win this game. The momentum is with them and in Carlos Tevez and Sergio Aguero they have the best strike pair in world football. They're perfect for each other.
City will play 4-4-2 with the two up front causing chaos, but I can only see Man United playing 4-5-1. They played 4-4-2 against Everton and Paul Scholes and Michael Carrick were too exposed in the middle. Everton had too much of the ball and it became like a basketball match.
I think he'll put Ryan Giggs in midfield for his experience and leave out Danny Welbeck with Wayne Rooney playing up front on his own. The two wingers will still be able to hurt Man City.
City smashed them at Old Trafford and in a way the FA Cup game was a smash-and-grab for United because City played for so long with 10 men.
I think City are about to blow it wide open and become big favourites to win the league.
PAUL PREDICTS: 3-1
Ford Super Sunday: Tottenham v Blackburn
3.30pm, Sun, Sky Sports 1 HD
If Chelsea beat Bayern Munich next month then the team that comes fourth won't get a Champions League place. That's a pathetic rule.
Surely if a team from your country wins it and doesn't finish in the top four you should get a bonus place. It just shows the strength of our league.
So if Spurs - or Newcastle or Arsenal - do come fourth they won't be able to celebrate and will have to sit and sweat for a week. Then on May 19 they'll all be cheering on a German football team. That could only happen in England!
Suddenly everyone needs to try and finish third and Tottenham have to raise their game - and surely sooner or later their bad run has got to turn. A few weeks ago people were saying they were the best footballing team in the country, but they've only won one in their last nine league games.
Players get tired when they start losing games, but I'm sure Harry Redknapp is sitting there, like I am, thinking their form has got to change.
Meanwhile, Blackburn have to get a draw at least. When they play Wigan at home next week they want to think that a win will take them out of the bottom three, not that they must win to stay in touch.
I watched their must-win game against Norwich on Soccer Saturday and they weren't great, but they won. That's what they've got to do. However, I can't see them winning at Tottenham.
This won't be a scrappy end-of-season game. Spurs always go out and have a go and I think they'll get that long-awaited win.
PAUL PREDICTS: 3-1
Ford Super Sunday: Chelsea v QPR
1pm, Sun, Sky Sports 1 HD
I grew up as a Chelsea fan and when I was a kid the derby with QPR was always the game I looked out for.
So there's no way Chelsea will be lying down here. Yes, they'll be flying after getting past Barcelona, but they still need to go all out to finish in fourth place - and if they can send QPR down on the way they'll be even happier.
The Champions League final is a case of heads or tails and if they want to be certain of a place in next season's competition they must go for the top four. They've got some real momentum and the last thing they want to do is blow that out of the water by losing to their neighbours.
At least they don't need to rest John Terry and the rest of the players who are suspended for Munich - and there's no way they can leave their captain out of this game, especially with Gary Cahill injured.
Terry has to play, there's no choice, and i'm glad they've sorted out the situation with the handshake with Anton Ferdinand. If they're not going to shake hands they shouldn't line up, and this way there won't be any embarrassment.
I was surprised by Terry's red card in Barcelona. Even if he'd got away with it on the night, I think UEFA would have seen the replays and banned him for the final. Kicking someone from behind is bullying in my opinion and I don't know why he did it. If they'd lost he'd have been slaughtered and now they've won he misses the final anyway.
I expect QPR to go to Stamford Bridge and defend because I think a point would be quite a good result for them. They have a small pitch and it's not the hardest place to go and try to contain the home side.
I expect Chelsea just to nick this, but it will be a tight football match.
PAUL PREDICTS: 1-0
Saturday's games
Everton v Fulham
PAUL PREDICTS: 2-1
Both of these teams had good results last week. I expected Fulham to beat Wigan, but I was surprised Everton got a draw at Old Trafford. They've found a diamond in Nikica Jelavic and I think they'll beat a Fulham side that isn't the best away from home.
Stoke v Arsenal
PAUL PREDICTS: 1-1
Stoke have never finished in the top half of the table and will be right up for this. Arsenal don't like going to Stoke, they don't have a great record there, and while they have some nice games coming up, this is a bit of a nightmare fixture for them.
Sunderland v Bolton
PAUL PREDICTS: 1-1
This game could tell us a lot about the title race. Man United's dodgy game is away to Sunderland and this game will tell us if they're on holiday or not. Bolton had a great result at Aston Villa and now a draw will be enough at the Stadium of Light. I think they will get that.
Swansea v Wolves
PAUL PREDICTS: 3-0
Wolves made a bad decision when they didn't get anyone in to replace Mick McCarthy. For me, they were good enough to stay up but they've just fallen away badly. Now what does Terry Connor do here? Does he play the team that's been losing every week or does he look at some youngsters for next year. I'll take Swansea to win comfortably.
West Brom v Aston Villa
PAUL PREDICTS: 2-0
I said Villa were the dark horses for relegation from day one. I hope I'm horribly wrong, but every year a team slides down the mountain with carpet slippers on and can't stop. I've seen it with Blackpool, Hull, Middlesbrough and this year it's Villa. I think they need two points to stay up but I can't see where they're getting them from. West Brom had a great result at Anfield and I think they'll win again here.
Wigan v Newcastle
PAUL PREDICTS: 1-1
Wigan lost their easiest game in three weeks at Fulham with a last-minute goal and that dropped point could be massive. Did they get lackadaisical after beating Man Utd and Arsenal? The pressure's on both teams because Newcastle will be devastated if they don't get in the top four now. There was no pressure on them for most of the season, but they'll be gutted if they miss out on the Champions League - and rightly so. It's a hard game to call so I'll say a draw - which helps Wigan, but not Newcastle.
Norwich v Liverpool
PAUL PREDICTS: 2-2
I think everybody would be wanting to play Liverpool this week. People would say Norwich could take their scalp, but is it really a scalp any more? Norwich go level on points with them if they win! It's all about bad finishing for Liverpool and if they could get an out-and-out goalscorer they could do anything.
Follow Saturday's football on Soccer Saturday from 12noon on Sky Sports News HD and then see extended highlights on Football First from 8.25pm on Sky Sports 2 HD.